Chemistry and Materials Science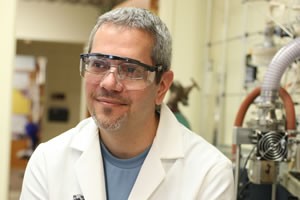 Section Editor: Bradley Fahlman
Professor Fahlman received his B.Sc. (High Hons.) degree from the University of Regina (Canada) in 1996. His Ph.D. was awarded from Rice University in 2000 (advisor Prof. Andrew R. Barron), for his work on the organometallic synthesis of volatile Group 13 compounds and their application for thin film growth via chemical vapor deposition.
Dr. Fahlman joined the faculty at CMU in 2002 after a two-year postdoctoral appointment at the University of California, Irvine. He is co-author of over 50 peer-reviewed publications, has given over 60 invited talks, and is the sole author of "Materials Chemistry" (Springer), currently in its second edition and recognized by a National textbook excellence award.
His research interests include the synthesis and characterization of organometallic hafnium precursor compounds for thin film applications (high-k dielectrics and solar selective coatings) and olefin polymerization catalysis, as well as the development of novel nanostructural C/Si materials for Li-ion and Li-air battery applications.