Interactions of antiparasitic sterols with sterol 14α-demethylase (CYP51) of human pathogens
Jasmine Warfield

1,

William N Setzer

2 and

Ifedayo Victor Ogungbe

1

Email author
Received: 23 September 2014
Accepted: 8 November 2014
Published: 20 November 2014
Abstract
Sterol 14α-demethylase is a validated and an attractive drug target in human protozoan parasites. Pharmacological inactivation of this important enzyme has proven very effective against fungal infections, and it is a target that is being exploited for new antitrypanosomal and antileishmanial chemotherapy. We have used in silico calculations to identify previously reported antiparasitic sterol-like compounds and their structural congeners that have preferential and high docking affinity for CYP51. The sterol 14α-demethylase from Trypanosoma cruzi and Leishmania infantum, in particular, preferentially dock to taraxerol, epi-oleanolic acid, and α/β-amyrim structural scaffolds. These structural information and predicted interactions can be exploited for fragment/structure-based antiprotozoal drug design.
Keywords
ProtozoaDockingSterol 14α-demethylaseSterolsAntiparasitic
Introduction
Sterol 14α-demethylase (CYP51), a cytochrome P450 mixed-function oxidase, is involved in the biosynthesis of numerous structurally similar sterols in animals, fungi, plants and protozoans. Several of these sterols serve as important component of cell membranes, and they are vital to the maintenance of cellular structural integrity in those organisms. Some derivatives of plant sterols also function as signaling molecules, and as antifungal agents (Rozhon et al.
2013
; Geisler et al.
2013
; Qi et al.
2006
). CYP51 is a well-known druggable target in fungi. Several generations of azole-based CYP51 inhibitors have already been developed as clinical antifungal drugs (Peng et al.
2013
). The specificity of these azole-based drugs for fungal CYP51 has been linked to the low sequence identity between the fungal enzyme and mammalian CYP51 (Aoyama
2005
). The sterol 14α-demethylases in
Trypanosoma cruzi
,
Trypanosoma brucei
,
Leishmania infantum
and
Mycobacterium tuberculosis
have also been studied as potential targets for drug discovery and development. Although the apparent lack of
de novo
sterol biosynthesis in
M. tuberculosis
, and the fact that other mycobacteria cytochrome P450s like CYP121 are more sensitive to azole drugs makes CYP51 a less desirable drug target in that organism (Cole et al.
1998
; McLean et al.
2002
). Protozoans, on the other hand, especially
Trypanosoma cruzi
and
Leishmania infantum,
have been widely reported to be susceptible to chemotypes targeting CYP51 (Urbina et al.
1996
; Buckner et al.
2012
; Lorente et al.
2004
; Doyle et al.
2010
; Gunatilleke et al.
2012
). Drug discovery targeting CYP51 remains one of the active areas of antitrypanosomal research. Identifying chemotypes via
in-silico
screening and subsequent phenotype-based in-vitro validation has become the bedrock of modern small molecule drug discovery. Our previous works involving virtual screening of antitrypanosomal natural products libraries against protozoan drug targets revealed that antitrypanosomal sterol–type compounds have high affinity for CYP51 as illustrated with a few drug targets in Figure
1
(Ogungbe and Setzer
2013
; Setzer and Ogungbe
2012
). It can be speculated that the predicted affinities is because of the structural compatibility between the sterol-like compounds and CYP51. The objective of this work is to identify antiparasitic compounds and their structural congeners that display selectivity for protozoal sterol 14α-demethylase,
in silico,
and on which structure- or shape-based analogues or potential drug leads can be designed or identified.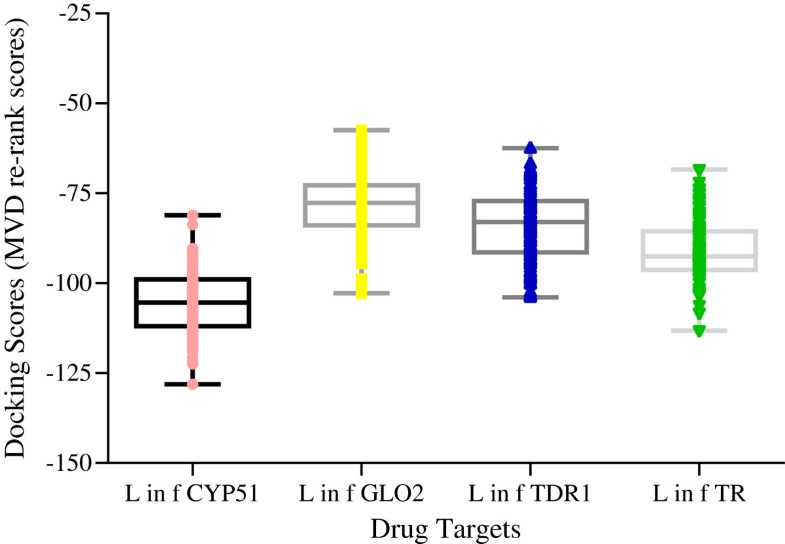 Material and methods
Compound and protein structure preparation
Ligands used for this study were geometry optimized using the molecular mechanics force field (MMFF) algorithm in Spartan'10 for Windows ( 2011). The docking studies were carried out using the crystal structures of T. cruzi CYP51 (PDB Id: 3khm, 3zg2, 4h6O (Lepesheva et al. 2010; Hargrove et al. 2013; Andriani et al. 2013)), T. brucei CYP51 (PDB Id: 3g1q, 3gw9, 4g3j ( Hargrove et al)), M. tuberculosis CYP51 (PBD Id: 2ci0, 2w0a (Chen et al. 2009; Podust et al. 2007)), L. infantum CYP51 (PBD Id: 3l4d (Hargrove et al. 2011)), and H. sapiens CYP51 (3jus, 3juv, 3ld6 (Strushkevich and Usanov 2014; Strushkevich et al. 2010)) from the RCSB Protein Data Bank. The protein structures were used as rigid model structures, no relaxation was performed and assignments of ionic charges on each protein structure were based on standard protonation states and the default templates of Molegro Virtual Docker ( 2011b; Thomsen and Christensen 2006). The similarity search was carried out using the default sub-structure similarity search engine of the Dictionary of Natural Products ( 2013). Statisitical comparison was carried using GraphPad Prism.
Docking simulation and scoring
Flexible ligand models were used for docking and post-docking geometry optimizations. The post-docking geometry optimizations were carried out using the Nelder-Mead Simplex method in Molegro Virtual Docker. Simulations were carried out using the substrate binding site of CYP51. A docking sphere (15 Å radius) was placed on the binding sites of each protein structure in order to allow different orientations of each ligand to be searched in the binding cavities and for multiple protein-ligand poses to be returned. The RMSD threshold for multiple cluster poses was set at <1.00 Å. The docking algorithm was set at maximum iterations of 1500 with a simplex evolution population size of 50 and a minimum of 30 runs for each ligand. Each binding site of oligomeric structures was searched, and the lowest energy pose (based on the re-rank scores) for each ligand across all protein structures are presented in Additional file 1: Table S1–S5. The docking scores of known CYP51 inhibitors N-1-(2,4-dichlorophenyl)-2-(1H-imidazol-1-yl)ethyl)-4-(5-phenyl-1,3,4-oxadi-azol-2-yl)benzamide and ketoconazole are presented in Additional file 1: Table S6, and PDB files of CYP51-ligand complexes discussed in this article are provided as Additional file 2 in the supporting information.
Conclusion
The important findings from this work are 1) majority of antiparasitic sterol-like compounds preferentially dock to the human CYP51, perhaps, this is due to the relatively large size of its active site, 2) taraxerol, α/β-amyrin and a number of their fatty acyl esters and cinnamate derivatives have preferential affinity for T. cruzi's CYP51, 3) epi-oleanolic and its hydroxycinnamate derivatives have high docking affinities for L. infantum's CYP51. Those predictions can be validated experimentally and used as guide for future natural products or synthetic chemistry target-based (CYP51) drug discovery. It is important to note that, generally, docking scores from multiple crystallographic structures of the same protein tend to be similar. But, we also noticed that a significant number of compounds have substantially different scores in similar subunits of oligomeric structures. This is perhaps due to protein flexibility captured in the crystallographic structures. These subtle differences in protein structures perhaps result in prediction of interactions between the small molecules and different amino acid residues in the binding sites of similar subunits of oligomeric proteins. Also, it has not escaped us that the compounds identified from the simulations can also serve as substrates for any of the CYP51s and that most of the compounds we identified as potential inhibitors of CYP51 in this work may not have ideal drug-like ADMET (absorption, distribution, metabolism, excretion and toxicity) properties. However, structural optimization can help to introduce functional groups that can serve as inhibitory warheads and that can also improve ADMET properties.
Declarations
Acknowledgements
This work was carried out in part by resources provided by the National Institutes of Health (G12MD007581) and the Mississippi Center for Supercomputing Research. This work was performed as part of the activities of the Research Network Natural Products against Neglected Diseases (ResNetNPND), http://www.resnetnpnd.org/Start/. The content is solely the responsibility of the authors and does not represent the official views of the funding agencies.
Authors' Affiliations
(1)
Department of Chemistry and Biochemistry, Jackson State University, Jackson, USA
(2)
Department of Chemistry, University of Alabama in Huntsville, Huntsville, USA
Copyright
© Warfield et al.; licensee Springer. 2014
This article is published under license to BioMed Central Ltd. This is an Open Access article distributed under the terms of the Creative Commons Attribution License (http://creativecommons.org/licenses/by/4.0), which permits unrestricted use, distribution, and reproduction in any medium, provided the original work is properly credited.