Ecology of an endemic primate species (Macaca siberu) on Siberut Island, Indonesia
Received: 19 December 2012
Accepted: 8 March 2013
Published: 29 March 2013
Abstract
Logging and forest loss continues to be a major problem within Southeast Asia and as a result, many species are becoming threatened or extinct. The present study provides the first detailed and comprehensive ecological data on the Siberut macaque (Macaca siberu), a primate species living exclusively on the island of Siberut off the west coast of Sumatra. Our results show that M. siberu is ecologically similar to its closest relative M. nemestrina occurring on the mainland, both species being semi-terrestrial, mainly frugivorous (75-76%), exhibit a large daily travel distance for their group size and spend more time on traveling than any other macaque species. The habitat of Siberut macaques was floristically very diverse (Simpson's index D=0.97), although somewhat impoverished in tree species richness, and had a lower tree basal area and a lower rattan density compared to other forests in Malesia (both rattan and palm tree fruit being an important food resource for Macaca siberu due to their long fruiting periods). These factors may lead to a lower diversity and abundance of fruit resources, and coupled with a high degree of frugivory of Siberut macaques, may explain the large amount of traveling observed in this species. The large home range requirements and strong dependence on fruit are important factors that need to be considered when developing conservation measures for this IUCN-listed (Category Vulnerable) species.
Keywords
Macaque ecologySpecies comparisonSoutheast Asian rainforestEndemic speciesConservation
Background
Tropical rainforests occupy only 7% of our Earth's land surface but are home to over half of all the species on the planet (Thomas and Baltzer 2002). They are of great importance for the world's economy and ecology by providing timber, food products and pharmaceuticals, and because they play a major role in the global carbon cycle (also as carbon sinks) and shape local climate patterns (Laurance 1999;Thomas and Baltzer 2002;FAO 2010). While the area of planted forest and conservation efforts are steadily increasing, forest loss and conversion still continue globally at high rates (1990-2000: 16 million ha, 2000-2010: 13 million ha; FAO 2010). Especially in Southeast Asia, which has experienced fast development in the last decades, deforestation rates increased drastically (1880-1980: 0.3%, 1990-1997: 0.91%, 2000-2010: 1%; Flint 1994;Achard et al. 2002;Miettinen et al. 2011), with Indonesia being one of the most critical countries (FAO 2010), and Sumatra among the most critical regions (1985-2007: 48% forest cover loss; Achard et al. 2002;Hansen et al. 2009;Laumonier et al. 2010;Miettinen et al. 2011). While forest loss continues, many of the species existing in these tropical habitats still remain to be discovered or described. The role of these species within the ecosystem is still unknown, and reduction in species diversity may lead to the loss of important services for the ecological community (Díaz et al. 2006).
In this environmentally critical region lies the Mentawai Archipelago, consisting of four small islands 85 to 135 km off the west coast of Sumatra, Indonesia (Whitten 1982c; Fuentes1997/1997;Whittaker 2006). It is part of the biodiversity hotspot Sundaland, which covers Malaysia, Brunei, Singapore and the western half of Indonesia (Mittermeier et al. 1999;Myers et al. 2000;Myers 2001;Mittermeier et al. 2004). Among all 34 biodiversity hotspots worldwide, Sundaland has the highest number of endemic plant species (15,000 - same as Tropical Andes) and the highest number of endemic mammal species (173), of which 81% are already listed as threatened by IUCN (Mittermeier et al. 2004: p. 32-33, 64). This high species richness and endemism in Sundaland cannot be attributed to the amount of habitat alone, as Sundaland only ranks twelfth among all hotspots, with 100,571 km2 of moist broadleaf forest (Mittermeier et al. 2004: p. 32). Rather, it is most likely the result of a dynamic geological past of Quaternary glaciations and episodic sea-level changes, during which Sundaland was repeatedly connected to the Asian mainland, enabling species migrations from the mainland to the islands of Sundaland (Gathorne-Hardy et al. 2002;Meijaard 2003;Sodhi et al. 2004;Woodruff 2010;Gower et al. 2012). Additionally, the rise in sea-level and increased isolation of islands which occurred during interglacial periods facilitated the speciation process (Sodhi et al. 2004). Furthermore, during the Pleistocene, some parts of Borneo and the northern and western part of Sumatra, including the Mentawai Islands, acted as rainforest refugia, enabling the survival of these rainforest biota (Gathorne-Hardy et al. 2002;Meijaard 2003).
The Mentawai Islands, of which Siberut is the largest and northernmost island, have been separated from the mainland for over 0.5 m years (Mitchell and Tilson 1986;Voris 2000;Bird et al. 2005). Even at times when sea level was so low that the rest of Sundaland was connected, the 1,700 m deep Mentawai Basin maintained the separation of the islands from the mainland (Brune et al. 2010). In fact, the Mentawai Islands were never connected to Sundaland directly, but were linked to Sumatra via a land bridge from Siberut through the Batu Islands (Whittaker 2006). As a result of this long period of geographic isolation, the Mentawai Archipelago has evolved a distinct flora and fauna with a high level of endemism, and allowed the survival of a number of "primitive" forms of considerable evolutionary interest (WWF 1980).
The flora of Siberut is estimated to comprise about 15% endemic plant forms, but the figure is out of date and new research is needed (WWF 1980). Of those species also known from other areas in Southeast Asia, some developed distinct traits on Siberut (WWF 1980: p. 13). The Mentawaian fauna includes 43 mammal species, of which 42% are endemic to Mentawai, and without bats, the endemism level increases to 71% (Thorington Jr. et al. 2012;Wilting et al. 2012). That the fauna of Siberut still remains understudied was recently shown by Kemp (2000), who recorded 28 new bird species for the island.
The ecosystems on small isolated islands such as Siberut are usually shaped by a range of different factors: Firstly, small islands often have an impoverished flora and fauna compared to the mainland, since species richness has been shown to decrease with land area (MacArthur and Wilson 1967;Simberloff 1974;Heaney 1984;Burkey 2002;Kreft et al. 2008;Nijman and Meijaard 2008). Usually the poorly dispersing species or large animals with large home range requirements are absent on small islands (Simberloff 1974;Heaney 1984). Secondly, a lack of certain species or whole taxa is usually associated with increased density of a few other species (density compensation) and a broader niche of island species compared to their relatives on the mainland (niche expansion), where competition for the same resources is higher (MacArthur et al. 1972;Buckley and Jetz 2007;Yoder et al. 2010). Niche expansion or niche shifts between islands and the mainland can concern habitat, vertical foraging strata, altitudes, foraging techniques and diet (MacArthur et al. 1972;Yoder et al. 2010). On Siberut, such niche expansion has been demonstrated for the spangled drongo (Dicrurus hottentotus) and three squirrel species (: WhittenCallosciurus melanogaster, Sundasciurus (lowii) fraterculus, Lariscus obscurus 1981;Whitten 1982e). On islands, fewer species compete for the same niche, so that evolutionary pressure becomes lower and populations or species evolve less rapidly. Thus, more "primitive" (archaic) forms can be maintained than on the mainland (WWF 1980;Patou et al. 2010). Despite these general trends geographical isolation can also lead to the evolution of new forms (Yoder et al. 2010).
Primate species richness on Mentawai is unusually high. On a land surface area of only 6,549 km2, Mentawai harbors five endemic primate species (Fuentes1997/1997), the Kloss gibbon (Hylobates klossii), the Mentawai langur (Presbytis potenziani), the pig-tailed langur or pig-tailed snub-nosed monkey (Simias concolor), the Pagai island macaque (Macaca pagensis) and the Siberut macaque (Macaca siberu). Whereas the first three species occur on all four islands, M. pagensis only occurs on the three southern islands, and M. siberu exclusively on Siberut. All Mentawaian primates are included in the IUCN Red List of Threatened Species (IUCN 2012). They are threatened by habitat loss due to legal and illegal logging, conversion of the forest into oil palm plantations, forest clearing, extraction of forest products (such as rattan), hunting and pet trade (Whittaker 2006). In Siberut, forest cover has decreased to 60% (by 2005; Whittaker 2006), but part of it is protected by the national park, which includes 465 km2 of protected "no-use" sanctuary zone where no hunting and logging is allowed (WWF 1980; Fuentes1997/1997;Whittaker 2006).
Of the four primate species occurring on Siberut, the Kloss gibbons, the Mentawai langurs and the pig-tailed langurs have been reasonably well studied (e.g. Tenaza 1975;Tilson 1977;Watanabe 1981;Tilson and Tenaza 1982;Whitten 1982a;Whitten 1982b;Whitten 1982c;Tenaza and Tilson 1985;Fuentes 1997;Hadi et al. 2009a;Erb et al. 2012b;Hadi et al. 2012). In contrast, studies on the Siberut macaque are mainly limited to investigations on population size, acoustic traits, phylogenetic relationships and some preliminary observations on ecology (Whitten and Whitten 1982;Abegg and Thierry 2002b;Roos et al. 2003;Ziegler et al. 2007;Schneider et al. 2008;Waltert et al. 2008;Quinten et al. 2009). Initially, Siberut macaques were thought to be a subspecies of southern pigtail macaques ( FoodenMacaca nemestrina pagensis: 1975) or of the Mentawai/ Pagai macaque of the southern Mentawai Islands (Macaca pagensis siberu: Fuentes and Olson1995;Groves 1997). Recently, however, genetic and morphological studies have allowed their classification as a distinct species called M. siberu (Kitchener and Groves 2002;Roos et al. 2003), being more closely related to M. nemestrina on Sumatra and Malaysia than to M. pagensis on the neighboring Mentawai Islands (Ziegler et al. 2007). So far, no detailed and comprehensive systematic behavioral or ecological studies have been conducted on Siberut macaques.
The present study aimed to gather basic ecological knowledge about the endemic Siberut macaques, including home range requirements, habitat and forest structure use and feeding habits. The data will add substantially to what is known about the ecological range of the genus Macaca, which is among the most successful non-human primate genera with more than 20 species distributed from North Africa throughout Asia up to Japan (Abegg and Thierry 2002a). Siberut macaques, as part of the silenus-sylvanus lineage, are thought to represent a relict species from the earliest wave of macaque dispersal and thus may also help to understand the ancestral traits of this genus (Fooden 1980;Abegg and Thierry 2002a;Roos et al. 2003;Ziegler et al. 2007). We compared the new data on Siberut macaques with available data from other macaque species, in order to understand the range of ecological variations, and with data on Siberut's other primate species with the aim of investigating possible niche differentiations. In addition, we present data on the habitat of Siberut macaques to investigate whether the forest is impoverished as island biogeography theory would predict, which could have important impacts on the behavior of Siberut macaques. The data should also be useful in the development of much needed conservation guidelines for the species.
Discussion and conclusions
Methods
Study area
The study was conducted on Siberut Island, which comprises 4,030 km
2
and a human population of ~25,000 people (Fuentes
1997/1997
;Whittaker
2006
). Siberut has a strongly dissected, rugged landscape of numerous steep slopes and ravines (highest elevation: 384 m a.s.l.), and many rivers and streams (WWF
1980
;Watanabe
1981
). The island is covered by tropical lowland evergreen broadleaf rainforest (UNEP-WCMC classification) or tropical moist broadleaf forest (WWF classification). Different vegetation types can be distinguished: primary dipterocarp forest on high ridges (dominated by Dipterocarpaceae), primary mixed forest on slopes and lower hills (mixed composition of tree families with none being dominant), freshwater swamp forest, mangrove forest and Barringtonia forest on the West coast of Siberut (WWF
1980
). The soil on Siberut is less fertile than on the Malay Peninsular (Whitten
1980
;Whitten
1982
a). The study was conducted at the field site of the Siberut Conservation Programme (SCP; www.siberut-island.org), situated within the Peleonan Forest in North Siberut (Figure
10
). The Peleonan Forest comprises 4,500 ha rented by SCP for conservation purposes, surrounded by logging concessions and the Indian Ocean. It consists of undisturbed primary rainforest (i.e. with no signs of human impact) and some secondary forest at late successional stage. The climate is equatorial, with no seasonal changes in temperature. Temperature recorded during February 2010 and March 2011 ranged between 20.7°C and 35.2°C, with a monthly average of 25-27°C. There are only small seasonal changes in rainfall, and during our study, March was the driest month, and October to January the wettest period (max. rainfall per day: 150 mm/m
3
). Long-term climate data over 50 years show a mean annual rainfall of 3,601 mm at our study site, and every month of the year is perhumid, receiving at least 200 mm of rain (see Figure
1
in Erb et al.
2012
a).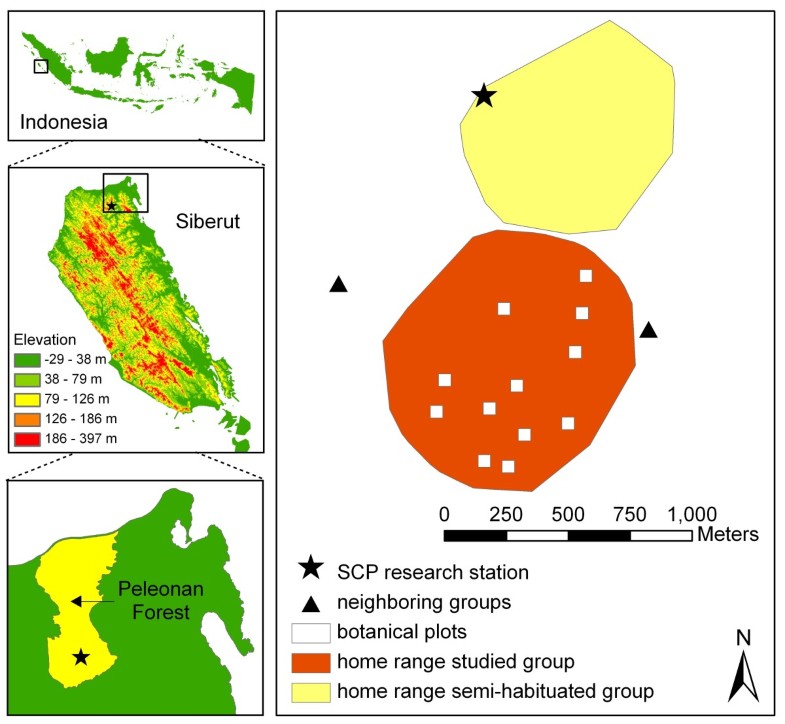 Study group
The study group (group A) was habituated from December 2008 until March 2010. Habituation was done by searching the group silently from sunrise to sunset with two to four teams simultaneously on six days per week. Once macaques were encountered, geographical position, subgroup size and activity was recorded. Beginning of 2010, at the end of the habituation period and when data collection started, group size was 29. There were 3 permanent adult males and 8 adult females in the group. Adult individuals were the main focus of this study and were all identified, except two of the adult females which were first seen at the end of the study. We assume that they were already part of the group throughout the data collection period, but were never reliably identified before as they might have stayed very peripheral and shy. Adults were defined as those individuals who were sexually fully mature, i.e. had large testes in males and visible nipples in females. By the end of the study period, during the mating season in January and February 2011, 3 juvenile females developed their first sexual swelling. From the juveniles, only a few individuals were identified, the rest was recorded as age-sex category during data collection.
As this group of Siberut macaques is the first one ever studied in detail, we report some information on the life history and demography. Infants are born with white fur and reddish facial skin, hands and feet. After few weeks, their fur coloration changes to juvenile/adult like dark brown coat with only small white fur patches left around the temples and a slightly lighter breast fur. At an age of about 2.5 months, the coloration change is complete. During the course of this study several births occurred (Mar.-Apr. 2009 3 birth, Sep.-Oct. 2009 4 birth (1 died), Jan. 2010 1 birth, Jul. 2010 1 birth (died at 2 month age)).
The studied group was surrounded by several other groups of conspecifics (Figure 10), including one group (group B) which was habituated from May to November 2009 and occasionally came to the research station when trees were fruiting there.
Data collection
Group scan observations (scan sampling: Martin and Bateson 1993) were conducted from March 2010 until March 2011, from 6 am until latest 7:30 pm, by 1 to 3 observers simultaneously (69.3% by 1 observer, 27.0% by 2 observers, 3.7% by 3 observers). Scans were taken every full hour (sampling duration: 10 min) in the first month, and were changed to every 30 min at half and full hours for the rest of the time period (sampling duration: 5 min per scan). Data in March 2011 were too scarce and were omitted for some analyses. During group scans, the following data were recorded: time, identity of the monkeys, type of habitat (forest, canopy gap, windthrow area, swamp), relative and absolute height of the monkey in the forest, activity and in case they were feeding, the food item and species, as well as the GPS coordinates.
To calculate the monthly percentage of habitat use, we scored for each scan the habitat type used by the majority (>50%) of individuals. Canopy gap was defined as a small open area within the forest caused by a treefall. Windthrow area was a forest area hit by a heavy storm, which destroyed nearly all trees in that specific area.
Forest strata use was measured as the absolute forest height used by the monkeys (in 5 m steps) and the relative height used. Values for the whole group are based on the average of the values of each age-sex class (adult males, adult females, juveniles). The relative forest height describes the height of the monkey relative to the forest at a certain place in the forest, and was divided into 4 categories: ground (soil and leaf litter), lower-story (substrates on the ground, including fall-down trees, up to the mid-story), mid-story (either a tree that ends below the canopy at this place in the forest or the lower branches of a tree that make up the canopy) and canopy (the crown of the tree that makes up the canopy at this place in the forest).
The general activity of the monkeys at a scan time was classified as either traveling, resting, feeding (inserting food into the mouth, handling/ manipulating food; but not processing food which was already stored in the cheek pouch), foraging (searching for food), and social activities (allogrooming, mating, playing). Activity budget is given as the monthly average of 12 months, from March 2010 until February 2011.
Diet was based on the percentage of feeding time on different food items based on scan data. Food item categories were fruit, flower, arthropods, mushrooms, leaves, pith (soft core of palm stems), sap and shoot (young stems). The overall diet was calculated as the average over 12 months (Mar. 2010 – Feb. 2011). The dietary diversity index was calculated using the Shannon-Wiener index H' (Pielou 1966;Krebs 1999). The index combines information on species richness as well as relative abundance. For calculation of H', only food items of known species were used, which included fruit, flower, pith, sap and some of the leaves. Mushrooms and arthropods were not identified to species level and were thus not included in the index.
GPS points were recorded for 2,267 scans in a geographic coordinate system in a Lat/Lon format (Datum: WGS 84) and later converted into the projected coordinate system WGS 1984 UTM Zone 47 South. We only used GPS coordinates of permanent group members for home range analysis. Home range was calculated as Minimum Convex Polygon (MCP, Worton 1987;Harris et al. 1990;White and Garrott 1990;Börger et al. 2006) to allow comparison with older studies, and with Kernel methods using reference bandwidth h ref , which equaled 63.85 m (Silverman 1986;Worton 1989;Wand and Jones 1995;Worton 1995;Seaman and Powell 1997;Kenward 2001). We also applied the "ad hoc" bandwidth h ad hoc (Berger and Gese 2007;Jaques et al. 2009;Kie et al. 2010), but results were similar to h ref and are not reported. For MCP calculation (with "fixed means"), we used 4,839 unique point locations (duplicate fixes removed) and calculated 100% (the maximum area in which the group was ranging), 95% (full home range, reducing the outlier effect), and 50% MCPs (core home range). For kernel polygons, average GPS coordinates were calculated for each scan as the center of the group, as GPS points of single individuals per scan are not independent, resulting in 2,410 point locations. Points were jittered by ±0.5 m to avoid point duplicates, and kernels were constructed using fixed kernel approach, Gaussian (bivariate normal) kernels, a raster cell size of 20 m and a buffer of 25 m (the median distances to the group center). Although group center coordinates per scan were autocorrelated, we used all for kernel analysis because removing autocorrelation would also remove biologically significant information (Lair 1987;Reynolds and Laundre 1990;de Solla et al. 1999;Blundell et al. 2001;Cushman et al. 2005). We calculated the 95% contour as the full home range and the 50% contour as the core home range. Home range (and travel distance) calculations were done in ArcGIS® 9 (ArcEditor™ 9.3.1), using the Home Range Tools (HRT) extension (Version 1.1), except for the asymptote analysis of home range area, which was done with the extension HoRAE (Nov. 2011) in OpenJUMP 1.4.3.
The monthly average daily travel distance was calculated from group center coordinates per scan (see above). We only used days with ≥9 h observation time per day (called "full day follows"). Travel speed (m/h) is calculated as the travel distance per observation day divided by the observation time on that day. As the active period of the group was usually about 12 hours, from 6:30 am to 6:30 pm, this calculated travel speed was multiplied by 12 to obtain the daily travel distance. Straight line distances of groups in 30 min intervals can be different from actual travel distances of individuals (Isbell et al. 1999), so that we also report the average travel speed of single individuals. This is based on focal animal observations of all adult males and females, from August 2010 until February 2011, which aimed to be at least 30 min long (mean 33 min, max. 127 min). For analysis, we only used observations of at least 20 min.
For habitat analysis, we established 12 permanent botanical plots of 50 m x 50 m size (0.25 ha each) within the group's home range (Figure 10), in which 25 subplots of 10 m x 10 m were nested. A total of 3 ha was sampled, covering 3.6% of the 95% kernel home range. Plots were distributed semi-randomly, while taking habitat variation, altitude and distance to rivers into account (top of hill: 1, slope: 2, slope/ riverine: 1, riverine/ level ground: 1, dry level ground: 6, edge of swamp: 1). Plots were mainly covering mixed forest, and to a low extent dipterocarp forest. We recorded all trees ≥10 cm dbh (diameter at breast height), all palm trees ≥10 cm dbh (Oncosperma horridum) or ≥5 cm dbh respectively (Arenga obtusifolia, Pinanga sp.), all lianas (woody vines) and stranglers (strangler figs) ≥5 cm dbh and all rattan (i.e. climbing palms) longer than 5 m. They were marked, measured for dbh, and height (or length for lianas and rattan) was estimated by eye after training with a measuring tape. For trees with buttress roots or prop roots, dbh was measured ~20 cm above the rooting point. For clustering (rhizomatous) rattan and palm trees which produce multiple stems, we counted "apparent" genets, following Gerwing et al (2006). For the rhizomatous and very spiny palm tree Oncosperma horridum, we recorded the number of stems ≥10 cm dbh (important for basal area calculation), and for height and dbh, a mean was estimated. For rhizomatous rattan, dbh and length was measured for each stem separately. We collected two specimen per species with the help of a local plant specialist (31% of species with fruit and/or flower), and described, photographed and dried them in a self-made herbarium oven at 60-75°C in the field. They were identified (using Kooders 1913;Sinclair 1955;Kostermans 1969;Kostermans 1970;van Steenis 1972;Polunin 1988;van Balgooy 1997;van Balgooy 1998;de Wilde 2000;Symington et al. 2004;Yoneda 2004;Berg et al. 2005;Min et al. 2006;Soepadmo et al. 2007) and stored at the Herbarium ANDA of the Andalas University Padang, W-Sumatra. For analysis, we classified species into trees, palm trees, lianas, stranglers and rattan to enhance comparability between plots and other studies (Hadi et al. 2009b). The dbh distribution of trees from botanical plots is compared to 235 sleeping trees (Dec. 2008 – Mar. 2011) and to 73 feeding trees (Mar. 2010 – Mar. 2011; palm trees excluded). Basal area (m2) was calculated as 3.142 * (dbh in cm/ 200)2. We measured species diversity with the Simpson's diversity index D, calculated as D = 1 - (Σ n * (n - 1)/N * (N - 1)), with n being the total number of individuals of a particular species, and N being the total number of individuals of all species. D ranges between zero (no diversity) and one (max. diversity). In addition, we also report the Shannon-Wiener diversity index.
Statistical analysis: Spearman rank correlations were conducted in Excel®, and p-values were based on 10,000 permutations. Mann-Whitney-U tests and Chi-Square tests were carried out in R 2.14.0© 2011. Species richness estimators, similarity indices and the Shannon-Wiener diversity index were calculated using EstimateS 8.2.0© 2009 (R.K. Colwell; http://purl.oclc.org/estimates). The species richness estimators ACE, ICE, Chao 1, Chao 2, Jack 1, Jack 2 and Bootstrap are reported as the mean of 10,000 randomizations, without replacement. For all analyses, we adopted an α-level of 0.05.
Declarations
Acknowledgements
We are grateful to all Indonesian authorities (LIPI, DEPDAGRI, DIKTI, RISTEK, PKSDA Padang) for granting the necessary research permits (Permit No.: 2921/FRP/SM/XII/08). Thanks to the Siberut Conservation Programme (SCP) for allowance to work on their field station, and to all SCP staff for very valuable field and logistical support, especially to Marcel Quinten for his reliable help and enthusiasm for the project. We thank all the people who helped tremendously during habituation and data collection, namely all field assistants (Adi Nugroho, Marliana Chrismiawati, Rahayu Oktaviani, Azhari Purbatrapsila, Rima Lamhatul Mikrimah, Betty Millyanawati), Pierre Gras who joined for his Master thesis, all field guides (P. Safrizal, P. Mathias, P. Mitchen, Bang Risel, P. Tongam, P. Teiba, P. Bitcar) and Pak Tarzan and especially Pak Nauli who helped with their local plant knowledge with the identification of the vernacular names of all plants in the botanical plots, as well as all sleeping and feeding trees. We are thankful to Arthur R. Rodgers and John Kie for advice with the Home Range Extension Tool. We like to acknowledge 4 anonymous reviewers whose detailed and helpful comments greatly improved this manuscript. CR, JO and OS received funding by the Max-Planck Society and the German Initiative of Excellence to the Georg-August University Göttingen, and CR received funding by the Evangelisches Studienwerk e. V. We acknowledge support by the Open Access Publication Funds of the University Göttingen.
Authors' Affiliations
(1)
Courant Research Center Evolution of Social Behaviour, Georg-August University Göttingen, Göttingen, Germany
(2)
Universitas Andalas, Department of Biology, Andalas University, Padang, Indonesia
(3)
Reproductive Biology Unit, German Primate Center, Göttingen, Germany
Copyright
© Richter et al.; licensee Springer. 2013
This article is published under license to BioMed Central Ltd. This is an Open Access article distributed under the terms of the Creative Commons Attribution License (http://creativecommons.org/licenses/by/2.0), which permits unrestricted use, distribution, and reproduction in any medium, provided the original work is properly cited.