Development of an open source software module for enhanced visualization during MR-guided interstitial gynecologic brachytherapy
Received: 11 September 2013
Accepted: 2 January 2014
Published: 31 March 2014
Abstract
In 2010, gynecologic malignancies were the 4th leading cause of death in U.S. women and for patients with extensive primary or recurrent disease, treatment with interstitial brachytherapy may be an option.
However, brachytherapy requires precise insertion of hollow catheters with introducers into the tumor in order to eradicate the cancer. In this study, a software solution to assist interstitial gynecologic brachytherapy has been investigated and the software has been realized as an own module under (3D) Slicer, which is a free open source software platform for (translational) biomedical research. The developed research module allows on-time processing of intra-operative magnetic resonance imaging (iMRI) data over a direct DICOM connection to a MR scanner. Afterwards follows a multi-stage registration of CAD models of the medical brachytherapy devices (template, obturator) to the patient's MR images, enabling the virtual placement of interstitial needles to assist the physician during the intervention.
Keywords
Software ModuleIterative Close PointIterative Close Point AlgorithmDICOM ModuleOpen Source Software Platform
Introduction
In 2010, gynecologic cancer – including cervical, endometrial, and vaginal/vulvar types – is with over 80,000 new cases and over 25,000 deaths the 4th leading cause of death in women in the United States (American Cancer Society
2010
). However, depending on the type and stage of the cancer, different treatment approaches may be performed, like radiation including a course of brachytherapy for patients with extensive locally advanced or recurrent pelvic disease. Hereby, brachytherapy enables the placement of radioactive sources direct inside the cancerous tissue that deliver very high doses of radiation and for interstitial gynecologic brachytherapy, catheters are guided into place through holes in a so called template (Figure
1
, left) sutured to the patient's perineum. Viswanathan et al. conducted a first prospective trial of real-time magnetic resonance image (MRI)-guided catheter placement in gynecologic brachytherapy in a 0.5T unit (Viswanathan et al.
2006
,
2013
), and Lee et al. in a computed tomography (CT) brachytherapy suite (Lee and Viswanathan
2012
; Lee et al.
2013
). In the meantime, the benefit of using magnetic resonance imaging scans to guide brachytherapy planning has been shown in other gynecologic cancer brachytherapy centers around the world and a CT/MR comparison showed that MR contoured volumes are narrower than CT (Viswanathan et al.
2007
). As a result of this, the highest dose regions (D90 and D100) and the tumor volume that receives 100% dose (V100) can be increased and a T2-weighted MRI is therefore considered the gold standard for target delineation in image-based cervical cancer brachytherapy (Viswanathan et al.
2011
). In
Viswanathan et al.
the dosimetric and clinical gains from using MRI, CT or ultrasound (US) have also been described in detail and in summary the ability to more accurately delineate tumor and surrounding normal tissue is the primary benefit in using 3D compared to the more standard practice of x-ray. Subsequent, this leads to a more precise dose escalation to the target volume while at the same time respecting dose constraints for the surrounding organs at risk (OAR). Furthermore, CT may not be possible to distinguish the cervical tumor from the surrounding normal tissues such as small bowel in CT acquisitions. In contrast, MR can determine in such cases the size, location, and paracervical involvement of the tumor and its relations to the applicator.

Other working in the field of radiation therapy to support cervical cancer treatment are Staring et al. (2009). Staring et al. addressed the registration of cervical data using mutual information (MI) of not only image intensity, but also features that describe local image structure. The presented algorithm was compared to a standard approach, based on the mutual information of image intensity only showing that the registration error can be improved at important tissue interfaces, like the bladder with the clinical target volume (CTV), and the interface of the rectum with the uterus and cervix. Krishnan and Sujatha (2010) worked on the segmentation of cervical cancer images using Active Contour Models (ACM) (Kass et al. 1987,1988), and introduced a method for automatic extraction of object region and boundary from the background for cell nucleus segmentation of cervical cancer images. Therefore, the method starts computing a threshold based on the clusters automatically calculated by a K-means clustering algorithm, whereby the cluster center of this threshold region, acts as a seed for further processing. Ultimately, the object region is extracted from the object boundary and a gray scale cluster. A method for simultaneous non-rigid registration, segmentation, and tumor detection in MRI-guided cervical cancer radiation therapy using a unified Bayesian framework has recently been introduced by Lu et al. (2012). The presented framework can generate a tumor probability map while progressively identifying the boundary of an organ of interest based on the achieved non-rigid transformation. In addition, the framework is able to handle the challenges of significant tumor regression and its effect on surrounding tissues and the proposed methods help with the delineation of the target volume and other structures of interest during the treatment of cervical cancer with external beam radiation therapy (EBRT). However, the purpose of this contribution is to investigate a research software to support 3D-guided interstitial gynecologic brachytherapy during the intra-operative stage and to the best of our knowledge such a tool has not yet been described and there is no commercial software currently available. The software exists as a free module available under 3D Slicer, which is an open source software platform for biomedical research and research highlights include linking a diagnostic imaging set in real-time to a 3D CAD model of the template (Figure 1, left) and the obturator (Figure 1, right), which enables the identification of catheter location in the 3D imaging model with real-time imaging feedback. Furthermore, the introduced software allows patient-specific pre-implant evaluation by assessing the placement of interstitial needles prior to an intervention via virtual template matching with a diagnostic scan (note: this contribution relates to a previously published work in SpringerPlus (Egger 2013). There, an overall image-guided therapy system for interstitial gynecologic brachytherapy in a multimodality operating suite was introduced).
The rest of this article is organized as follows: Section 2 presents the material and the methods. Section 3 presents the results of our experiments, and Section 4 concludes and discusses the paper and outlines areas for future work.
Materials and methods
This section describes the Material and Methods that have been used for this study, resulting in an open source software module for enhanced visualization during MR-guided interstitial gynecologic brachytherapy. Thereby, this section starts with a paragraph about the Equipment, Data and CAD Models that have been used for this study. Afterwards, the software platform 3D Slicer (Slicer) is introduced, within the new software module has been realized. In the next paragraph the Software Design for the module is presented. Finally, the last paragraph of this section describes the detailed Application Workflow for the presented software module.
Results
During this study, a first free and open source research software module for the 3D Slicer platform supporting MR-guided interstitial brachytherapy of gynecologic cancer has been investigated. The principle of the module has been pre-published in a recent research disclosure (Egger et al.
2012a
), however, algorithmic details are presented in this publication. The software module and the interface is illustrated in the screenshots of Figures
5
and
6
. The two screenshots show the CAD models of the interstitial template (blue) and the obturator (green) which have been fitted to intraoperative MRI scans of AMIGO patients. In more detail, Figure
5
presents a refined registration result of the template and the obturator, in an axial (upper left window), a sagittal (lower left window), a coronal (lower right window) and a 3D view (upper right window). In Figure
6
, the manual segmented tumor is also visualized (brown) and on the left side of the interface the interstitial planning sheet is provided that allows virtual pre-planning of the depth and length of single interstitial needles. In this case, several needles (pink and green) around the obturator have been pre-planned to target the tumor. Furthermore, the software module enables rendering of the pre-planned interstitial needles in different 2D slices (right side of Figure
6
). The software module has been developed in C++ under Visual Studio (Version 9) and in our implementation the planning could be performed within a few minutes on a Laptop with Intel Core i5-2520M CPU, 2 × 2.5 GHz, 4 GB RAM, Windows 7 Version, Service Pack 1, 32Bit. Moreover, the module is open source and public available as a loadable module for Slicer: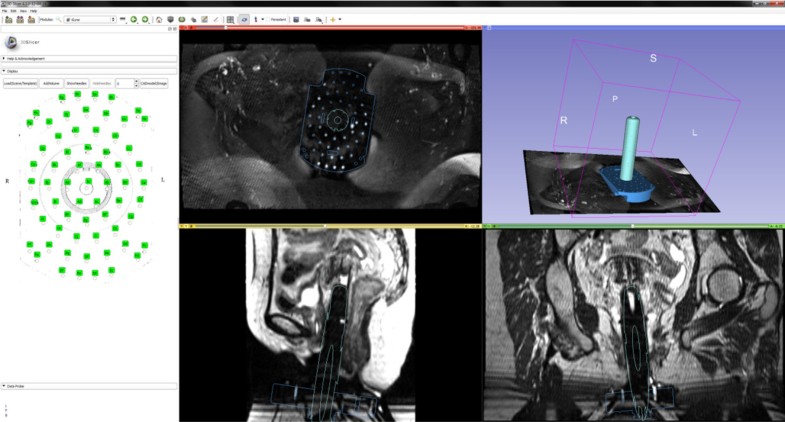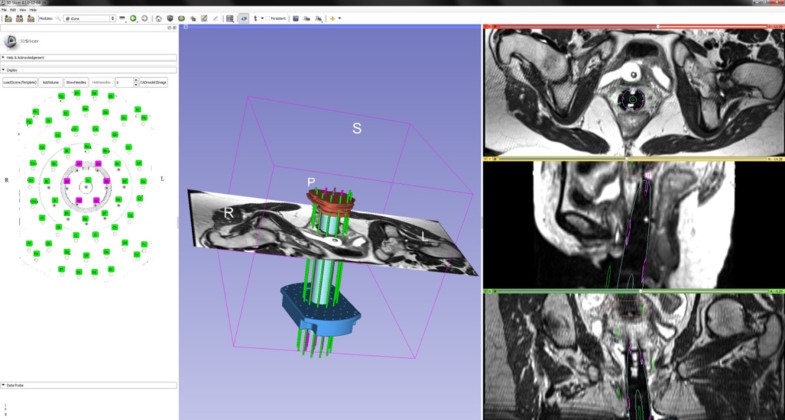 https://github.com/xjchen/igyne. Last accessed on March 2014
Note: in the meantime there has been a study about catheter segmentation for MR-Guided gynecologic cancer brachytherapy which uses the successor of our software module (Pernelle et al. 2013):
https://github.com/gpernelle/iGyne. Last accessed on March 2014
The dataset used for the screenshots of Figures 4, 5 and 6 is available from:
https://github.com/xjchen/igyne/tree/master/Sample%20data. Last accessed on March 2014
Conclusions
In this contribution, we introduced a research software module to support interstitial gynecologic brachytherapy. The module has been implemented and tested within the free open source software platform for biomedical research, called 3D Slicer (or just Slicer). The implementation and workflow of the designed Slicer module has been described in detail and research highlights include:
● on-time processing of intra-operative MRI data,
● a multi-stage registration of a template
● and the virtual placement of interstitial needles.
The presented software module allows on-time processing of the intra-operative MRI data realized via a DICOM connection to the scanner. Afterwards, a multi-stage registration of the template and the obturator to the patient's dataset enables a virtual placement of interstitial needles to assist the physician during the intervention.
Areas for future work include the enhancement of the registration method by using the obturator as well as additional physical markers that can be (semi-)automatically detected by image processing. Another area of future work includes the integration of intra-operative navigation, like intraoperative ultrasound (iUS), electromagnetic (EM) tracking or optical navigation via the OpenIGTLink network protocol (Tokuda et al. 2009; Egger et al. 2012b) to support applicator guidance (note: in contrast to interventions in the male pelvis where navigation systems have been used (Tokuda et al. 2008; Fischer et al. 2008) medical navigation systems have not yet been successfully introduced for gynecological interventions). Furthermore, we plan a (semi-)automatic segmentation of the organs at risk (OAR) with a graph-based approach (Egger et al. 2011a,2012c) that we have already applied to the bladder (Egger et al. 2010,2011b), and the integration of a real-time dose calculation engine (Cormack et al. 2000; Haie-Meder et al. 2005; Pötter et al. 2006).
Declarations
Acknowledgements
The authors would like to acknowledge the support of the AMIGO team in enabling this study, Kanokpis Townamchai, M.D. for performing the manual segmentations of the medical images, Sam Song, Ph.D. for generating the CAD models of gynecologic devices and the members of the Slicer Community for creating a platform that enabled the software module. Dr. Xiaojun Chen receives support from NSFC (National Natural Science Foundation of China) grants 51005156 and 81171429.
Authors' Affiliations
(1)
Institute of Biomedical Manufacturing and Life Quality Engineering, School of Mechanical engineering, Shanghai Jiao Tong University, China
(2)
Department of Medicine, University Hospital of Giessen and Marburg (UKGM), Baldingerstraße, Germany
Copyright
© Chen and Egger; licensee Springer. 2014
This article is published under license to BioMed Central Ltd. This is an Open Access article distributed under the terms of the Creative Commons Attribution License (http://creativecommons.org/licenses/by/2.0), which permits unrestricted use, distribution, and reproduction in any medium, provided the original work is properly credited.