Neurotransmitters in hiccups
Received: 9 March 2016
Accepted: 10 August 2016
Published: 17 August 2016
Abstract
Hiccups are the sudden involuntary contractions of the diaphragm and intercostal muscles. They are generally benign and self-limited, however, in some cases they are chronic and debilitating. There are approximately 4000 admissions for hiccups each year in the United States. The hiccup reflex arc is composed of three components: (1) an afferent limb including the phrenic, vagus, and sympathetic nerves, (2) the central processing unit in the midbrain, and (3) the efferent limb carrying motor fibers to the diaphragm and intercostal muscles. Hiccups may be idiopathic, organic, psychogenic, or medication-induced. Data obtained largely from case studies of hiccups either induced by or treated with medications have led to hypotheses on the neurotransmitters involved. The central neurotransmitters implicated in hiccups include GABA, dopamine, and serotonin, while the peripheral neurotransmitters are epinephrine, norepinephrine, acetylcholine, and histamine. Further studies are needed to characterize the nature of neurotransmitters at each anatomical level of the reflex arc to better target hiccups pharmacologically.
Keywords
Hiccup
Neurotransmitters
Therapies
Background
The term "singultus" (hiccup) comes from singult; a Latin word that means 'sob' or 'gasp'. It refers to the sounds that are produced by the sudden involuntary contractions of the diaphragm and intercostal muscles followed by an abrupt contraction of the glottis. The air strikes the closed glottis and results in the characteristic "hiccup" sound. Hiccups are usually benign and self-limiting. They generally start without any specific reason and disappear in a few minutes. Brief episodes of hiccups are common in healthy individuals after a large meal, intake of alcoholic beverages, or sudden excitement.
This article provides a review of different neurotransmitters that are related in the mechanism of action of the most commonly used drugs to treat hiccups, and the medications that induced hiccups. At the end, this paper draws a conclusion about the neurotransmitters involved in the pathophysiology of hiccups.
Epidemiology
The classification of hiccups is based on their duration. An acute attack lasts less than forty-eight hours. Persistent hiccups last more than 2 days. Intractable hiccups are present if the attack lasts more than 1 month. Persistent hiccups are most likely to be associated with an underlying pathological, anatomic or organic disease process (Cymet 2002). Intractable hiccups that continue for more than 1 month are usually indicative of a serious organic disturbance (Vaidya 2000). If left untreated, intractable hiccups can cause severe discomfort, depression, reduced physical strength, and even death (Consults 2011). According to a report by William H. Dobelle, approximately 4000 hospital admissions due to hiccups are reported each year in the United States (Dobelle 1999). The intractable hiccups are more common in men (82 %) than in women. Most of the men suffering from hiccups are 50 years of age or older (Cymet 2002). Psychogenic hiccups have been reported to occur more commonly in women. The usual rate for hiccups is four to sixty per minute with fairly constant frequency in an individual (Howes 2012). Pathological hiccups can be explained as a form of epilepsy or a failure of supra-spinal inhibition (Launois et al. 1993; Lewis 1985). The incidence and prevalence of persistent and intractable hiccups in the community has not been studied.
Pathophysiology
The pathophysiological mechanism of hiccups is related to lesions in its reflex arc as shown in Fig.
1
. The reflex arc is comprised of three components: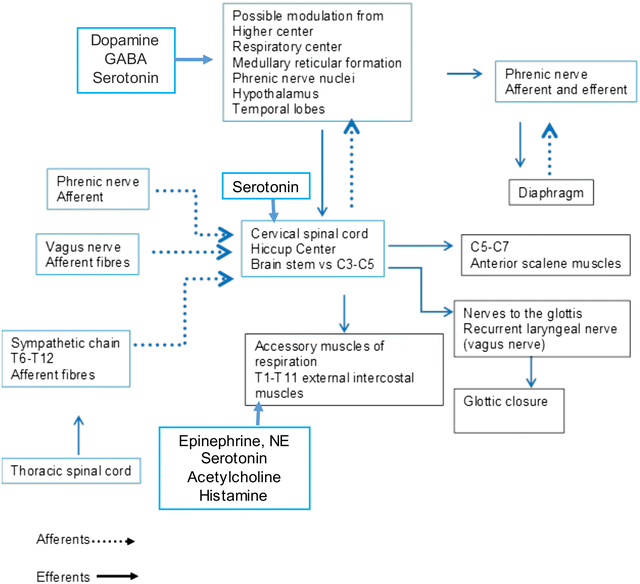 1.

The afferent limb including phrenic, vagus, and sympathetic nerves to pass on somatic and visceral sensory signals;

2.

The central processing unit in the midbrain; and

3.

The efferent limb travelling in motor fibers of phrenic nerve to diaphragm and accessory nerves to the intercostal muscles, respectively.
The central component is located in the periaqueductal grey, subthalamic nuclei (Hansen and Rosenberg 1993) among the brain stem respiratory center, phrenic nerve nuclei, reticular formation and hypothalamus. The central component for hiccups lies in the medulla and is thought to be entirely separate from the pathways involved in rhythmic breathing (Davis 1970). Dopamine, gamma-amino-butyric-acid (GABA), serotonin, glutamate, and glycine neurotransmitters can regulate this central mechanism. The hiccup arc has modulatory input from catecholaminergic and serotonergic afferents.
The release of 5-hydroxyl-tryptamine (5HT) from the gut enterochromaffin cells and enteric vagal afferents may also lead to hiccups as seen in a case report following administration of cisplatinum, a chemotherapeutic agent (Jatoi 2009). The mental branch of the trigeminal nerve was also postulated to develop hiccups when stimulated via chin shaving (Todisco et al. 2004). Significant negative intrathoracic pressure may occur during hiccups that may result in hypotension, bradycardia, pneumomediastinum, and subcutaneous emphysema (Rousseau 1995). The mechanism of action of hiccups might be mediated through agonizing 5-HT1A and antagonizing 5-HT2A receptors to enhance the activity of the phrenic nerve, thereby inducing hiccups. This concept was supported in a case report in which quetiapine was successfully used to resolve the aripirazole-induced hiccups. This may suggest the partial agonist and relatively high 5-HT1A receptors binding affinities in the pathophysiology of hiccups (Gilson and Busalacchi 1998). It is postulated in a study that the GABA-containing cells in the nucleus raphe are the source of GABA-nergic inhibition of the hiccup center (Musumeci et al. 2000).
The most commonly used pharmacological treatments include metoclopramide which reduces the intensity of esophageal contraction, chlorpromazine (Twycross et al. 2002), baclofen, nifedipine which reverses the abnormal depolarization in the hiccups reflex, valproic acid that enhances GABA transmission centrally (Smith and Busracamwongs 2003), antipsychotics, glucagon, GABA analogue which acts by activating an inhibitory neurotransmitter, and dimethlamine derivative of phenothiazine which acts centrally by dopamine blockade in the hypothalamus (Friedman 1996). Baclofen (GABA-agonist) is among the substances that act through the nervous system and has by far the best ability to treat chronic hiccups (Guelaud et al. 1995; Oshima et al. 1998; Petroianu et al. 1997; Steger et al. 2015). However, a Cochrane systemic review found insufficient evidence as to which pharmacological agent is best for hiccups (Moretto et al. 2013). Hiccups are the manifestation of diaphragmatic myoclonus and are considered to be a form of physiologic myoclonus.
Etiology
In the review of recent literature, a variety of hiccups etiologies have been reported (idiopathic, organic, psychogenic, and medication-induced) induced have been reported. Table
1
provides an overview of pathology that has been reliably linked to this condition. It has been suggested that damage to the cervical cord, brainstem, hypothalamus, and supra-tentorial area precipitate hiccups by stimulating the hiccups reflex arc or decreasing the normal inhibition of hiccup neurons. It is suggested that all potentially successful therapeutic drugs used to treat hiccups either decrease the input from gastrointestinal tract (GIT) to the hiccups center or decrease the excitability and output from the hiccups center (Burke et al.
1988
; Petroianu et al.
1997
).
Table 1
Common causes of hiccups
| | | |
| --- | --- | --- |
| Central nervous system | Vascular | Stroke, Infarct, SLE related vascular disorders and aneurysm |
| | Infectious | Meningitis and Encephalitis |
| | Structural | Brain injury, Intracranial tumors |
| | Inflammation | Neuromyelitis optica and multiple sclerosis |
| | Miscellaneous | Seizure, Parkinson's Syndrome |
| Peripheral Nervous System (phrenic, vagal and sympathetic nerves) | Gastrointestinal | Hiatus hernia, Esophageal cancer, Gastro-esophageal reflex disease, stomach volvulus and H.pylori infection, Pancreatitis, Abdominal abscess and Abdominal tumors |
| Thoracic | Cardiovascular | Myocardial Ischemia, Pericarditis, Thoracic Aneurysm |
| | Pulmonary | Bronchitis, Pneumonia, Asthma, Bronchial carcinoma, Tuberculosis |
| Ear, Nose and Throat | | Rhinitis, Otitis, Pharyngitis, Foreign body in nose or ear |
| Other causes | Toxic metabolic | Electrolyte imbalance, Alcohol, Chronic renal failure, Diabetes mellitus |
| | Pharmacological | Steriods, benzodiazepines, chlordiazepoxide, diazepam, antibiotics, sulfonamides, opioids, cisplatinum (Jatoi 2009), analeptic agent, Methyldopa, l-dopa, Dopamine |
| | Psychosomatic | Anxiety, sleep deprivation, stress and fear |
Neurotransmitters targets in hiccups
The exact etiology of hiccups is unclear, and it is unknown why diverse drugs like dopamine blocking agents (DBA), baclofen, clonazepam, and phenytoin, which have widely varying mechanisms of action, can be effective in the treatment of hiccups (Peleg and Peleg
2000
). Table
2
summarize drugs which induce and treat hiccups and their potential neurotransmitters.
Table 2
List of drugs which induce and treat hiccups and their potential neurotransmitters
Location

Neurotransmitters

Drug-induced hiccups

Treatment of hiccups

Central neurotransmitters; Respiratory center, medullary reticular formation, phreni**c nerve nuclei, hypothalamus, temporal lobes

Gama-amino butyric acid (GABA)

Propofol (Jones et al. 1995)

Valproic acid (Smith and Busracamwongs 2003)

Benzodiazepine (Jones et al. 1995)

Baclofen (Guelaud et al. 1995; Oshima et al. 1998; Petroianu et al. 1997; Smith and Busracamwongs 2003; Zhang et al. 2014)

Barbiturates (MacDonald et al. 1989)

Gabapentin (Petroianu et al. 1998, 2000; Moretti et al. 2004; Liang et al. 2005; Porzio et al. 2010)

Midazolam (Smith and Busracamwongs 2003)

Dopamine

Aripiprazole (Ray et al. 2009)

Metaclopramide (Smith and Busracamwongs 2003; Stav et al. 1992; Bateman 1983)

Chlorpromazine (Smith and Busracamwongs 2003)

Dopamine agonists (pirebedil, pergolide, pramipexo) (Sharma et al. 2006; Lester et al. 2007)

Baclofen (Martinez-Ruiz et al. 2004)

Clonazepam (Martinez-Ruiz et al. 2004)

Levodopa (Luquin et al. 1992)

Phenytoin (Martinez-Ruiz et al. 2004)

Serotonin

Olanzapine (Alderfer and Arciniegas 2006)

Sertraline (Vaidya 2000)

Tandospirone (Takahashi et al. 2004)

Risperidone (Nishikawa et al. 2015)

Peripheral neuro transmitters; diaphragm, glottis, scalene muscle, respiratory muscle, GIT

Histamine

Omeprazole (Petroianu et al. 1997)

Epinephrine Norepine-phrine

Acetylcholine

Metoclopramide (Butterworth IV et al. 2005; Smith and Busracamwongs 2003)
Conclusion
Largely through case studies involving medications, we implicate the neurotransmitters involved in hiccups. The reflex arc is potentially mediated by central neurotransmitters (GABA, dopamine, and serotonin) and peripheral neurotransmitters (epinephrine, norepinephrine, acetylcholine, and histamine). Lesions across any of these neuroanatomical structures, for instance, from the brainstem down to the diaphragm, may be responsible for the development of hiccups. Further research is needed to characterize the neurotransmitters involved in hiccups for potential new therapeutic targets.
Declarations
Authors' contributions
Conceived and designed the paper: FN, HM, SEL. All authors participated in the preparation of the manuscript. All authors read and approved the final manuscript.
Acknowledgements
We would like to extend our thanks to the Chair, Professor and Associate Dean for Clinical Research, Department of Cellular Biology and Pharmacology Florida International University, Dr. Georg Petroianu. Without his help and guidance this review would have not been possible. It is our pleasure to convey our gratitude to him in our humble acknowledgement. Also, we wish to thank Ellen Wilkinson and Nancy Bethel of California University of Science and Medicine for their editing support, guidance, and suggestions.
Competing interests
The authors declare that they have no competing interests.
Open AccessThis article is distributed under the terms of the Creative Commons Attribution 4.0 International License (http://creativecommons.org/licenses/by/4.0/), which permits unrestricted use, distribution, and reproduction in any medium, provided you give appropriate credit to the original author(s) and the source, provide a link to the Creative Commons license, and indicate if changes were made.
Authors' Affiliations
(1)
Department of Medical Education, California University of Science and Medicine - School of Medicine, Colton, USA
(2)
Department of Neurology, California University of Science and Medicine - School of Medicine, Colton, USA