How to communicate climate change 'impact and solutions' to vulnerable population of Indian Sundarbans? From theory to practice
Abhiroop Chowdhury

1

Email author

,

Subodh Kumar Maiti

1 and

Santanu Bhattacharyya

2
Received: 17 March 2016
Accepted: 12 July 2016
Published: 29 July 2016
Abstract
Introduction
Global consciousness on climate change problems and adaptation revolves around the disparity of information sharing and communication gap between theoretical scientific knowledge at academic end and practical implications of these at the vulnerable populations' end. Coastal communities facing socio-economic stress, like densely populated Sundarbans, are the most affected part of the world, exposed to climate change problems and uncertainties. This article explores the successes of a socio-environmental project implemented at Indian Sundarbans targeted towards economic improvement and aims at communicating environmental conservation through organized community participation.
Case description
Participatory rural appraisal (PRA) and the wealth rank tool (WRT) were used to form a "group based organization" with 2100 vulnerable families to give them knowledge about capacity building, disaster management, resource conservation and sustainable agriculture practices. Training was conducted with the selected group members on resource conservation, institution building, alternative income generation activities (AIGA) like, Poultry, Small business, Tricycle van, Organic farming and disaster management in a participatory mode. The climate change 'problems–solutions' were communicated to this socio-economically marginalized and ostracized community through participatory educational theater (PET).
Discussion and evaluation
WRT revealed that 45 % of the population was under economic stress. Out of 2100 beneficiaries', 1015 beneficiaries' started organic farming, 133 beneficiaries' adopted poultry instead of resource exploitive livelihood and 71 beneficiaries' engaged themselves with small business, which was the success stories of this project. To mitigate disaster, 10-committees were formed and the endemic knowledge about climate change was recorded by participatory method validated through survey by structured questionnaire. As a part of this project 87 ha of naked deforested mudflat was reclaimed with endangered mangroves involving target community members aimed to sequester CO2, control soil erosion and act as a barrier during natural disasters.
Conclusion
This case study concluded that participatory method of communication, aiming not only to communicate theoretical knowledge, but also to devise adaptation strategies through conservation of endemic knowledge, popularizing sustainability through Micro Finance Institutions and promoting AIGA along with motivating vulnerable community to restore degraded forest lands, could be a effective solution to practically combat climate change problems.
Keywords
Social workClimate change adaptation strategiesCommunity mobilizationWealth rank toolMicro-finance institution (MFI) CommunicationAlternative income generation activityDisaster management Non-Governmental Organization (NGO)Mangrove conservationAILA Endemic knowledge
Background
The problems of climate change, mainly sea level rise, global warming, increasing instances of disasters, changes in agro-production have a profound effect on the coastal communities. The deleterious effect of climate change on these ecosystems, environment and their productivity gives rise to complex human impacts affecting food security, lower coping capability with ever increasing natural disasters and fresh water shortage crises (Kilroy 2015).
Early communications on climate change is mostly limited to scientific findings and synthesis of reports (Moser 2010). But this information originating at the researchers/scientist/environmentalist's end should percolate to the resident populations and properly dealt with the managers (Tribbia and Moser 2008). Closing the gap between science and practice is a pressing ordeal bridged by the managers who regulate this flow of information from source to users (Cash et al. 2003). Another constraint in communicating climate change is the less impetus given to the human behavioral components in policy formulation and more weightage are given to the scientific fact-findings and technological aspects. Unsustainable 'quick–win' mindset of the people is mostly responsible for resource exploitive and non-green practices (Spence and Pidgeon 2010). So educating the local population is the foremost duty of an environmental manager to communicate climate change issues. Environmental threats can be mitigated with the dynamic participation of the local community and this 'bottom up' (from lowest strata of society to the policy making officials) mode of management is the effective process to battle this world threatening climate problems and communicating solutions (Carvalho et al. 2012). Community based approaches (CBA) target participant empowerment and a structured mechanism to communicate ideas from bottom to top (Allen 2006). Researches show that CBA is socio-economically effective tool in forest conservation and give positive outcomes (Chen et al. 2013; Robert and Rebecca 2006). Growth of these CBA's in environmental problems is due to its cost–effectiveness and preference of donors to this 'community component' for easy penetrability of the information and ideas to the lowest strata of the society. Communication involves a large number of discrete processes like framing messages through pictures and articulation, through the tale of life experiences for presenting an issue or event (Chong and Druckman 2007; Spence and Pidgeon 2010). Thus the participatory style of awareness campaigns is effective in imparting consciousness about negative impacts of climate change. Social learning has many benefits than individual communication. It results in increased in shared knowledge, trust between members and induce democratic decision-making power to community members (Biedenweg and Monroe 2013).
Coastal region comprises of only 4 % of the world's land area, but one-third of the world's population resides there (Cochard et al. 2008; UNEP-WCMC 2006). Deltas are the world's most vulnerable yet most populated regions with respect to the climate change influences. About 300 million people inhabiting the major deltas of the world (populaion density: 500 people/km2), are at an escalated risk due to climate change causing sea level rise and increase in natural disasters along the coast (Ericson et al. 2006; Nicholls et al. 2007; Chowdhury et al. 2016).
The Ganga–Brahmaputra–Meghna delta has already been labelled as the 'Extremely vulnerable' zone in the terms of population displacement due to climate change and raising ocean levels by 2050 (Ericson et al. 2006; Nicholls et al. 2007; Chowdhury and Maiti 2014; Chowdhury et al. 2016). It covers an approximate area of 10,000 km2, with one of the highest population density in the globe, shared by two nations, India (40 %) and Bangladesh (60 %) and is the abode of the world's largest contiguous mangrove forest of Sundarbans (Maiti and Chowdhury 2013). In an estimate it is argued that mangroves are disappearing at an alarming rate of 2 % per year which is higher than any other endangered ecosystems, like coral reefs or tropical rain forest, due to anthropogenic interventions like habitat modification for agriculture and aquaculture along with pollution problems (Dasgupta and Shaw 2013; Chowdhury and Maiti 2016a). This austere amphibious terrain infested with malaria causing mosquito, snakes, crocodile, tigers and regularly battered by cyclones and storm, is populated by ostracized section of society (reserve castes). Social organization of the Indian part of Sundarbans is discussed in details in Additional file 1. Low education levels, chronic health problems, excess labor migration, a low skill base, lack of access to official credit, low savings, under employment, high dependence on government and poor infrastructure (housing, roads, embankments, ponds, waterways, marketing, electricity and communication) are indicators of a poor livelihood asset base in the region. And this compels the inhabitants to engage in resource exploitive activities like poaching and deforestation.
Researchers opined that adaptation to climate change required to build the resilience especially for the economically compromised section of society residing in the most vulnerable part of the world (Costello et al.
2009
; De Souza et al.
2015
). Conscious participation of the resident human population is the only way to communicate climate change issues and conserving mangroves in this sensitive region as a solution to these problems. For example, Satjelia Island (Fig.
1
) (Area: 225 km
2
) is the last habitable island of Indian Sundarbans communicable only by waterways, with sporadic electricity supplywhere the majority of population falls under category of Bellow Poverty Level (BPL) and belonging to ostracized minority population (SC/ST, Muslim), where this participatory mode of communication method has been applied (Additional file
1
: Table S1).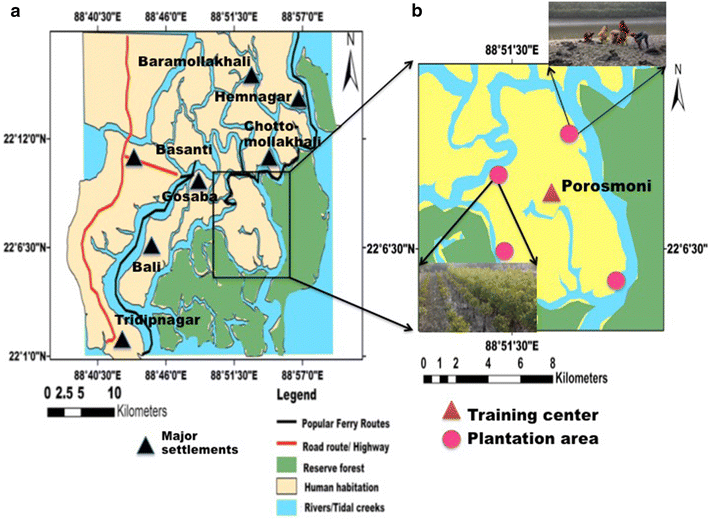 The process and outcome of the communication of environmental degradation to grass-root level population by understanding and linking livelihood, trainings, mangrove plantation programs and vulnerability is the focus of this paper. Projects can gain sustainability by the presence of strong local institution and community participation. The organogram and concept of initiation of this project is discussed in details in the Additional file 1: Fig. S1. Women savings groups were experimented in various parts of the country since 1980's, in which these Self Help Groups (SHG's) were funded by monetary inputs from different funding agencies, both governmental and foreign, and local NGO's act as a distribution center for disbursement of such credits (Premchander 2003). Group members and the charitable organizations effectively manage micro-finance institutions (MFI) system and group participation plays a pivotal role in its success and sustainability (Benson et al. 2001). Local NGO's activities play a primary role in managing post disaster crisis in different parts of the globe (Benson et al. 2001). Here we have targeted 2100 marginalized families of the Satjelia island to communicate climate change affect and solutions through training programs and theatrical performances by organizing them in a group based organization with positive outcomes. This could act as an effective way to communicate these problems to the grass-root level and narrow the gap between the affected population and educated academia.
Methods
Procedure for selecting group members
Participatory rural appraisal (PRA) has been used to select group members in accordance with the community after a baseline survey conducted randomly on the resident population of Satjelia Island prior to the formulation of the project (Bar-On and Prinsen
1999
; Chambers
1994
). Wealth ranking tool (WRT) was used to classify the vulnerable population into wealth classes that is elucidated in Table
1
. WRT is a popular and widely used socio-economic tool that can assess the economic status of a target area, but the indicators differes from place to place, as every region have their own socio-economic complexicites that need to be considered while formulating the categories/criterions for this tool (Scoones
1995
). In wealth ranking program four categories were made, i.e. A-Ultra poor, B-Poor, C-Less poor and D-others. Groups were structured with the people of "A" and "B" category only. Those individuals who fall under the "C" and "D" category were not considered for the membership in the groups. The classification was set according to the result of the wealth rank. Ranking by WRT has been done through communication with the local populace. No set rules are there and compliance to any one criterion is enough for admission of a family of these categories (either A or B). The local population of the village communicated the criterion for wealth ranking in accordance to the participatory process during the wealth ranking procedure. For example, the Wealth category 'A' has the criterion of 'widow'. A widow of a senior school teacher of any governmental aided institution gets a pension amount, so only being a widow does not ensure the admission of that individual/family into the category as she is not under any socioeconomic stress and this may be a consideration of the villagers for not placing her in the 'A' category. Similarly, in the case of 'physically not fit to work' criterion, if that person has an alternative income source then he/she would not be qualified to be admitted to the category 'A'.
Table 1
Wealth-rank classification criterion
Sl. no.

Wealth category

Criteria

1

A (ultra poor)

1. Land less

2. Widow

3. No scope for rearing live stock

4. No agricultural land

5. Work as daily labor

6. Divorcee women

7. Solitary women

8. Capture fingerling in river for feeding their family

9. Only one earning member in family

10. Work as agriculture labor

11. Small hut for living

12. Reside at road side

13. Physically not fit to work

14. Reside at river side

15. Only having land for residing

2

B (poor)

1. Small land

2. Less income

3. More than 4 members in a family but income less than 1000 INR/month

4. Small land for cultivation

3

C (less poor)

1. At least 2 earning members in the family

2. Having scope for rearing live stock

3. At least 1-acre land

4. Sufficient land for cultivation

5. Family member migrated in other states for earning

4

D (others)

1. Service men

2. Pension holder

3. Businessmen

4. Large agricultural land

5. Well built house for residence
The selected members in category 'A' of Wealth rank, is again asked for their willingness to join the group. Using WRT 2100 beneficiaries' (Households) were selected. Each household has one representative in the group. A total of 140 groups were organized of which 70 were female membered SHG and 70 male membered Primary Committee for Forest Conservation (PCFC) groups. The organization is explained in Fig.
2
and Additional file
1
: Table S2. From each hamlet (7 hamlets in total) one 'Village Committee (VC)' was selected having equal representatives from SHG and PCFC groups. Each hamlet has 20 groups (10 SHG's and 10 PCFC's). Above the VC one 'Apex Committee (AC)' was selected from the 7 VC. Over the different organizational hierarchy, group members play the sole role in selection of representatives in VC and VC members further select their AC members in a democratic framework. The AC is the topmost tier in the organization having the maximum role in decision-making process.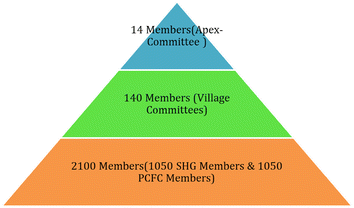 The administration protocol of the organizational framework is totally democratic. Each group (SHG and PCFC) has one President, one Treasurer and one Secretary who were democratically elected by the group members. VC which has 3 representative members from each group, and hence each VC has 20 members one from each PCFC's and SHG's in a hamlet. Each group has a savings account managed by the treasurer and supervised by the group leader and training coordinator. All members have to deposit INR 10/Month or 0.15 US Dollar/Month (minimum) in the account, which act as a disaster management fund to be used during a crisis. Members can apply for lone to start sustainable alternative livelihood or other activities. The plea/application for lone need to be passed through the group hierarchy and only after that the applicant can be given the stipulated loan and loan recovery would be done by the group members. Two members from each VC represent the AC so there is only one AC in Satjelia island with 14 members. This endeavors target in introducing effective MFI's to maintain the sustainability of the environmental friendly program components.
Collection of local contribution (LC)
According to the project agreement with donor 6.9 % LC must be collected from beneficiaries and local coordinating NGO. But raising 6.9 % LC from the beneficiaries' is an arduous and seemingly unethical task, as they don't have the financial position to pay. So to make it simple, man-hours of attendance in the training and their contribution in mangrove plantation and conservation have been converted into monetary contribution of the group according to the current labor rates in the region and treated as LC. This has a two fold benefit, (1) the required money for LC has been raised, and (2) the attendees of the program, i.e. the beneficiaries' understand their contribution and treat the trainings sessions as a program where they have also monetarily invested and not a mere philanthropy of foreign donors, which in turn improved their participation.
Training programs
Trainings and awareness campaigns were conducted on various aspects of climate change issues and capacity building programs. These programs were (1) Training on sustainable agriculture, (2) Poultry, (3) Organization building training, (4) Disaster Management, (5) Climate change issues, (6) Participatory educational theater (Chamberlain et al. 1995), and (7) Resource conservation.
Collaboration with multiple stakeholders was encouraged in these training programs. Governmental bodies like MOEF and CC (Ministry of Environment, Forest and Climate Change, Government of India), Agricultural Department (Government of West Bengal, India), Veterinary Department (Government of West Bengal, India) and Disaster Management Authority (Government of West Bengal, India) helped in these programs by providing expertise and resource person. Trainers are previously briefed about the socioeconomic and cultural condition of the community before the training to deter any avoidable complications during the session and easy accessibility of the information/skills from resource person in the target population. Trainings generally range between 2 and 4 days depending on the responses' of the trainees. And no individual is allowed to attend two trainings expect for the same type of trainings like poultry or resource conservation. The details on training content have been discussed in Table
2
. For example an individual receiving training on sustainable agriculture would not be allowed to appear for training in poultry.
Table 2
The training details and courses covered
Name of the course

Who will undergo

Tentative course contents

Purpose

People's participatory plan and monitoring

Members of Hamlet Committee (PCFC and SHG)

1. Development understanding from various schools of thought, different development concept, methods and tools. Understanding participatory rural appraisal (PRA), rapid rural appraisal (RRA) etc.

2. Participatory process: different approach and practice

3. Identification of problem, analysis, Decision making, planning and monitoring through participatory process

1. Enabling the people so that they can identify, analyze and realize their problem towards community convergence action

People's institution building and management

Members of the APEX committee, Leaders of SHGs and Members of FCC Federation

1. Character of people's institution

2. Planning from aim to accomplishment

3. Organizational dynamics and managing organizational conflict

4. Span of control and functional authority

5. Responsibility and accountability

6. Strengthening motivation

7. Leadership and change—out put and intervening variables

1. Capacity building of the members so that they can build, hold and run their own organization

Resource conservation. Pollution and environment management

Members of PCFCs

1. Environmental complex—dynamic nature of environment

2. Ecosystem dynamics—plant and its environment

3. Impact of man on environment-applied ecology of individual, population and ecosystem

4. Distribution of natural resources. Renewable and non-renewable factors

5. Trend of exploitation of natural resources

6. Trend of pollution of environment

7. Plant responses to pollution

8. Mangrove ecosystem—distribution of littoral fauna—animal societies and territoriality

9. Techniques of controlling environmental pollution including biological controls

10. Social forestry and mangrove vegetation

11. Participatory forest management

1. Understanding and realization regarding the importance of geo-specific environmental uniqueness of Sundarbans and its management

Sustainable agriculture and vermicompost

Identified farmer from target community who have ownership of agricultural land

1. Agro forestry and nursery management

2. Cultivation potential herbals

3. Soil testing and integrated nutrient management

4. Watershed management

5. Bio fertilizer, Organic manure, vermin compost

1. Enablement towards agricultural sustainability

Small business

Identified those who totally depended upon Forest for their livelihood and does not have own land

1. Identifying the trade

2. Planning and execution

3. Business capital

4. Pricing

5. Marketing

1. Capacity building of the small business man so that they can develop their own business—alternative income generation activity (AIGA)

Disaster management

Families who lives in disaster prone area

1. Identification of deeper and weaker sections of the community

2. How to minimize risks

3. Preparation before disaster

4. Security

5. Risk analysis

6. Preparation of risk maps

7. Evacuation plans
Participatory educational theater (PET)
Chamberlain et al. (1995) first used PET in AIDS awareness program amongst the affected population in Africa. In this project this method of communication has been modified as per local demands. 'Yatra' or street theaters are popular mode of entertainment for the local populace, which is conducted by mobile troupes. Here participants/volunteers have been selected from the target population belonging to the category 'A' and 'B', and trained to perform these 'shows' to convey the messages of disaster management and sustainable livelihood in the form of musical stories. These theaters are performed in religious ceremonies and during market day to attract most crowds. As during market day many people come from far-flung islands of delta, these messages are communicated to them. The success of sustainable agriculture and alternative livelihood is also communicated through these 'shows'.
Plantation program
Mangrove species produce propagules that are relatively easy to collect and plant. Propagules are directly planted particularly for
Rhizophora
spp., but for other mangroves, seedlings and saplings have grown to a height of 0.3–1.2 m beforehand at nursery. Replanting mangroves is a useful first step but to restore the ecosystem, to protect the embankments by process of soil consolidation. The process of plantation follows this order (1) clearing of
Porteresia
sp. patch to plant new mangrove saplings, as it hinder the growth of other mangrove plants by covering the sediments by thick mat of fibrous root system and competing with saplings of other halophytic species for nutrients (Fig.
3
a), (2) saplings are transported in wooden boat/dinghies to plantation sites from the nursery (Fig.
3
b), (3) digging of pits/trenches for plantation of saplings (Fig.
3
c), (4) excavation of trenches for plantation of
Rhizophora
spp that possess distinct stilt roots (Fig.
3
d).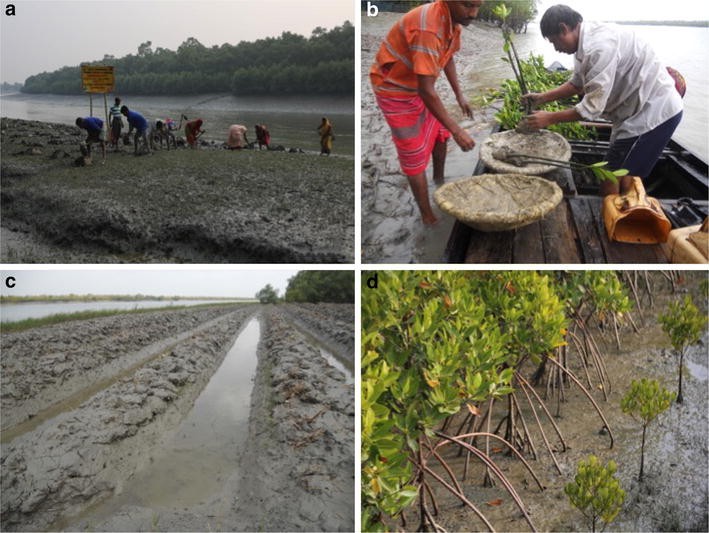 Conclusions
This paper shed light into a group-based awareness, training campaigns' to communicate the affect of climate change induced disaster to the vulnerable, marginalized population of the last human habitable island of Indian Sundarbans (Satjelia). Populations were organized into group-based structure (2100 families) through the help of wealth rank tool and PRA. Training on various aspects of management of climate-induced problems was conducted like sustainable agriculture, alternative livelihood options, disaster mitigation and resource conservation. They felt their contribution to this program when their time devoted for attending these training or working for protection of the mangroves are converted into their local contribution according to the prevalent labor rates for this socio-environmental program. participatory educational theater (PET) was also introduced with success to spread the idea of these activities and climate change related awareness amongst the population of sundarbans at large. Integrating traditional knowledge with modern disaster predicting tools disaster management groups are made and a section of society is created who could protect themselves and their community members during any crisis. Trainees successfully implemented the poultry farming, sustainable agriculture and taken active role in plantation and conservation of mangroves which is a success of this endeavor. 87.07 ha of naked mudflats were brought under mangrove cover due to the participatory engagement of the group members which is a direct step to combat climate change by trapping its principal contributor the carbon-di-oxide through plantation of mangroves. And this project aims to bridge this gap between scientific understanding of climate change and practical 'problems' at the disaster torn, poverty affected, marginalized community at Indian Sundarbans. And this multi-pronged adaptation approach can be effectively and practically used in other similar locations around the globe plagued by climate change issues and looking for a sustainable adaptive strategy.
Declarations
Authors' contributions
AC was the 'Program Coordinator' of this project during its inception years i.e. between 2012 and 2013 and formulated the plans for its proper implementation as per logical frame work (Log Frame of Project proposal), being the administrative head of the project. PRA, baseline survey and group selection/organization procedure were conducted during his tenure along with the initiation of the mangrove plantation program. He has also written, edited and compiled the project outcomes in the form of manuscript. SKM is the Ph.D. supervisor of the first author and played a pivotal role in meticulously editing the manuscript and enriching it with constructive ideas. SB is the 'Program coordinator' of this project since April 2013 and carried forward the successful implementation of this project amongst the socio-economically vulnerable beneficiaries' as the administrative head. He also provided invaluable support and information regarding the success of this project in the phase of 2013–2015, which is incorporated in this article to put forward the success of this communication process. All authors read and approved the final manuscript.
Acknowledgements
We acknowledge the support and funding of KKS (Karl KübelStiftungfür kind und de Familie, Germany) and BMZ (Federal Ministry for Economic Cooperation and Development, Germany) in the project entitled "Peoples Empowerment Towards Restoring Mangrove Vegetation and Resource Conservation" implemented in the island of Satjelia through Tagore Society for Rural Development (TSRD) from 2012 till 2015. We sincerely thank Mr. Martin Wolff and Saumyendra Roy for their guidance and suggestion during implementation of the project. We thank Padmashree Tushar Kanjilal, the Honorable secretary of TSRD for actively supporting and guiding this work. Authors are thankful to Prof. Pranabes Sanyal, Member-Sunderbans Developmental Board, Government of West Bengal, India for his help and advice to successfully implement this project. Last but not the least, authors are indebted to SpringerPlus editorial board/Biomed Central for allowing a full waiver of the publication processing charge without which this article would not have come in front of the wider academia.
Competing interests
The authors declare that they have no competing interests. The pictures/photos of persons/persons depicted in the manuscript and supplementary material are all aged above 18 years and are willing participants. The pictures are taken by the authors and given with the consent and knowledge of the person depicted so there are no competing interests to declare.
Funding
This project (People's empowerment towards restoring mangrove vegetation and resource conservation) is funded by KKS (Karl Kübel Stiftung für kind und de Familie, Beneheim-Germany) and BMZ (Federal Ministry for Economic Cooperation and Development, Germany) for the period of 2012–2015 extendable till 2016 (Grant ID: Partners Agreement TSRD-42400, 2012–2015). The project also received above 6 % of funding from implementing organization Tagore Society for Rural Development, Kolkata and beneficiaries' in form of local contribution.
Open AccessThis article is distributed under the terms of the Creative Commons Attribution 4.0 International License (http://creativecommons.org/licenses/by/4.0/), which permits unrestricted use, distribution, and reproduction in any medium, provided you give appropriate credit to the original author(s) and the source, provide a link to the Creative Commons license, and indicate if changes were made.
Authors' Affiliations
(1)
Department of Environmental Science and Engineering, Indian School of Mines, Dhanbad, India
(2)
Tagore Society for Rural Development, Kolkata, India