Mammography screening in less developed countries
Received: 2 October 2015
Accepted: 5 October 2015
Published: 15 October 2015
Abstract
Less developed countries (LDCs) are struggling with an increasing burden of breast cancer. It is important to identify what interventions might be most effective and feasible in reducing overall breast cancer mortality in a resource constrained settings. Mammography screening (MS) utilized in developed countries cannot be equally applied to LDCs. We provide a summary of the status of existing and past MS program attempts in LDCs, and try to determine the prerequisites under which any developing country is ready to benefit from a MS program. We make the case for a "mixed" portfolio of tools to reduce breast cancer mortality with MS reserved only for those sub-populations that meet the criteria. We hope our review will provide a background for policy makers to apply rigorous criteria before attempting to implement costly MS program and before judiciously evaluating additional competed programs in their countries.
Keywords
Breast cancerMammography screeningLess developed country
Background
Since 2008, breast cancer incidence has increased by more than 20 % and mortality has risen by 14 % (The International Agency for Research on Cancer (IARC) 2013). In 2012 1.67 million new cancer cases and 0.52 million cancer-related deaths were reported (Ferlay et al. 2013). Of these, 52.9 % of global cases and 62.1 % of breast cancer deaths occurred in less developed countries (LDCs) (CIA-The World Factbook 2014). Breast cancer mortality-to incidence (M/I) ratio for less developed regions is 0.37, compared with 0.20 for more developed regions (Ferlay et al. 2013). Health ministries and health-care systems in LDCs are struggling to respond to the increasing morbidity and mortality from advanced cancers among patients treated in the public system and among the urban poor, rural, remote and indigenous populations (Goss et al. 2013). Several studies have described the current status and challenges of breast cancer facing a number of key LDCs including Brazil, (Lee et al. 2012) Mexico (Chavarri-Guerra et al. 2012) and China (Fan et al. 2014). For all of these countries, mortality is much higher due to low cancer awareness, lack of early detection with concomitant higher stage of disease at presentation, lack of an implemented, effective national screening program and lack of timely access to optimal cancer care, all of which challenges the ability of these LDCs to ameliorate their cancer burden.
Stated by the International Agency for Research on Cancer (IARC) that "an urgent need in cancer control today is to develop effective and affordable approaches to the early detection, diagnosis, and treatment of breast cancer among women living in LDCs" (The International Agency for Research on Cancer (IARC) 2013). Patients with late stage breast cancer associated with more substantial economic burden even in developed countries (DCs), (Remak and Brazil 2004) we believe developing an effective and affordable early detection approach may be the first step for majority LDCs.
An effective mammographic screening (MS) program is considered the best tool available for early stage detection of breast cancer and can potentially reduce the risk of death from breast cancer (Wubker
2013
; Apesteguia Ciriza and Pina Insausti
2013
). However, it has not been without controversy, views of the possible risk:benefit of MS are sharply polarized and increasingly vocal (Marmot
2013
). In 2002, the IARC thoroughly reassessed evidence on the effectiveness of MS with a goal of interpreting effectiveness and to attempt to balance expected risk:benefit ratios in specific target populations, aim to formulate recommendations for further research and public health action (The International Agency for Research on Cancer (IARC)
2002
). Until now the debate has still not been resolved. Some countries such as the United States (US) (US Preventive Services Task Force
2009
) and Canada (Tonelli et al.
2011
) have modified or updated their recommendation for MS programs timely. Likewise the United Kingdom (UK), has recently convened an independent panel to review the evidence (Marmot et al.
2012
). It is apparent that universal standards for the implementation of MS programs in different countries, and within a specific country is not feasible, due to enormous variations in the population and availability of resources, and differing interpretations of the existing data. This has led to a wide diversity of recommended guidelines (Table
1
).
Table 1
Mammography screening programs in selected LDCs and DCs
Country

Organizational level

Year implemented (nationwide)

Participation rate

Interval (years)

Screening age

LDCs

Russia

Khanty-Mansiysky autonomous Region-Yugra

2007

67.50 %

2

>40

Brazil

State of Sao Paulo

2003

56.70 %

2

40–69

Mexico

Mexico City

2005

50 %

2

40–69

Uruguay

Nationwide

2006

Mandatory

2

40–59

Hungary

Nationwide

2002

56.30 %

2

45–65

Croatia

Nationwide

2006

60 %

2

50–69

Poland

Nationwide

2007

40 %

2

50–69

DCs

Sweden

Nationwide

1986 (97)

81 %

1.5/2

40–74

UK

Nationwide

1988 (96)

76 %

3

50–64

Canada

Nationwide

1988

79 %

2/3

50–74

US

Nationwide

1991

83 %

1

≥40

US-ACS

1

≥40

US-ACR

1

≥40

US-ACOG

1

≥40

USPSTF

2

50–75
Whether MS programs should be implemented or not for the goal of down-staging and reduce mortality of breast cancer in LDCs is challenging the notion. Based on their current resource-limited health-care systems, most LDCs believe that "raising breast awareness may be a priority goal, before trying to implement wide spread population-based screening" (Harford 2011). However many LDCs are undergoing significant economic growth and change and have rapidly changing socioeconomic, infrastructure and ethnic changes occurring. It is thus an increasing challenge for all LDCs to gain an understanding of the specific circumstances and criteria in which they would consider launching a MS program. Herein we provide a summary of the status of existing and past MS program attempts in LDCs and try to provide criteria on which this decision can be based.
Methods: search strategy and selection criteria
Medline (OVID), Pubmed and Web of Knowledge databases were searched for the subject headings: "breast neoplasm," "breast cancer," "breast," and "screening" both as single headings and combined, up to December 2013. Reference lists from relevant individual articles were examined for additional relevant articles. Full papers and/or abstracts were reviewed and included to illustrate the current status of mammography screening in LDCs if: (1) Mammography screening and related topics were specifically the topic of the manuscript or emphasized within it; (2) breast cancer screening described in the article referred specifically to women living in LDCs (not including those who live in or immigrated to developed countries); (3) the article (abstract) was published in English between 2002 and December 2013 [literature published subsequent to the published IARC Handbook (The International Agency for Research on Cancer (IARC) 2002) of breast cancer screening in 2002].
Discussion
LDCs have experienced a marked increase in breast cancer burden, (Ferlay et al. 2013) with poor cancer awareness of the public, delayed diagnosis, and non-optimal and untimely treatment. Efforts are needed to improve patient outcomes (Goss et al. 2014). Most LDCs prioritize early detection of breast cancer, and some may be eager to achieve this through MS programs. The aim of this review is to illustrate the status of existing and past MS program attempts in LDCs and outline the challenge and limitations of MS in these countries.
There are some limitations to this review. Firstly, the definition of LDCs varied- our definition is similar to the World Bank's term "developing economies," which includes low- and middle-income economies, with gross national income (GNI) per capita of less than US$12,616 (The World Bank 2014a). Discrepancies exist, for example, although Russia is categorized as a high income country, it is still regarded as a developing country by the World Bank, and therefore was included in our analysis. Secondly, our review was limited to literature published in English, therefore we may have omitted studies published in local journals or listed in non-English databases. Thirdly, our review does not cover all parameters related to launching a MS program, but instead we have selected factors which we believe are most important for defining a target population, assessing whether a country is well-equipped, and designing and evaluating the practicality of such a program.
Increasing efforts for breast cancer screening have been made in LDCs: national recommendations and/or guidelines have been laid out, MS programs had been incorporated in some countries and relevant studies have been conducted in others. Based on our review, there may be a role in LDCs to employ western style MS for targeted minority groups, such as high socioeconomic level and high risk populations. Meanwhile, for LDCs, it is also important to ensure patient follow-up to maintain high adherence rates, to ensure the accuracy of screening mammography, to shorten the waiting time to definitive diagnostic procedure after suspicious results, and to deliver state-of-the art treatment after early detection by screening. MS programs are currently too resource-demanding for most LDCs, due to the lack of breast cancer awareness among the population, the inadequate identification of appropriate target populations, the low likelihood of up-take and compliance, the scarcity of mammography resources, unaffordable screening costs and overall sub-optimal outcomes in survival benefit.
Conclusion
MS is one tool among many to promote early detection to downstage breast cancer diagnosis and mortality reduction. Improving the socioeconomic conditions and education level of the population are also methods which can drastically increase breast cancer awareness and improve the likelihood of improved adherence rates for a future MS programs implemented in LDCs. Overall, the best interventions for methods for mortality reduction of breast cancer must be customized to accommodate local conditions, and making the best use of limited resources is essential (Fig.
2
: flow chart).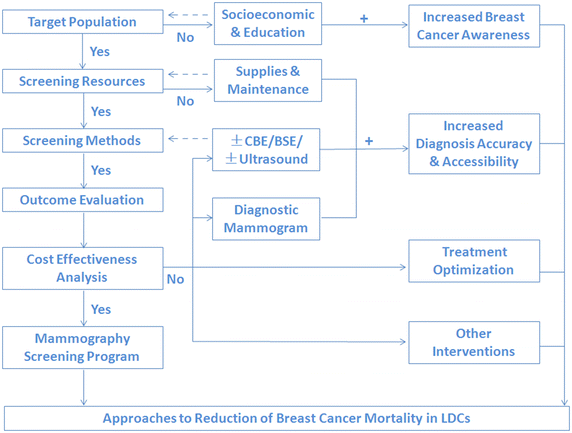 Declarations
Authors' contributions
JJL and ZMS planned and wrote the Review. JJL did the literature search and participated in the concept design. JJL prepared the figures and tables. ZMS participated in the concept development, writing, editing. Both authors read and approved the final manuscript.
Ethical approval
All procedures performed in studies involving human participants were in accordance with the ethical standards of the institutional and/or national research committee and with the 1964 Helsinki declaration and its later amendments or comparable ethical standards. This article does not contain any studies with animals performed by any of the authors.
Competing interests
The authors declare that they have no competing interests.
Open AccessThis article is distributed under the terms of the Creative Commons Attribution 4.0 International License (http://creativecommons.org/licenses/by/4.0/), which permits unrestricted use, distribution, and reproduction in any medium, provided you give appropriate credit to the original author(s) and the source, provide a link to the Creative Commons license, and indicate if changes were made.
Authors' Affiliations
(1)
Department of Breast Surgery, Shanghai Cancer Center and Cancer Institute, Shanghai Medical College, Fudan University, Shanghai, People's Republic of China