Robotic 3D scanner as an alternative to standard modalities of medical imaging
Received: 12 November 2013
Accepted: 20 December 2013
Published: 6 January 2014
Abstract
There are special medical cases, where standard medical imaging modalities are able to offer sufficient results, but not in the optimal way. It means, that desired results are produced with unnecessarily high expenses, with redundant informations or with needless demands on patient. This paper deals with one special case, where information useful for examination is the body surface only, inner sight into the body is needless. New specialized medical imaging device is developed for this situation.
In the Introduction section, analysis of presently used medical imaging modalities is presented, which declares, that no available imaging device is best fitting for mentioned purposes. In the next section, development of the new specialized medical imaging device is presented, and its principles and functions are described. Then, the parameters of new device are compared with present ones. It brings significant advantages comparing to present imaging systems.
Keywords
3D model of human body3D scannerMedical imagingMRI alternative
Introduction
In order to understand all the processes inside the human body, or in order to detect its defects, we want to be able to look into the body in non-invasive way, without its damaging – and that is what we achieve using medical imaging. This important tool has ever played an important role in public health care since the first medical imaging technique was presented at 1985 by Wilhelm Rontgen (Novelline1997) and has been developed a lot since this time. Nowadays, we have plenty of devices using different techniques, when most of them are focused on seeing the interior objects inside the body and some of them are able to build 3D model of part of human body (Singh and Jones1993).
But there are many specific cases, where information about inner structures is useless for our purpose and just 3D model of surface is sufficient. As an representative example, monitoring of rehabilitation process after serious injury can be mentioned: The monitored value is volume of musculature and the shape of recovering muscle. The gain in muscle volume is too small to be measureable by common techniques and changes in shape are also tiny. As a result of this, the only solution is to compare detailed 3D models of damaged part of patients body acquired in different time moments (Konecny et al.2013). Because the monitored values can be measured from body surface, the required model for this case is a 3D model of surface, inner structures are not necessary.
Actually, common imaging modalities capable of building 3D models of surface are Computed Tomography (CT), Magnetic Resonance Imaging (MRI) and partially Ultrasonography (Udupa and Herman2000: Webb2002). Each imaging technique has its advantages and disadvantages:
Ultrasonography
Medical ultrasonography is a modality, which is primarily intended to watch internal constitution of inner tissues, not to capture the body surface (Robertson and Baker2001). Although ultrasonography in a broader sense, on account of its physical principle, is capable of capturing surface, this technique is not sufficient because of its poor resolution, which is caused by sound-beam divergence (Musil et al.2008). In order to analyze volume and tissue shape, resolution higher than provided by ultrasound is required.
Computed tomography
Computed Tomography reaches up to 0.2 mm spatial resolution in output 3D model (MCCollough and Zink1999), what is value, which is fully sufficient for our purposes. It works on principle, that high number of 2D scans is produced using X-ray source and these slices are merged together into one 3D model (Herman and Gabor2010). Ionizing radiation absorbed by patient during one scan is up to 15 mSv, what is one third of allowed exposition for workers with ionizing source per year and for common people exceeds allowed hygiene limits even 15 times (Statni urad pro jadernou bezpecnost2002). For this reason, use of this modality is allowed as rare as possible and repeated scanning is completely out of the question.
Magnetic resonance imaging
Compared to technologies mentioned above, Magnetic Resonance Imaging is the best fitting modality for purposes of capturing 3D models of surface periodically. It doesn't work with X-rays, so there is no limitation on number of models scanned. Its resolution is also high enough (approximately 1 mm) (Novelline1997) and this technique produces 3D model containing both surface and inner structures (Seidl and Vaneckova2007). But because of its complexity, acquisition costs of MRI scanner begins at 750 000 EUR, and price per one model reaches from 230 to 350 EUR (Magnetic Resonance Imaging2010).
Summary
As summarized above, none of these technologies are intended to provide 3D model of patient's body surface only. All of them provides image of inner structures, what influences device's costs and also brings another disadvantages. There is no imaging device intended specially for medical cases, which requires model of body surface as a tool for examination.
To develop such specialized device, which will be free of disadvantages mentioned above, it is aim of project described in this paper. In the following section, the constitution and main operating principles of this new proposed medical imaging device are described, then comparison with present devices is made.
Robotic 3D scanner
Proposed Robotic 3D Scanner consists of laser scanner, which is mounted on industrial manipulator's end-point (Figure
1
) and can be easily replaced with any other. Algorithms and control software are fully independent on type of scanner used, the only requirement is, that scanner's driver must implement defined interface. This provides significant flexibility – we are able to scan wide range of objects.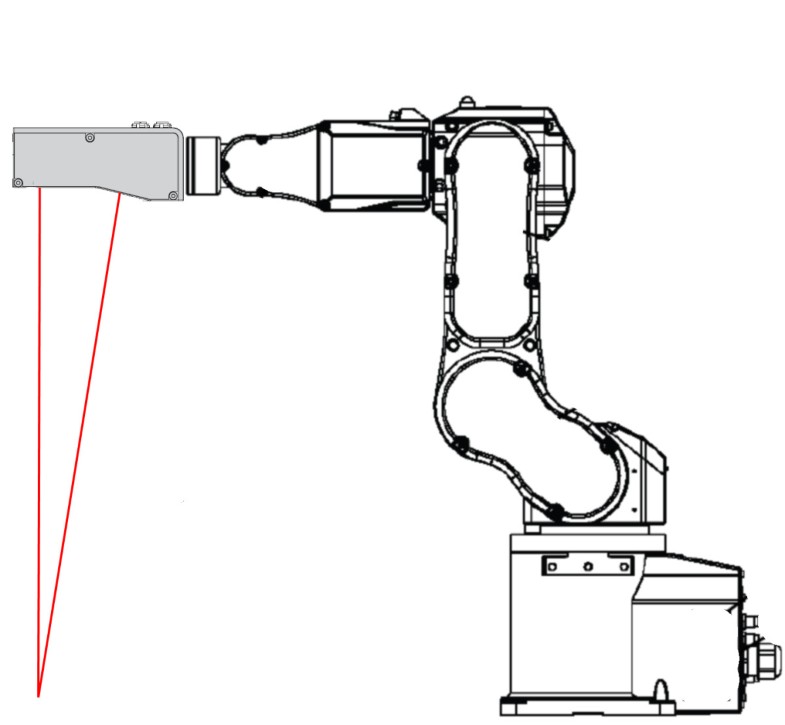 In case of scanning surface of human body, high resolution is required, so we use precise laser scanner based on triangulation principle. These scanners are very accurate, but disposes with small measuring range. Such scanner should also use laser emitter compatible with Class 1 or Class 1M in order to avoid damage of patient eyes in case of scanning his face, what is realizable with some scanners presently available.
If we want to make 3D model of any large structure, like a building etc., it is also possible, we can only change the scanner to one with wider measuring range, for example laser scanner based on TOF principle can be used (Shan and Toth2008). So this device is not just for scanning body – it is flexible multi-purpose 3D scanner.
Comparison with standard modalities
Parameters, advantages and disadvantages of common actually used imaging modalities, which are used in case, when patient body surface capturing is required, are summarized in Table
2
. Proposed Robotic 3D Scanner is compared with them in order to analyze benefits of its use.
Table 2
Comparison of various medical imaging modalities
| | Sonograph | CT | MRI | Robotic 3D |
| --- | --- | --- | --- | --- |
| | (Musil et al.2008), | (MCCollough and Zink1999), | (Novelline1997), | |
| | (Compare Ultrasound Cost2012), | (Herman and Gabor2010), | (Magnetic Resonance Imaging2010) | |
| | (Physics of Ultrasound Imaging2009) | (Statni urad pro jadernou bezpecnost2002) | | |
| | | (Compare CAT Scan Cost2012) | | |
| Acquisition costs | 150–750 EUR | 120 000 EUR | 775 000 EUR | 38 000 EUR |
| Price per scan | < 1 EUR | 100–250 EUR | 230–410 EUR | < 1 EUR |
| Scanning time | < 1 min. | 3–10 min. | 20–40 min. | 1–2 min. |
| Resolution | 10–50 mm | up to 0.2 mm | Up to 0.5 mm | < 0.18 mm |
| Harmful radiation | No | Yes | No | No |
| Limitations | None | Must be use rarely | No metal objects | none |
| Output | Inner structures | Inner structures | Inner structures | Body surface |
Sonographs are fast and relatively cheap devices, but do not meet required minimal resolution. Also commonly used device are intended to watch just inner structures and devices capable of scanning surface of body are very rare (Physics of Ultrasound Imaging2009).
Computed tomography reaches desired resolution, but it also cannot be used because of high expositions of ionizing radiation (Statni urad pro jadernou bezpecnost2002). Repeated measurements cannot be performed because of this reason. CT devices are also very expensive at acquisition and also at operation.
The only device, which is useful for our purposes is MRI. It disposes with sufficient resolution and does not produce harmful radiation, so it can be used repeatedly. But its acquisition costs are extremely high, as well as its operational costs (Magnetic Resonance Imaging2010). It is one of the most expensive medical imaging, so as a result of this, not enough devices are available. It leads to long waiting times for examination, what makes problems when periodical scanning is required. Problems are also with people afflicted with claustrophobia, with pacemakers, endoprostheses or with metal piercing.
All these disadvantages are not present at Robotic 3D Scanner. Its clear, that it cannot supply MRI completely – MRI is designed mainly for models of interior of body. But in many cases, where look into the body is not necessary, MRI can be successfully replaced by Robotic 3D Scanner. In such cases, its use saves considerable amounts of money, scanning is faster and we don't block patients, that must be captured by MRI and cannot be scanned with other device. Also the comfort of patient is high, because of no special requirements on him/her.
Conclusions
This paper describes Robotic 3D Scanner as an alternative to Magnetic Resonance Imaging in special cases, where information required for examination is not the whole 3D model of afflicted part of body, but only its surface. In these cases, Robotic 3D Scanner, a device specially developed for these situations, can provide at least the same quality of resulting 3D scan in faster time and with lower expenses. In most cases, the result reaches the higher resolution than MRI and brings higher comfort for patient.
The prototype of Robotic 3D Scanner has been developed, which is fully capable of building 3D scans. In future work, the safety functions will be more developed in order to be sure, that operation of manipulator cannot be harmful for its users and scanned patients at any circumstances. Scanning capability will be also extended with multi-spectral texture mapping, that shows information of colours and temperatures on the surface of 3D model.
Entire research contributes to optimization of public health care operation by avoiding expensive examinations, which could be performed in cheaper and smarter way. This research was performed on behalf of St. Anne's University Hospital Brno, where application of proposed Robotic 3D Scanner is planned.
Ethical approval
All the experiments were perfomed in Compliance with the Helsinki Declaration and persons taking part in it gave their approval to perform the experiment.
Declarations
Acknowledgements
This work was supported by junior inter-faculty research FAST/FEKT-J-13-1987 "Matrix optical sensors data fusion" of internal grant system BUT and by the projects CEITEC - Central European Institute of Technology (CZ.1.05/1.1.00/02.0068) and FNUSA ICRC (CZ.1.05/1.1.00/02.0123) from European Regional Development Fund.
Authors' Affiliations
(1)
Central European Institute of Technology, Brno University of Technology, Brno, Czech Republic
(2)
Faculty of Electrical Engineering and Communication, Brno University of Technology, Brno, Czech Republic
(3)
International Clinical Research Center - Center of Biomedical Engineering, St. Anne's University Hospital Brno, Brno, Czech Republic
Copyright
© Chromy and Zalud; licensee Springer. 2014
This article is published under license to BioMed Central Ltd. This is an Open Access article distributed under the terms of the Creative Commons Attribution License (http://creativecommons.org/licenses/by/2.0), which permits unrestricted use, distribution, and reproduction in any medium, provided the original work is properly cited.