How to explain exercise-induced phenotype from molecular data: rethink and reconstruction based on AMPK and mTOR signaling
Received: 2 December 2013
Accepted: 17 December 2013
Published: 28 December 2013
Adaptability is essential for survival of lives. Exercise-induced physiological adaptation is often demonstrated by changes in molecules, cells, and organ systems. In skeletal muscle, endurance exercise often increases mitochondrial content and type I myofibers and induces a switch of myofibers from type 2x to type 2a. Resistance exercise often increases muscle protein synthesis and muscle size. All of these changes based on gene expression profile are summarized as exercise-induced phenotype (Figure
1
). Endurance and resistance exercise represent extremes on exercise-induced adaptation and produce markedly different phenotypes that are mediated by a complex interplay between AMP-activated kinase (AMPK) and mammalian target of rapamycin (mTOR) signaling (
Egan and Zierath, 2013
). Exercise physiologists provided a large number of publications to describe the exercise-induced phenotype, they engaged in dissecting the molecular pathways in order to explain: how does human acquire aerobic endurance and muscle strength from endurance and resistance exercise? What gene or protein is important and indispensable for exercise-induced phenotype? With the increase of the publications in this field, it is more and more difficult to guarantee the consistency and validity of exercise-induced phenotype in different studies. How to summarize these molecular evidences and make a story is important for exercise physiologist to understand exercise-induced phenotype.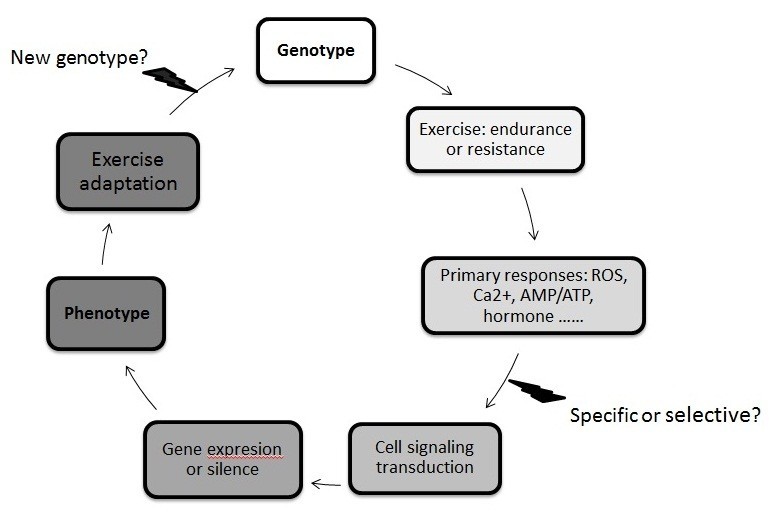 (1)
Key Laboratory of Adolescent Health Assessment and Exercise Intervention, Ministry of Education, East China Normal University, Shanghai, 200241, China
(2)
College of Physical Education and Health, East China Normal University, Shanghai, 200241, China
(3)
Department of Traditional Chinese Medicine, Changhai Hospital, Shanghai, 200438, China
© Qi et al.; licensee Springer. 2013
This article is published under license to BioMed Central Ltd. This is an Open Access article distributed under the terms of the Creative Commons Attribution License (http://creativecommons.org/licenses/by/2.0), which permits unrestricted use, distribution, and reproduction in any medium, provided the original work is properly cited.