Novel variations in the adiponectin gene (ADIPOQ) may affect distribution of oligomeric complexes
Received: 14 September 2012
Accepted: 8 December 2012
Published: 14 December 2012
Abstract
Adiponectin is an obesity related protein that mediates the risk of type 2 diabetes in obese individuals with its anti-inflammatory and insulin-sensitizing properties. To date, five functional variations have been identified in the adiponectin gene. However, these variations are rare, and fail to fully explain adiponectin variability, suggesting unidentified causal variations exist. Thus, our objective was to identify novel, potentially functional amino acid-changing variations in ADIPOQ exonic regions and relate them to oligomeric forms of adiponectin in serum. We sequenced ADIPOQ exons in 30 adolescents chosen from a school-based cohort based on serum adiponectin and insulin levels. Four coding region changes were identified: a methionine initiation skip (MIS), P32L, R55C, and Y111H, of which R55C and Y111H have been previously identified. Individuals with the novel variations and R55C had low levels of adiponectin and decreased adiponectin oligomerization compared to adolescents with similar body mass index and insulin levels. Further, bioinformatic analysis predicted putative functionality of these variations. In our study, Y111H was unrelated to total circulating adiponectin or adiponectin oligomerization. Given the disruption of adiponectin oligomerization in the individuals with MIS, P32L, and R55C coding changes, these variations may lead to increased metabolic disease risk and warrant further examination in larger cohorts.
Keywords
Type 2 Diabetes
Insulin resistance
Extreme phenotypes
Non-synonymous
Obesity
Genetic
Introduction
Obesity is a major problem in the United States with over two thirds of adults and one third of adolescents classified as overweight or obese Ogden et al. (2012). While excess weight is a risk factor for type 2 diabetes, most obese individuals do not develop type 2 diabetes (T2D) (Boyle et al. 2010; Eckel et al. 2011; Writing Group for the Search for Diabetes in Youth Study Group et al. 2007). Adiponectin may help explain the increased T2D risk in some obese individuals. Adiponectin has anti-inflammatory and insulin-sensitizing properties, and low adiponectin levels precede development of insulin resistance and T2D (Hotta et al. 2001; Lindsay et al. 2002). Mechanistically, adiponectin facilitates insulin actions in peripheral tissues by activating AMP kinase and p38 MAPK (Combs et al. 2001; Yamauchi et al. 2002). However, adiponectin's effects on insulin sensitivity are more clinically relevant in obese individuals. In lean individuals Martin et al. (2005) and mice Maeda et al. (2002), adiponectin concentrations are not associated with insulin sensitivity; yet, in the context of obesity adiponectin concentrations show strong association with insulin levels (Maeda et al. 2002; Martin et al. 2005).
Adiponectin is coded by ADIPOQ (NCBI GeneID 9370) located at 3q27. ADIPOQ single nucleotide variations (SNVs) have been associated with T2D (p < 10-2), insulin resistance (p < 10-2), and serum adiponectin (p < 10-8) (Vasseur et al. 2002; Filippi et al. 2004; Hivert et al. 2008; Mackevics et al. 2006; Mousavinasab et al. 2006). Adiponectin multimerizes resulting in four circulating oligomeric forms: trimers (LMW), hexamers (MMW), high molecular weight (HMW), and very high molecular weight (VHMW) complexes Tsao et al. (2002). HMW and VHMW complexes are most active biologically Pajvani et al. (2004). To date, five causal SNVs have been described (R55H, G84R, G90S, R112C, and R131H). These SNVs are associated with hypoadiponectinemia, impaired adiponectin multimerization, and T2D (Waki et al. 2003; Takahashi et al. 2000; Jungtrakoon et al. 2011). However, these SNVs are rare and fail to fully explain adiponectin variability, suggesting unidentified causal SNVs exist.
Thus, our objective is to identify novel and known ADIPOQ coding changes and relate them to oligomeric forms of adiponectin. By sequencing ADIPOQ in adolescents with extreme serum adiponectin levels (high or low), we enriched our study group for non-synonymous ADIPOQ SNVs. In this article, we present ADIPOQ coding region variations and their effect on adiponectin oligomerization. While the impact of these SNVs may be masked in lean individuals, once validated in mechanistic studies, these mutations could be included in a metric used by clinicians to council at-risk children on their increased risk for insulin resistance before they become overweight and insulin-insensitive.
Results
Four non-synonymous SNVs were identified: a methionine initiation skip (c.130 G > A abbreviated as MIS), P32L, R55C, and Y111H (Figure
1
). Each SNV was present as a heterozygote and found in a single individual. Three of the 4 SNVs (MIS, P32L, and R55C) were identified among the 10 (30% success rate) individuals with the lowest 1 percent of adiponectin in our cohort very low serum adiponectin. In the NHLBI's Exome Project, only 21 non-synonymous
ADIPOQ
changes were identified in 5138 individuals: a 0.4 percent success rate. Selecting individuals with the lowest adiponectin levels to sequence led to a statistically significant enrichment for non-synonymous changes as compared to the NHLBI sequencing project (Fisher's exact test p value < 10
-5
).

Individuals with coding SNVs exhibited phenotypic heterogeneity with respect to BMI and insulin (Table
1
), but glucose values were clinically normal and thus not presented. Interestingly, individuals with adiponectin SNVs and low adiponectin values had impaired oligomerization as evidenced by Western blots (Figure
2
) and oligomeric ELISAs (Table
2
) even when accounting for variability in BMI and insulin.
Table 1
Demographic Characteristics of Individuals with Variations (SNV) and Matched Controls
SNV

Subjecta

Age

Sex

Race

Puberty

BMI (kg/m2)

BMI Z

Insulin (pmol/l)

MIS

Index

14.7

M

W

Post

21.7

0.67

25.6

Match – A

14.9

M

W

Post

21.4

0.54

44.0

Match - B

15.1

M

W

Post

22.3

0.74

133.7

P32L

Index

12.8

F

W

Peri

23.1

1.19

330.9*

Match - A

12.6

F

W

Peri

22.9

1.19

202.7*

Match - B

13.0

F

W

Peri

22.3

0.99

112.9

R55C

Index

13.4

M

B

Peri

33.3

2.38

350.2*

Match - A

13.7

M

B

Peri

35.9

2.51

330.6*

Match - B

13.7

M

B

Peri

29.1

2.04

84.9

Y111H

Index

11.8

F

W

Peri

18.3

0.14

74.0

Match - A

12.0

F

W

Peri

18.5

0.17

77.8

Match - B

12.1

F

W

Peri

18.7

0.20

25.3

5th - 95th Percentilesb

10.8 – 17.9

16.5 – 34.6

−1.02 – 2.35

35.0 – 348.2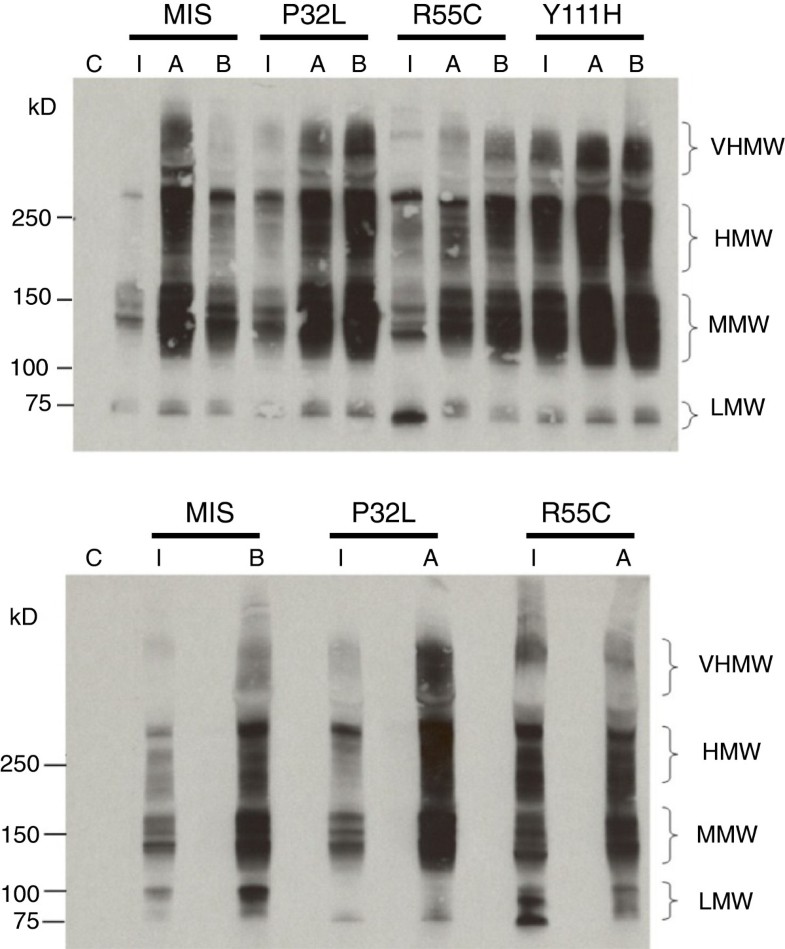 Table 2
Quantification of serum adiponectin and oligomerization
SNV

Subjecta

RIA

ELISA

Total (μg/ml)

Total (ug/ml)

HMW + MMW (ug/ml)

HMW (ug/ml)

MMW (ug/ml)

LMW (ug/ml)

% HMW

MIS

Index

0.6

1.1

0.4

0.03

0.37

0.7

0.03

Match – A

11.6

7.5

5.5

2.9

2.6

2

0.39

Match - B

3.1

2.6

1.7

0.5

1.2

0.9

0.19

P32L

Index

2.3

2.2

1.3

0.6

0.7

0.9

0.27

Match - A

12.3

6.4

4.9

2.6

2.3

1.5

0.41

Match - B

12.7

7

5.3

3.4

1.9

1.7

0.49

R55C

Index

1.2

4.3

0.4

0

0.4

3.9

0.00

Match - A

4.9

3.4

2

0.7

1.3

1.4

0.21

Match - B

11.1

4.8

3.1

1.9

1.2

1.7

0.40

Y111H

Index

13.6

6

5.1

2.6

2.5

0.9

0.43

Match - A

13.2

8.7

7.3

4.3

3

1.4

0.49

Match - B

12.6

8.3

6.3

3.7

2.6

2

0.45
Discussion
As adiponectin is associated with obesity-related risk of T2D and is strongly determined by genetic factors, our objective was to identify novel and known ADIPOQ coding changes and relate their relationship to oligomeric forms of adiponectin. Using an extreme discordant phenotyping approach, four non-synonymous heterozygous ADIPOQ changes were identified, two of which were novel. By sequencing individuals with extremely low serum adiponectin levels we enriched the sample for non-synonymous SNVs as compared to a sample sequenced without respect to adiponectin levels. Three of the four SNVs exhibited impaired oligomerization consistent with bioinformatic predicted functional effect. Once biologically validated, these variations could be used to identify individuals at-risk of obesity related insulin resistance and T2D.
In the three index individuals with non-synonymous SNVs and low serum adiponectin level, BMI and insulin levels exhibited variability; 2 of the 3 individuals were obese and hyperinsulinemic. Yet, the oligomeric patterns in these three index individuals were consistent with reduced HMW adiponectin compared to individuals with similar insulin levels, suggesting a potential dominant negative effect. MIS and P32L have not been reported in dbSNP135, the Human Gene Mutation Database at the Institute of Medical Genetics in Cardiff, or the NHLBI Exome Project. P32L and R55C were both predicted to be potentially damaging by PolyPhen. For P32L, reduced functionality may be due to the proximity of the SNV to a conserved lysine (K33) and a cysteine (C36) known to form disulfide bonds (Figure 1) Waki et al. (2003). R55C was initially reported as part of NHLBI's Exome Sequence Project (rs138227502, frequency 0.1%), but no phenotypic information was provided. R55C introduces a novel cysteine 19 amino acids downstream of C36, potentially affecting disulfide bond formation. Interestingly, in Thai T2D patients, a similar SNV, R55H resulted in substantially reduced HMW formation as compared to wild type Jungtrakoon et al. (2011). On the other hand, neither SIFT nor PolyPhen predicted a damaging effect of MIS. However, it is important to recognize that PolyPhen does not account for the amine portion of ADIPOQ where this variation occurs. Indeed, adiponectin missing the N-terminal region, similar to MIS, has reduced ability to inhibit collagen-induced platelet aggregation and diet induced hepatic steatosis Ujiie et al. (2006). Further, the presence of a normal metabolic profile in our subject is consistent with the adiponectin knockout mouse, whose insulin and glucose remained normal until placed on a high-fat diet Maeda et al. (2002).
Y111H has been reported (rs17366743) (Vasseur et al. 2002; Waki et al. 2003; Kretowski et al. 2005), with a minor allele frequency of 5.8%. While previous reports suggest adiponectin levels were reduced with this SNV (Vasseur et al. 2002; Kretowski et al. 2005), the individual with this change had adiponectin levels above the mean for our cohort consistent with higher adiponectin levels seen in individuals with Type I diabetes (Morales et al. 2004; Frystyk et al. 2005). Further, this SNV did not appear to alter adiponectin oligomeric distribution.
In this paper, we report identification of three putatively functional heterozygous ADIPOQ SNVs after sequencing ten individuals with the lowest adiponectin in our cohort. Given our high rate of success in identifying coding SNVs, sequencing candidate genes and an extreme phenotype approach may be an excellent mechanism to complement current exome sequencing approaches. Importantly, our approach identified rare heterozygous non-synonymous SNVs; evaluation of these heterozygous non-synonymous changes can be challenging in exome sequencing data as previous studies have demonstrated that thousands of non-synonymous SNVs may be present in any one individual Wheeler et al. (2008). Given the large number of non-synonymous heterozygous changes, the likelihood of any one heterozygous SNV being overlooked might be quite substantial. Indeed, while R55C was identified in the NHLBI exome sequencing project, there are no studies examining its effect. This could be a problem for adiponectin as all functional SNVs are heterozygous (Jungtrakoon et al. 2011; Kondo et al. 2002; Vasseur et al. 2002).
As adiponectin plays an important role in mediating obesity related insulin resistance (Martin et al. 2005; Maeda et al. 2002) especially the high molecular weight forms Pajvani et al. (2004), identification of functional adiponectin variations could have substantial clinical implications. Specifically, if these variations cause hypoadiponectinemia, then individuals with these changes may need to be counseled to more aggressively maintain a healthy weight and low carbohydrate diet, as these individuals will be at highest risk for hyperinsulinemia and T2D. However, one limitation of this study is the small sample size examined, so it is not possible to ascertain from this study whether these variations may occur in other patients and lead to the same findings with regard to oligomerization. It is therefore important to validate these findings biologically and clinically first. For example, examining adiponectin serum levels and oligomerization in the 21 individuals from NHLBI's Exome Sequencing Project with an R55C variation could provide additional support that this variation is likely functional.
It is important to recognize that while this investigation focused on coding changes that potentially affect adiponectin levels and oligomerization, other variations exist in the 5' regions of the gene that are associated with adiponectin gene expression or serum levels. In particular, we and others have reported that variations between 10 kb and 12 kb upstream of the ADIPOQ transcription start site may alter adiponectin levels (Woo et al. 2006; Heid et al. 2010; Gupta et al. 2012), and proximal promoter polymorphisms have been implicated as well Laumen et al. (2009). Because individuals were selected for sequencing and Western blotting based only on phenotype, many also harbored various promoter region, synonymous and intronic variations previously genotyped in this population Woo et al. (2006). However, in a randomly selected set of 54 individuals from this cohort (data not shown), only one individual had HWM as low as our individual with P32L and none as low as our individuals with R55C and MIS. Thus, it is unlikely that these other variations are responsible for the very low HWM adiponectin present in our individuals with structural changes.
Conclusions
In summary, we identified two novel non-synonymous ADIPOQ variations using an extreme phenotype sequencing approach. Individuals with these novel variations had low adiponectin and exhibited reduced HMW structures compared to individuals without these variations. Although each variation is present in the heterozygous state, the effects may be dominant negative. This study highlights the utility of sequencing individuals with extreme phenotypic values to discover novel coding changes. These variations may provide important clues to the relationships among ADIPOQ genetic variations, adiponectin oligomeric distribution, and total circulating adiponectin levels. Indeed, future studies might well demonstrate that rare potentially causal changes identified in this study contribute to the statistical association of more common variations with metabolic phenotypes in larger populations.
Abbreviations
MIS:

Methionine initiation skip
T2D:

Type 2 Diabetes
SNV:

Single nucleotide variation
LMW:

Trimer
MMW:

Hexamer
HMW:

High Molecular Weight
VHMW:

Very High Molecular Weight
BMI:

Body Mass Index
CDC:

Centers for Disease Control.
Declarations
Acknowledgements
We thank PSD Study participants and families and our research team. This study was supported by the American Diabetes Association 7-03-CD-06 (LJM, JGW) and NIH/NIDDK R01-DK59183 (LMD). The funding bodies had no role in the design of the study, collection and analysis of the data, or writing of the paper.
Authors' Affiliations
(1)
Cincinnati Children's Hospital Medical Center, Cincinnati, USA
(2)
University of Cincinnati School of Medicine, Cincinnati, USA
Copyright
© Kottyan et al.; licensee Springer. 2012
This article is published under license to BioMed Central Ltd. This is an Open Access article distributed under the terms of the Creative Commons Attribution License (http://creativecommons.org/licenses/by/2.0), which permits unrestricted use, distribution, and reproduction in any medium, provided the original work is properly cited.