Zoning for management in wetland nature reserves: a case study using Wuliangsuhai Nature Reserve, China
Received: 4 July 2012
Accepted: 21 September 2012
Published: 2 October 2012
Abstract
Background
Zoning is a fundamental tool for the effective management of nature reserves. A three-zone model (core zone, buffer zone, and experimental zone) has been applied to nature reserves in China since 1980s; however, this model appears not fit for all types of nature reserves, especially wetlands.
Case description
Wuliangsuhai is such a typical wetland reserve, which can represent most of the other wetland reserves in China, for both its human utilization, and for its function as the bird habitat. The "Component-Process-Service" (CPS) framework of the Convention on Wetlands allows a determination of the "ecological character" of the wetland and also allows identification of potential threats, providing thus a perspective for management opportunities and challenges.
Discussion and evaluation
Applying the CPS framework to Wuliangsuhai wetland nature reserve, we have had a better understanding of the ecosystem services and its relationship with the ecological process and components of the wetland. A comparison of effectiveness in maintaining ecosystem services by the two zoning models (the existing three-zone model, and the new zoning model) was made.
Conclusions
The study suggested introducing an additional risk-control zone to be more effective in managing and alleviating threats to the ecological character than the standard 3-zone system. Furthermore, a "dynamic" zoning that takes into account the annual variation in habitat and avifauna distribution, as an elaboration of the Four-zone structure, may achieve the desired conservation objectives in an even more effective manner. The proposed zonation structure has the added benefit of promoting harmonization between nature conservation and local sustainable development.
Keywords
WetlandManagementNature reserveZonationWuliangsuhaiWater birdsEcological characterRamsar Convention
Background
As a means of comparing climatic and altitudinal variation, as well as providing insights into temporal changes (such as succession), the study of ecosystem zonation has a long history. As a natural area management tool, however, zonation has a shorter history with its origins dating back to the 1930s. At that time, when the need for management of wild landscapes as protected areas was beginning to be understood, dividing their space into areas of different management activities and intensities became common practice. Shelford (1933) among others, proposed establishment of buffer zones to keep innermost cores of protected areas from human interference. It is since the 1960's that zoning as a management tool has proceeded apace in the management of public land, fisheries, and especially marine, terrestrial and freshwater protected areas (Day 2002, Davos et al. 2007, Salomon et al. 1996). Well-designed and scientifically-based zonation can be indeed a useful and important way to allocate management effort and attention, define appropriate levels of enforcement, reconcile different users' conflicts and establish appropriate monitoring protocols.
Perhaps the most widespread global standard for protected area zonation is that of UNESCO Biosphere Reserves (UNESCO 1970). Part of the acceptance process to be included in the World Network of Biosphere Reserves was the need to comply with a tripartite zonation: core area, buffer zone, and transition area. China has adopted a version of this 3-zone plan as an essential principle for design and management of not only its Biosphere Reserves but all its nature reserves. Current data show China has 2,541 nature reserves, covering almost 150 million ha, and representing 15.3% of land surface, of which wetland reserves (excluding coastal wetlands) accounted for 19% (MEPPRC 2010). Yet in the 30 years during which wetland reserves have been established in China, and despite advances in technology and methods of mapping and observation, the model and theory behind reserve zonation has remained unchanged - and unchallenged.
Unlike other ecosystems e.g. forests, dry grasslands, savannah forests, management challenges in wetland nature reserves arise from the use of the reserve by transitory species (e.g. migratory water birds), which suggested that a three-zone management scheme is not the most effective or efficient zonation framework. Among the reasons for lack of effectiveness are the highly dynamic characteristics of wetlands - including seasonal climatic and hydrological variation, against which inflexible conservation objectives and strategies provide problems, rather than solutions.
In this study, we applied the ecological character paradigm (Ramsar 2005) of the Convention on Wetlands (Ramsar 1971) – hereafter Ramsar Convention - to understand the spatial and temporal nature of the wetland in the Wuliangsuhai Nature Reserve (hereafter WNR), China. We were not only mindful of the static ecological components such as vegetation distribution, habitat types, but also of ecological processes (birds migratory pattern, hydrology, etc.) and the delivery of welfare for local people (wetland ecosystem services), to get a refined zonation model as a compromise of conservation and development.
Case description
Study area
The study area (WNR) is located at 40°47'-41°03'N, 108°43'-108°57'E, on the eastern Ho-t'ao Plain in western Inner Mongolia (Figure
1
). The key part is a large shallow lake covering an area of 293 km
2
, the largest water body associated with the Yellow River in Inner Mongolia. In the past 150 years, partly as a result of sediment loads in the Yellow river raising the river bed above surrounding lands, the Alxa desert has moved eastwards. This eastward movement caused the eventual isolation of Wuliangsuhai Lake in an area otherwise dominated by semi-arid grassland. With a maximum depth of 2.5 m, the average water level was 1.12 m, but the area with a water level less than 0.7 m accounted for 85% of the total lake surface, which allows extensive reed (
Phragmites australis
) swamp develop (Wang and Dou
1998
).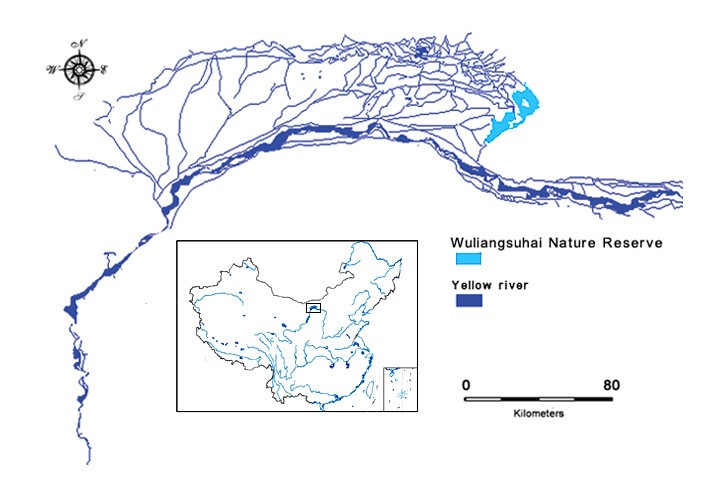 Before the establishment of the nature reserve, the lake had been heavily used as the fish farm by local communities. Their livelihoods had been depending on the revenue from fishery, and harvest of reeds that sell to nearby paper mill. Since the area been declared as the nature reserve, such activities should be regulated by law, however, due to lack of compensation mechanism, all these illegal activities continue, in addition, tourism has been developed in recent years. Thus, the conflict between conservation and maintaining livelihoods has been growing.
The WNR lies in the conjunction of the Central Asian Flyway and the East Asian-Australian Flyway and represents one of the most important breeding and stopover sites on these flyways (Boere & Stroud 2006). WNR has had 240 species of birds from 46 families and 17 orders recorded from its waters. Among those 240 species are 5 first class protected species and 29 second class protected species, according to Chinese Wildlife Conservation Legislation. Particularly important species include Ciconia nigra, Haliaeetus leucoryphys, Haliueetus albiilla, Otis tarda, Larus relictus, and, the most emblematic, Cygnus olor (Mute Swan).
WNR was set up in 1993 as a city-level reserve with water bird fauna and wetland ecosystems explicitly as its key valign="top" conservation targets. In 1998 it became a provincial level reserve with an area of 600 km
2
, retaining the original targets and the traditional three-zone structure for management. The core zone was established in three parts (Figure
2
): a site in the south of the wetland, Chu ShuiKou (CSK); a middle site, GeSuer (GSR) and a site to the north, Xiao HaiZi (XHZ), with areas of 18 km
2
, 60 km
2
and 15 km
2
respectively. There were 0.5-1.0 km buffers are around the core zones, taking up 120 km
2
, almost 20% of the whole area. These "core-buffer" systems were encased in a large experimental zone taking up 387 km
2
or 64.5% of the area.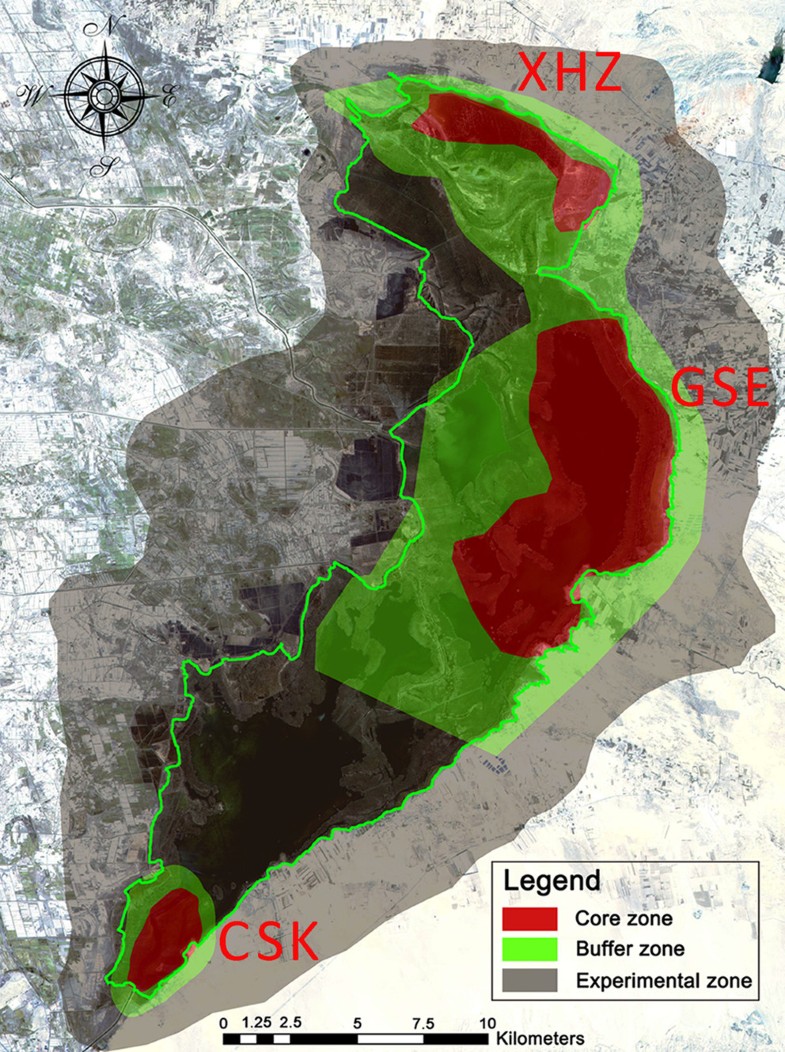 The ecological character paradigm
The Ramsar Convention defines ecological character (prescribed by the Convention text in Article 3) and adopted in revised form by Decision IX.1A (Ramsar 2005) as:
""… the combination of the ecological components, processes and ecosystem services that characterize the wetland.""
Ecological components are further defined as the physical, chemical and biological (communities, habitats, species, genes) elements of a wetland ecosystem. Ecological Processes are the dynamic interactions within and between the biotic components, as well as between them and with the abiotic components. Ecosystem Services - usually grouped as provisioning, regulating, cultural and supporting (MA[2003]) - are provided by the wetland ecosystem through interactions between the components and dynamic ecological processes.
This work has given rise to the Component-Process-Services (CPS) conceptual framework, adopted by the Ramsar Convention (Ramsar
2005
2008
) to aid description of the ecological character of a wetland (Figure
3
). This CPS framework has been used as the primary organising structure for the investigation of biodiversity baseline. Several different methods and techniques were used in the analysis of components.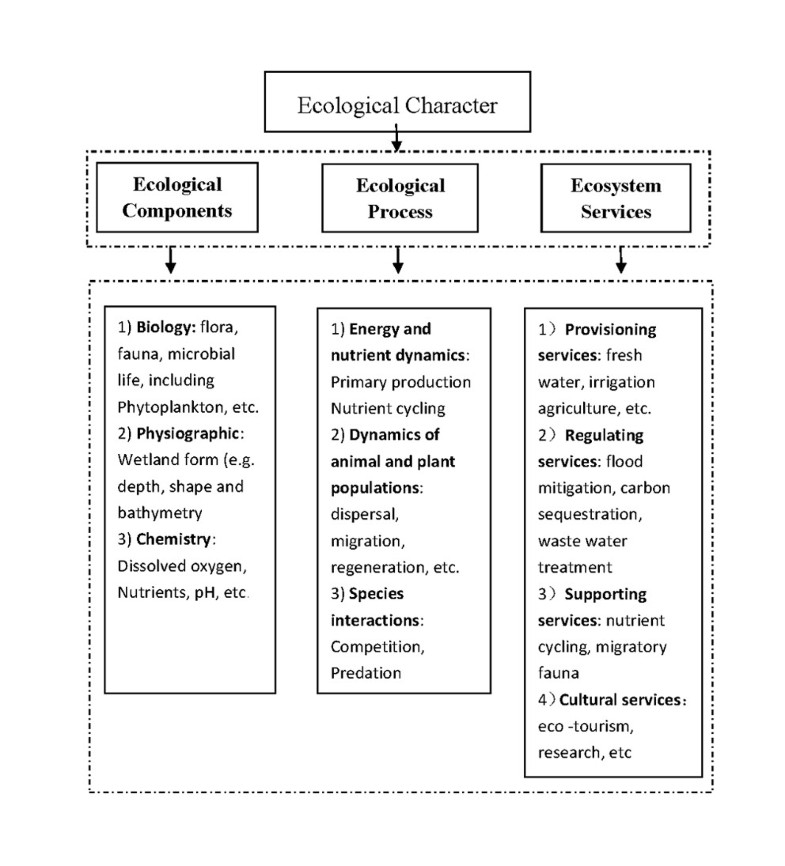 Vegetation and habitat distribution of key structural types was derived from an image-based survey using Alos Imagery data (2010-10-14) with 2.5 m resolution. Analysis of the image data using ArcGIS 9.3 and ENVI 4.7 produced area calculations.
For Bird species, we analysed, through a three-year (2009–2011) investigation from spring to winter - water bird population distribution and dynamics in the WNR. Plot count and the line transect methods were used. Each survey valign="top" consists of 2 plots and 5 transects sets and were conducted by a 3-member team. The plots and transects covered the three different habitats (open water, reed swamp, shoal) identified through the vegetation or habitat analysis described above. Bird counts were made using binoculars (8 × 42) and telescopes (20-60 × 85) in the morning (0800–1000) or in the evening (1500–1730), when foraging activity normally peaks (Ringelman & Flake, 1980).
Although we did not ourselves undertook hydrological studies and we used previous work (Li et al.2008) to gain an understanding of surface and sub-surface hydrology, and its likely impact on the biological and human variables we measured. To assist with an understanding of human use of the Lake, and the delivery of ecosystem services, socio-economic, and cultural data were collected through analysis of peer-reviewed and "grey" literature (Shang et al.2003, Xing and Yang1996). Socio-metric data were collected through interviews with differing groups of stakeholders, including the WNR administration, surrounding local communities, and people active in fisheries.
Evaluation and discussion
Conclusion
Proposed zoning
Using information derived from the CPS process, and given most of the surrounding land is semi-arid and has little conservation interest, we propose a refined zonation plan, differing from the existing by:
reducing the surrounding farmland with little conservation value by 150 km2;

slightly modifying the area of existing zones; and finally

rename and suggestion of a new zone: risk-control zone
Declarations
Acknowledgements
This research was supported by National Science and Technology Support Program (2008BADB0B02). We thank the Administration of Wuliangsuhai wetland Nature Reserve for logistic support, and Li Xiaoyang for his dedication on maps.
Authors' Affiliations
(1)
Beijing Forestry University, Beijing, China
(2)
Beijing Forestry University, Beijing, China
Copyright
© Zeng et al.; licensee Springer. 2012
This article is published under license to BioMed Central Ltd. This is an Open Access article distributed under the terms of the Creative Commons Attribution License (http://creativecommons.org/licenses/by/2.0), which permits unrestricted use, distribution, and reproduction in any medium, provided the original work is properly valign="top" cited.