A quantitative report on the impact of chloride on the kinetic coefficients of auxin-induced growth: a numerical contribution to the "acid growth hypothesis"
Received: 23 September 2015
Accepted: 1 November 2016
Published: 15 November 2016
Abstract
This work presents the application of several our own novel methods of analysing the kinetics of plant growth, which create, among others, a common platform for the comparison of experimental results. A relatively simple formula is used to parameterize the wide range of data that has been obtained for Zea mays L. in the literature, though it can also be used for different species. A biophysical/biochemical interpretation of the parameters was obtained from a theoretical model that is based on a modified Lockhart equation. The derived formula, which was extended for practical use in Zajdel et al. (Acta Physiol Plant 38:5, 2016), and which was implemented in the attached computer program (ibid.), allowed the data that was obtained from the growth-related problems to be parameterized in a simple way. As a working example that shows the robustness of our approach, we comment in detail on the qualitative assessments of the impact of chloride ions on auxin-induced growth. We note that calculated continuous curves (fits), which are rooted in the growth functional that was introduced by Pietruszka (J Theor Biol 315:119–127, 2012), were in a perfect agreement (R2 ~ 0.99998) with the raw experimental data that was published recently by Burdach et al. (Ann Bot 114:1023–1034, 2014). This fact justified the use of this strict technique, which allows for the determination of kinetic coefficients, to critically evaluate the results and suppositions (claims) therein. Moreover, we calculated the time-delay derivative of elongation growth—pH cross-correlations, and validated the "acid growth hypothesis" in figures by considering, amongst others, the magnitude of the H+-activity of elongation growth (per μm). An empirical constant (field strength), EH+ = Em/(log10 1/aH+ ∙ μm) = 0.157 ± 0.009 [V/mm] was obtained, where Em [mV] is the membrane potential in the perenchymal coleoptile cells of Zea mays L. When this relation is known, the membrane potential can not only be determined for intact growth, but also for different intervening substances exclusively from growth (or growth rate) and pH measurements, i.e. without performing electrophysiological measurements. However, the question of whether this constant is universal remains open.
Keywords
AuxinColeoptileElongation growthGrowth rateMaizeMembrane potentialpHProtons
Background
The expansion dynamics of plant cells and organs, especially the coleoptiles of maize (Zea mays L.) as a model system, have been a hot topic of debate for many decades (Kutschera and Schopfer 1985a, b), particularly in the context of the independent action of auxin (indole-3-acetic acid, IAA) that was proposed by Cleland (1971) and Hager et al. (1971) in the form of the "hypothesis of acid growth". Hager's wall acidification model is based on experiments using the shoots of grass seedlings (coleoptiles, which are leaf-like axial organs). Since then, the hypothesis has been carefully evaluated by many scientists (e.g., Hager 2003; Kutschera 1994, 2003; Lüthen et al. 1990; Lüthen and Böttger 1993).
The theory that the naturally occurring plant hormone auxin (IAA) may initiate coleoptile elongation by rapidly lowering the apoplastic pH value, which is known as "acid growth hypothesis", was based on the following observations (Kutschera 2006): (1) acidic buffers (pH 3.5–4.0) elicit a rapid short-term growth response of coleoptiles (2) IAA enhances the rate of proton extrusion so that pH of about 5.0 is established in the walls and (3) metabolic inhibitors block both hormone-mediated wall acidification and cell elongation. However, it was advocated by Kutschera (1994, 2006) that the fungal phytotoxin fusicoccin (FC) not IAA fulfills the pre-conditions of this theory. This controversy has continued to this day in the form of an ongoing debate (Kutschera 2006), even though evidence has accumulated that the final target of auxin action is the plasma membrane H+-ATPase, which excretes H+ ions into the cell wall compartment and takes up K+ ions in the antiport through an inwardly rectifying K+ channel (Hager 2003; see also Steinacher et al. 2012 for auxin dynamics). The pumping of auxin-amplified H+ decreases the cell wall pH, activates pH-sensitive enzymes and proteins in the wall, and initiates cell-wall loosening, wall-creep and extension growth. These processes can be blocked by a voltage inhibition of H+-ATPase by neutralizing K+ ions.
The acid growth hypothesis states that the H+ ions that are excreted into the apoplast act as wall-loosening factors (WLF) via the activation of hydrolytic enzymes. This mechanism, which involves enzymes in cell-wall-loosening process, may occur via the hydrolysis of covalent bonds or the disruption of non-covalent bonds. Following Hager (2003), examples of pH-dependent yielding mechanisms of the cell wall include: (i) expansins (Cosgrove 1993), (ii) xyloglucans (Fry et al. 1992) and (iii) yieldins (Okamoto-Nakazato et al. 2001), all of which are activated by acid conditions.
Expansins do not fit the idea of a wall loosening enzyme as they have no effect on wall extension at neutral pH; they achieve a high activity at pH 3.5–4.5. Expansins appear to increase polymer mobility in the cell wall by breaking wall hydrogen bonds, thereby allowing the microfibrils to slip into the wall matrix throughout extension (McQueen-Mason and Cosgrove 1994; Cosgrove 2000). Expansin loosens the network-like connections between the cellulose microfibrils within the cell wall, which allows the cell volume to increase via turgor and osmosis. A typical sequence leading up to this would involve the introduction of a plant hormone that causes protons (H+ ions) to be pumped out of the cell into the cell wall. As a result, the cell wall solution becomes more acidic. This activates expansin activity, thus causing the wall to become more extensible and to undergo wall stress relaxation, which enables the cell to take up water and to expand (Rayle and Cleland 1992; Yennawar et al. 2006).
Xyloglucans are quantitatively important hemicelluloses within the cell wall and can be incorporated into and bound to the surface of cellulose microfibrils (Hager 2003). Xyloglucans play an important role in the control of cell growth because they probably influence cell wall extensibility and, therefore, the rate of cell expansion during cell wall loosening. Moreover, xyloglucans can be broken down into a fucose-containing oligosaccharide which exerts a hormone-like anti-auxin effect on growth (Fry 1989).
Yieldins, which are wall-bound proteins, are involved in growth regulation (Okamoto and Okamoto 1994; Okamoto-Nakazato et al. 2000a, b). It is interesting that in the course of cell wall loosening (called yielding), the yield threshold Y is the critical tension beyond which irreversible extension begins, the energy (corresponding to Y) to split bonds between microfibrils can be lowered by the protein yieldin. This fact is also reflected in acidic pH (see also Eq. (18) in Pietruszka 2012, where the functional dependence of Y = Y [n] is introduced). Summarizing, auxin, FC or acid buffers have a similar impact on the cell-wall-loosening processes (Pietruszka and Haduch-Sendecka 2016).
Several models have recently been proposed to portray this interdependency in mathematical terms. We only mention a few of them here. A refined hormone model of primary root growth where the wall extensibility is determined by the concentration of a wall enzyme, whose production and degradation are assumed to be controlled by auxin and cytokinin, was proposed by Chavarria-Krauser et al. (
2005
). More recently, Pietruszka (
2012
) formulated a biosynthesis/inactivation model for enzymatic WLFs (Wall Loosening Factors) or non-enzymatically mediated cell evolution that is based on the Lockhart/Ortega formalism, where the physiology and biochemistry of the growth process were related by analytical equations that allowed very high fidelity factors (determination coefficient
R
2
≈ 0.99998, regression
P
< 0.0001) with the empirical data to be acquired. Also, in the same context of biosynthesis, biological growth as a resultant effect of three forms of energy (mechanical, thermal and chemical) and their individual couplings was summarized in the form of a theoretical framework by Barbacci et al. (
2013
). In this description biological growth was the effect of three forms of energy and their couplings (noted as M/T, M/C and T/C with M for Mechanical, T for Thermal and C for Chemical). Each couple of intensive and extensive variables for each energy was linked by one component of Tisza's matrix (defined in Eq.
5
, ibid.) and further extensions of the model. A proposed function of each form of energy and coupling was provided (Fig.
1
, ibid.). The derivation, though elegant and sophisticated, requires many parameters and externally controlled turgor pressure
P
and temperature
T
in order to retrieve the data that is extracted from Proseus and Boyer (
2008
) experiment numerically (see Fig. 5 in Barbacci et al.
2013
).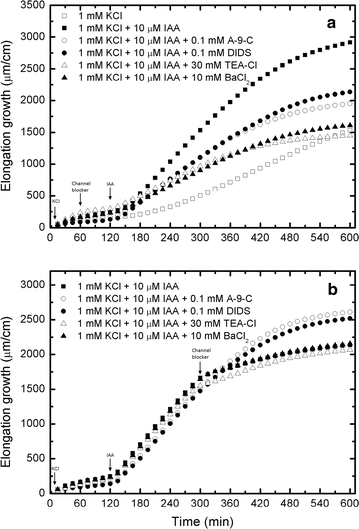 Quite recently, a novel effective formula for the parameterization of the growth kinetics of plants was derived from the modified Lockhart/Ortega type of equation (Zajdel et al. 2016). The formula allows for the greater transferability and quantitative comparability of experimental results. Its applicability has been successfully tested on literature data for Arabidopsis thaliana and Zea mays L. (ibid.). The analysis allows, among others, the values of the diffusion rate k 2 to be obtained. A comparison of k 2 values that were obtained from the fits was carried out, which quantified the trends that are caused by different experimental conditions. An easy to use free computer program (Zajdel et al. 2016) has been written that demonstrates the use of the function and to aid in the application of the formula in community of plant physiologists.
At the end, we must stress that investigating the "acid growth hypothesis" and resolving the mounting controversies is still impossible today using solely biological experiments. It can only be explored further using in silico methods as shown in this work. In this case the "experimentum crucis" for the biological problem (acid growth hypothesis) paradoxically may belong to physics and mathematics.
In the next Section we present all of the methods that we used for the investigation of growth data.
Conclusions
A set of quite recent or new methods and is proposed, which will help in comparison of the data between groups using different experimental setups, on the basis of obtained results. Our work is accompanied by free and easy-to-use processing software—published recently by Zajdel et al. (2016)—which will help to propagate it among a wider audience. We strongly believe (ibid.) that in order to improve the understanding of the subject, the community needs to boost the transferability and comparability of the published results.
Our study has set off an unsettled controversy among plant physiologists as it still remains a matter of debate as to what extent auxin-induced cell wall acidification contributes to elongation growth (Kutschera and Edelmann 2005). Here, rather than expressing vague interpretations, we want to contribute to the elucidation of controversies that are escalating about the "acid growth hypothesis" with strict numbers that have been obtained by existing or newly developed techniques, and leaving the interpretations to the biologists who are working in the field.
Main conclusion
A quantitative report on the impact of chloride on the kinetic coefficients of auxin-induced growth was produced using several novel analytical methods. A new constant, EH+ = –Em/(pH μm) = 0.157 ± 0.009 [V/mm], was found where Em is membrane potential.
Declarations
Authors' contributions
MP introduced the new methods for analysis, introduced the equations, conceived of and wrote the paper; AH-S analysed the data and created the tables and figures. The empirical relation between Em and EH+ was conceived by MP, while the new constant EH+ was determined by MP and AH-S; both authors (AH-S and MP) conceived of and wrote the results and discussion section. Both authors read and approved the final manuscript.
Competing interests
The authors declare that they have no competing interests.
Open AccessThis article is distributed under the terms of the Creative Commons Attribution 4.0 International License (http://creativecommons.org/licenses/by/4.0/), which permits unrestricted use, distribution, and reproduction in any medium, provided you give appropriate credit to the original author(s) and the source, provide a link to the Creative Commons license, and indicate if changes were made.
Authors' Affiliations
(1)
Plant Physiology, Faculty of Biology and Environment Protection, University of Silesia, Katowice, Poland