In-service teachers' perceptions of project-based learning
Received: 7 December 2015
Accepted: 15 January 2016
Published: 26 January 2016
Abstract
The study analyses teachers' perceptions of methods, teacher roles, success and evaluation in PBL and traditional classroom instruction. The analysis is based on empirical data collected in primary schools and vocational secondary schools. An analysis of 109 questionnaires revealed numerous differences based on degree of experience and type of school. In general, project-based methods were preferred among teachers, who mostly perceived themselves as facilitators and considered motivation and transmission of values central to their work. Teachers appeared not to capitalize on the use of ICT tools or emotions. Students actively participated in the evaluation process via oral evaluation.
Keywords
In-service teachers' perceptions
Project-based learning
Traditional classroom instruction
Background
Project-based learning (PBL) is a learning method based on constructivism (Hmelo-Silver 2004), which was first proposed by John Dewey at the end of the 1890s (Douglas and Stack 2010). Dewey's philosophy was child-centred and introduced real-life situations and contexts into the school environment. His ideas were further developed by Kilpatrick in the early 1900s in his book The Project Method (1918). Since then, PBL has been elaborated in detail and applied to various school subjects and learning situations. As a result of such practical applications, our understanding of PBL has been greatly enriched. In more recent research, Hovey and Ferguson (2014) have pointed out that there are different interpretations of PBL with various overlapping terms, for example, problem-based learning, inquiry-based learning, problem learning and the project method. In addition, activity-based learning and discovery learning encompass similar features. Previously, Holm (2011) defined PBL in a practice-based manner as "student-centred instruction that occurs over an extended time period, during which students select, plan, investigate and produce a product, presentation or performance that answers a real-world question or responds to an authentic challenge" (Holm 2011, p. 1). According to a previous, but more comprehensive definition, PBL is "a systematic teaching method that engages students in learning knowledge and skills through an extended inquiry process structured around complex, authentic questions and carefully designed products and tasks" (Markham et al. 2003, p. 4). While the former definition relies on student-centred learning processes, the latter also places emphasis on the development of skills in addition to knowledge acquisition and the crucial task of planning, including task design and the complexity and authenticity of questions. A comparison of these two definitions sheds light on some of the issues underlying ongoing discussions on the definition of PBL.
After a review of the variety of available definitions and approaches, a much needed comprehensive summary of the characteristics of PBL has been provided by Markham et al. (2003). In their approach, the fundamental criteria for PBL include: student's drive to learn; a focus on student-centred processes; familiarizing students with the core concepts in disciplines and topics; focus questions to enable in-depth exploration; students' management of their own work and projects; outcomes related to students' problem-solving and investigations; provision of feedback; emphasis on student cooperation in small groups through student presentations and class evaluation; application of modern ICT tools; performance-based assessment; and the incorporation of PBL into the curriculum. These criteria establish the foundation for a standards-based project framework which increases performance and accountability (Markham et al. 2003, pp. 4–5).
However, significantly fewer studies have addressed teachers' views on the efficacy of this method, the differences compared to traditional classroom activities and the ways in which teachers can capitalize on opportunities provided by 21st-century innovations. In this novel context, competitiveness can only be ensured by enhancing our knowledge and acquiring learning skills which enable us to adapt to societal changes and requirements. Value appears in the form of knowledge generated via intellectual means, not only in the form of material products. Knowledge that is acquired and applied mechanically is ephemeral; thus, new approaches are necessary and creativity assumes a greater role. Moreover, a distinction has to be made between two types of knowledge, which often do not overlap, namely, classroom knowledge and practical knowledge, which is an everyday necessity and a regular expectation on the labour market. Similarly, good communication, excellent problem-solving skills and the ability to work individually and in a team are also among the most frequent requirements in job advertisements. Consequently, the development of such skills should be included in the curriculum. Bell claims that PBL is not merely a supplementary activity to boost learning, but a fundamental part of the curriculum and that PBL involves a science-based approach and the development of skills, which would also be necessary for learning situations in general (Bell 2010). In order to accomplish this goal, applied methods, such as PBL, should develop these skills in addition to sharing information.
Theoretical framing of PBL
Methods
Research design
In the present study, we analysed teachers' voice with regard to PBL. The survey was designed for elementary and secondary school teachers, who were requested to complete the online questionnaire containing 15 questions, including five questions about their background. Participation was optional, and completion of questionnaires took about 20 min and was carried out at the participant's convenience. Schools were contacted via telephone to ensure that all respondents actually used PBL in their teaching practice. Direct confirmation from each educational institution was necessary, as not all schools use PBL and it is occasionally confused with cooperative learning or problem-based learning. As the first step of the recruitment procedure, school principals were contacted and were entrusted with the decision whether to forward the questionnaire to teachers in their institution. The email invitation included detailed information regarding the aim of the study and confidentiality issues.
Participants
In total, teachers from eight schools completed the questionnaire. By ensuring anonymity, we aimed to encourage teachers to complete the questionnaire in a forthcoming and honest way without fear of inquiries or repercussions concerning their work. A total of 109 questionnaires were completed. The effect of school type is also addressed, as the sample includes 32 teachers in Years 1–4 and 42 in Years 5–8 in primary schools, and 35 teachers in vocational school and/or vocational secondary school. Both vocational schools and vocational secondary schools offer learners various forms of training, but only learners in vocational secondary schools enjoy the option of taking Matura examinations, which grant them access to tertiary education. In terms of teaching experience, the sample included a wide array of teachers. During the analysis, we included 34 teachers in the group of beginner teachers, who have 10 or fewer years of practice, 30 teachers in the group of experienced teachers having 11–20 years of practice, and 44 teachers in the group of expert teachers, who have more than 21 years of practice.
Measures
The questionnaire was self-developed and preceded by a small-scale pilot study (n = 33). The topics addressed in the present study had been established based on teacher interviews. The first part of the questionnaire includes five background questions (gender, age, teaching experience, and type and location of school). In the subsequent analysis, we address teaching experience and type of school as central factors. In the following section of the questionnaire, we set out to examine teachers' perceptions and beliefs regarding teacher and student participation in PBL and traditional classroom instruction. Firstly, effectiveness of teaching methods and classroom management are addressed. Teachers were requested to select their preferred alternatives from a list of 17 items. Next, they were asked to choose the most important teacher roles in project work and traditional classroom teaching. Afterwards, the three most important characteristics of a successful project and a successful traditional classroom lesson had to be identified by teachers based on a list. Teachers were also expected to provide information on the subjects involved in the project. Teachers were likewise asked about student participation in the evaluation process within traditional classroom activities and project work.
Aims and research questions
The main objectives of the present research was to analyse teachers' teaching methods and to discover teachers' opinions about PBL. Our research questions are the following:
1.

Which teaching methods are used frequently?

2.

What is the teacher's role in PBL? What is the teacher's role in traditional classroom teaching?

3.

What are the characteristics of a successful project? What are the characteristics of a successful classroom lesson?

4.

Do students take part in evaluation? If yes, which method(s) can/do they use? What evaluation methods are applied during traditional classroom teaching and learning? Do students participate in the evaluation during or at the end of the project?
Results
Frequently used methods
The first question concerns the most frequently used teaching methods. Our results show that teachers generally use demonstration (52 %) and work-based learning (46 %), but group-based methods (39 %), the cooperative method (37 %), PBL (36 %) and games (33 %) are also used. On the other hand, student presentations (11 %), discussions (9 %) and lectures (5 %) are rarely employed.
Next, we examined the relationship between the level of the school where teachers work and their preferred methods. We analysed teachers' answers according to three groups: (1) lower primary school teachers, (2) upper primary school teachers and (3) secondary school teachers (Fig.
1
).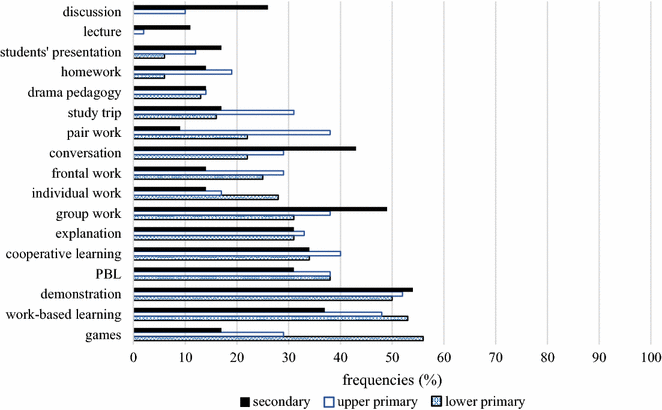 In general, PBL is among the favoured methods in all three groups, yet it is not the most frequent at any level. Lower primary school teachers prefer games (56 %), work-based learning (53 %) and demonstration (50 %), followed by PBL (38 %). Upper primary school teachers use demonstration (52 %) most commonly and then work-based learning (48 %) and cooperative learning (40 %). These methods are followed by PBL, which, similarly to lower primary school, is used by 38 % of teachers. The distribution is different in secondary school, where 14 % of teachers use frontal work, which is the dominant method. Other methods include demonstration (54 %) and conversation (43 %). In addition, lecture and discussion are not used in lower primary school and are rare in upper primary school (lecture 2 % and discussion 10 %). Similarly, in secondary school, lectures (11 %) and pair work (9 %) are rarely used. In line with our results, Le Fevre (2014) maintains that teachers tend to avoid risks associated with changing their teaching practices. They prefer teacher-centred education because they strive to maintain control. Taking on the role of facilitator requires great effort because they often assume that this role entails losing control over classroom activity. Adherence to the traditional textbooks is one example of risk avoidance, and the associated fear of losing control is especially dominant concerning the use of ICT tools, where students might possess a wider array of skills and knowledge and even outperform teachers.
Subsequently, we analysed data according to teaching experience to map potential differences between beginner, experienced and expert teachers with regard to their use of methods. Teachers were grouped into three categories: (1) beginner teachers with less than 10 years of experience; (2) experienced teachers with 11–20 years of experience; and (3) expert teachers with over 20 years of experience. Results show that on the whole, the most frequently used methods are demonstration (Freq.1–10 years = 56 %, Freq.11–20 years = 53 %, Freq.>20 years = 50 %) and work-based learning (Freq.1–10 years = 44 %, Freq.11–20 years = 40 %, Freq.>20 years = 50 %). Our teachers emphasized the importance of work-based learning. Similarly, Alake-Tuenter et al. (2013) have confirmed that inquiry-based teaching and work-based teaching represent significant teaching competences. The third most frequently used method among beginner teachers and expert teachers is group work (Freq.1–10 years = 35 %, Freq.>20 years = 45 %); it is conversation (50 %) for experienced teachers. It is not surprising that the least experienced teachers report using drama pedagogy (6 %) the least frequently, since this method requires substantial experience and most probably can only be implemented during a separate course. On the other hand, the expert teachers used this method more extensively (Freq.>20 years = 25 %). A further distinction is that expert teachers to not use lecture at all, whereas 12 % of beginners do. It is likely that they do not have an extensive methodological repertoire and prefer relying on this teacher-centred method, since it equips them with more control over the class. However, lecture as a frontal method often only provides an illusion of joint progress as individual thoughts and opinions are not revealed.
Despite the fact that a number of researchers have confirmed the effectiveness of the use of ICT tools in PBL (Doppelt 2003; Chu et al. 2011; Balasubramanian et al. 2014), our results show that secondary school teachers mostly use frontal instruction and do not make use of the availability of ICT tools. We believe that this is problematic because students in this age group are highly involved in the uses of ICT tools in everyday contexts and thus are likely to be susceptible to such media in educational settings as well. As a result, we believe that teachers should capitalize on ICT tools in the classroom to a greater extent.
Student evaluation
Our final research question focused on students' participation in the evaluation process during or at the end of the project. Surprisingly, some teachers do not involve students in evaluation at all. Unfortunately, this approach is merely favoured by 6 % of teachers in PBL and 18 % in traditional classroom instruction. In PBL, oral evaluation in groups is the most frequent method, as 61 % of teachers use it, followed by oral self-evaluation (45 %). These two types of evaluation are the most popular in the traditional setting as well, where oral self-evaluation (56 %) is the most common, along with group evaluation (32 %). Moreover, these types of evaluation are most frequently used in upper primary school (Fig.
6
).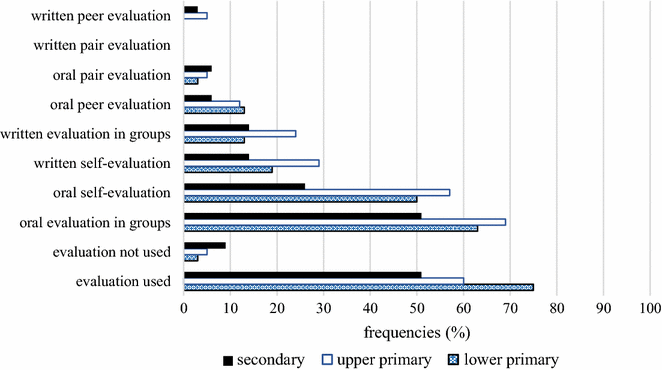 After examining the responses according to the type of institution, we note that oral evaluation in groups is used by the majority of lower primary school teachers (63 %) and it is the most popular approach in upper primary (69 %) and secondary school (51 %) as well. Oral self-evaluation is frequently used in lower (50 %) and upper primary school (57 %), but rarely in secondary school (26 %). A clear distinction can be seen in the case of oral pair evaluation, written pair evaluation and written peer evaluation, which are seldom used on any educational level (Fig. 6).
We find a similar distribution when we examine teacher responses according to teaching experience (Fig.
7
). It is the most experienced teachers that involve students in the evaluation process to the greatest degree. However, one possible disadvantage of peer evaluation may be that it is highly time-consuming and teachers are likely to find it impossible to allocate time to lengthy evaluation sessions, especially when they are constrained by a demanding curriculum. Unfortunately, this disadvantage appears to outweigh the interpersonal benefits of enabling learners to form a tighter bond with their classmates. Lee and Lim (
2012
) list such benefits of peer evaluation, which, in their view, facilitates interaction between learners and generates more heterogeneous student evaluations. However, student feedback mostly addresses social skills, management and coordinating managerial abilities, and not cognitive performance. Nonetheless, involving students in the evaluation process is advantageous because it involves active participation, not merely the passive reception of information.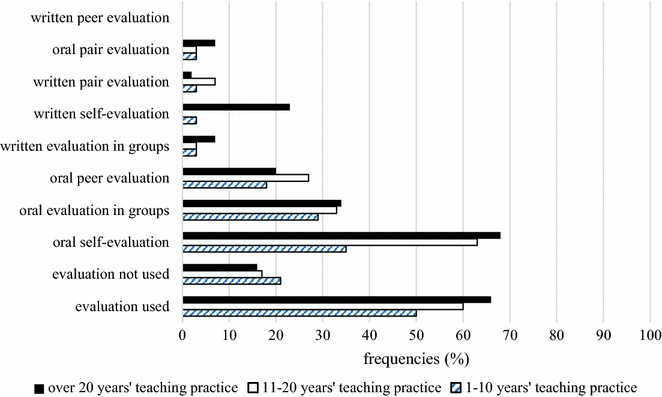 According to our results, evaluation is frequently used in the traditional setting as well, albeit not at all educational levels. For example, 37 % of secondary school teachers do not involve their students in the evaluation process. In this case as well, oral self-evaluation is predominant. On the other hand, written peer evaluation and pair evaluation are seldom employed or not at all, despite the acclaim with which they have met in previous research. Harris and Brown (2013) have carried out research on peer and self-assessment, focusing on improvement, accountability, social interaction and accuracy. They have concluded that students necessitate guidance during the implementation of peer and self-assessment, for example, in the form of clear instructions. However, they conducted case studies with merely three teachers and thus their results cannot be generalized. Yet they still provide in-depth insights into the application of peer and self-assessment. Nevertheless, it has to be noted that their views are based on the assumption that evaluation is not as central to student progress as it is considered in certain countries, for example, in the UK, the US and China.
Furthermore, Harris and Brown (2013) have identified positive student attitudes towards teacher-controlled assessment. Peer assessment was difficult to implement, since the task of assessment was almost exclusively attributed to teachers. It was suggested that besides training on assessment techniques, supportive psychological concepts such as self-regulation also need to be presented to students to enhance effectiveness. In addition, these efforts need to be backed by policies, which at this point mostly support examinations and teacher-centred evaluation (Harris and Brown 2013, p. 110).
A further advantage of teacher-controlled assessment stems from its greater objectivity as compared to student assessments, which are characterized by increased subjectivity. Van den Bergh et al. (2006) note that students may not like peer assessment due to its subjective nature, which students may exploit to evaluate each other more positively or negatively than their actual achievement based on social rather than academic factors. As a result, students prefer combining such assessment with methods that allow for more objectivity. A further result was that students found self-assessment problematic due to the subjectivity and incomparability of grades. Its benefits mostly reside in mapping group dynamics and self-reflectivity (Van den Bergh et al. 2006, p. 358). Furthermore, students who participated in the research project listed several benefits, including being able to participate in actual fieldwork and apply different types of knowledge in a practical manner over an extensive period of time. Instructors reported increased student motivation, and both mentioned the advantages of undertaking collaborative and individual work as well. Finally, PBL also provides opportunities for student–teacher collaboration (Van den Bergh et al. 2006, pp. 353–354).
Summary and conclusion
PBL has undergone significant development in the past 30 years as compared to the ideas proposed by Dewey (Douglas and Stack 2010) and Kilpatrick (1918). Learning theories, such as cognitive learning theory and social learning theory, have had a considerable impact on the development of PBL. More recently, the requirements of the 21st century in terms of both knowledge and skills have redefined the needs and roles of both learners and teachers. Presently, PBL embodies a new teaching practice, which models real-life situations for children. It addresses learners' need to be provided with opportunities to apply their knowledge and skills and enrich their knowledge and improve their skills during activities. Finally, PBL is a method which involves systematic planning (Markham et al. 2003).
Our analysis has explored and compared the perceptions of lower and upper primary and secondary school teachers regarding their roles and teaching activities in PBL and traditional instructional settings. Our results have revealed a teacher preference for group work-based methods such as PBL, work-based learning and cooperative learning. On the other hand, an analysis of the data by school type demonstrated a predominant preference for frontal work, individual work and demonstration often coupled with frontal work in secondary school.
As regards teacher roles, the data suggest that teachers mostly perceive their own roles as motivating, shaping personality and transmitting values. In PBL, controlling students is mostly considered important among beginner teachers. In addition, the roles of teaching, social and affective education and evaluation are relegated to the background during the implementation of projects. In traditional instruction, the teacher roles of motivating learners and transmitting values are also considered important along with the educative role. Thus, we have concluded that teachers perceive themselves as educators rather than facilitators. Maintaining order and discipline is seen as more important in traditional instruction than during project work, where the supervision of students receives very little attention and is mostly addressed by expert teachers. Shaping the community is mostly viewed by teachers as being accomplished in PBL, not in traditional instruction. In conclusion, the results suggest that teachers still strive to play a leading role in the classroom.
We also aimed to gather evidence on the factors that contribute to the success of PBL and traditional instruction. In PBL, a great degree of learner activity and good atmosphere were the most frequently listed, whereas games, the use of ICT tools and good results were not considered vital. In traditional classroom instruction, learner activity, good atmosphere and varied methodology were highlighted. In contrast with the results for PBL, evaluation was foregrounded in the traditional setting. On the other hand, honesty, the role of emotions and games were not mentioned with regard to traditional classroom instruction. Student involvement in evaluation and the methods used play a fundamental role. According to our results, students contribute to evaluation, mostly through oral evaluation. Along similar lines, Van den Bergh et al. (2006) argue for the strategic use of assessment tools to improve learner achievement and the importance of learner perceptions for the interpretation of learning outcomes and various assessment methods, including self- and peer evaluation (Van den Bergh et al. 2006).
Our results provide the option of immediate application as they provide additional guidelines for the development of tools that assess PBL projects more effectively. Furthermore, these findings can be applied to the development of these projects as well as further qualitative and quantitative analyses. Using the full questionnaire, school masters can gain an overview of teachers' views on PBL. A further option for future research would be to analyse students' perceptions as well. We also suggest further research on students' views on their teachers' roles in this paradigm. Additionally, a more complex evaluation of PBL would provide a comprehensive view from teachers' and students' perspectives.
Declarations
Authors' contributions
AH and JN have made substantial contributions to conception and design, and acquisition of data including questionnaire construction, analysis and interpretation of data; AH and JN have written the manuscript; AH and JN have given final approval of the version to be published; and AH and JN agree to be accountable for all aspects of the work in ensuring that questions related to the accuracy or integrity of any part of the work are appropriately investigated and resolved. Both authors read and approved the final manuscript.
Acknowledgements
The authors would like to gratefully acknowledge the teachers participating in the survey and the school managements who supported us during the research project. The research was supported by the University of Szeged, the European Union and the State of Hungary, co-financed by the European Social Fund in the framework of Project TÁMOP 3.1.9-11/1-2012-001 'Developing Diagnostic Assessment'.
Competing interests
The authors declare that they have no competing interests.
Open AccessThis article is distributed under the terms of the Creative Commons Attribution 4.0 International License (http://creativecommons.org/licenses/by/4.0/), which permits unrestricted use, distribution, and reproduction in any medium, provided you give appropriate credit to the original author(s) and the source, provide a link to the Creative Commons license, and indicate if changes were made.
Authors' Affiliations
(1)
Institute of Education, University of Szeged, Szeged, Hungary
(2)
Department of English Language Teacher Education and Applied Linguistics, University of Szeged, Szeged, Hungary