Lysine nutrition in swine and the related monogastric animals: muscle protein biosynthesis and beyond
Received: 26 January 2015
Accepted: 15 March 2015
Published: 27 March 2015
Abstract
Improving feed efficiency of pigs with dietary application of amino acids (AAs) is becoming increasingly important because this practice can not only secure the plasma AA supply for muscle growth but also protect the environment from nitrogen discharge with feces and urine. Lysine, the first limiting AA in typical swine diets, is a substrate for generating body proteins, peptides, and non-peptide molecules, while excess lysine is catabolized as an energy source. From a regulatory standpoint, lysine is at the top level in controlling AA metabolism, and lysine can also affect the metabolism of other nutrients. The effect of lysine on hormone production and activities is reflected by the change of plasma concentrations of insulin and insulin-like growth factor 1. Lysine residues in peptides are important sites for protein post-translational modification involved in epigenetic regulation of gene expression. An inborn error of a cationic AA transporter in humans can lead to a lysinuric protein intolerance condition. Dietary deficiency of lysine will impair animal immunity and elevate animal susceptibility to infectious diseases. Because lysine deficiency has negative impact on animal health and growth performance and it appears that dietary lysine is non-toxic even at a high dose of supplementation, nutritional emphasis should be put on lysine supplementation to avoid its deficiency rather than toxicity. Improvement of muscle growth of monogastric animals such as pigs via dietary lysine supply may be due to a greater increase in protein synthesis rather than a decrease in protein degradation. Nevertheless, the underlying metabolic and molecular mechanisms regarding lysine effect on muscle protein accretion merits further clarification. Future research undertaken to fully elucidate the metabolic and regulatory mechanisms of lysine nutrition could provide a sound scientific foundation necessary for developing novel nutritional strategies to enhance the muscle growth and development of meat animals.
Keywords
Lysine
Muscle
Amino acid
Metabolism
Protein synthesis
Epigenetic regulation
Protein modification
Gene expression
Swine
Monogastric animal
Introduction
Pork, the most consumed meat in the world, is one of the most economical sources of animal proteins for human consumption. Pigs grow fast, offer more meat per breeding female and, therefore, are more prolific than other livestock species (Adesehinwa et al. 2010). The goal of pig production is to convert feedstuffs into edible pork for high quality food proteins. The predominant component of pork is skeletal muscle (interchangeably called muscle in this review) and, in modern days, the efficiency of pork production is measured by the efficiency of lean (i.e., muscle) gain rather than whole body weight gain. Thus, the knowledge about the growth and development of muscle of pigs is fundamentally important from either a technical or an economic standpoint.
It has been known for decades that the growth and development of muscle of pigs essentially requires dietary supply of protein, or its components, amino acids (AAs), to be exact. There are about 20 AAs in nature (referred to as standard proteinogenic AAs) that serve as building blocks for protein biosynthesis, but not all AAs are indispensable dietary components because swine can
de novo
synthesize about 10 of them. Consequently, the essential dietary AAs are defined as those that need to be supplied exogenously because pigs cannot
de novo
synthesize them or cannot synthesize enough for their metabolic needs (Wang et al.
2014
). Among these essential AAs, lysine is the first limiting one in swine nutrition management because it is the most deficient AA in nearly all typical swine diets based on cereal grains (Lewis
2001
; NRC
2012
). For this reason, lysine holds a very special, if not the paramount, significance in swine nutritional management practices. Some of the benefits of dietary lysine supplementation in swine and poultry production practices are summarized in Table
1
.
Table 1
Two major practices and the associated benefits of dietary lysine supplementation for swine and poultry a
Practice

Benefits

To meet the lysine requirement with diets that have or have not met the crude protein requirements

Making up for the lysine deficiency of feed ingredients

Saving the cost on expensive feedstuffs of protein sources

Reducing the energy need for deaminating excess AAs

Maintaining or improving animal performance

Maintaining or even increasing the production profits

To further decrease the dietary concentration of crude protein

Decreasing manure N concentration and in turn the N excretion to environment

Further saving the cost on expensive feedstuffs of protein sources

Reducing the energy losses associated with excess urinary N and heat increment

Decreasing the NH3 emission into the air

Reducing the odor in the production facilities

Using inexpensive feedstuffs of alternative protein sources

Decreasing animal water consumption

Decreasing the volume of animal waste such as manure
Previous investigations have shown that dietary supplementation of crystalline lysine can improve muscle protein accretion and whole-body growth of pigs. In experiments with growing and finishing pigs, lysine supplementation increased the nitrogen retention and protein accretion, and improved the growth performance of the animals (Sharda et al. 1976; Fuller et al. 1987; Salter et al. 1990; Roy et al. 2000; Shelton et al. 2011). Furthermore, it has been suggested that the increase in muscle protein accretion was due to a greater increase in the rate of protein synthesis, rather than a greater decrease in the rate of protein degradation (Roy et al. 2000; Salter et al. 1990). Nevertheless, the underlying metabolic and molecular mechanisms by which dietary lysine regulates muscle mass accumulation of pigs is not clear (Wu 2010b; Rezaei et al. 2013). Thus, in this review, the up-to-date knowledge of lysine metabolic and physiological functions related to muscle growth and development of pigs is summarized. It needs to be pointed out that a large portion of the knowledge was appropriated from the research on other monogastric animals including humans because the swine-related research in this regard is very limited in the literature.
Metabolic functions of lysine
Biosynthesis of proteins and peptides
Like any other proteinogenic AAs, the major function of lysine in animal lives is to serve as one of the 20 types of building blocks for synthesis of body proteins and peptides, which are indispensable organic compounds participating in virtually all biochemical reactions and physiological activities (including structural support) of all living cells and tissues. Without lysine-involved protein and peptide syntheses, living cells or living animals could not exist.
Animal body proteins perform diverse biochemical and physiological functions necessary for life. Most of these proteins are physically presented as cellular or tissue constituents, such as those in the muscle. Functional proteins include enzymes, transporters, hormones, and antibodies, while reproductive proteins are those in sperm, eggs, and milk. The critical functions of these proteins are enormous and beyond the scope of this review.
A typical mammalian cell requires tens of thousands of different proteins and peptides at any given moment, and each of these proteins or peptides, like living organisms on the earth, has a life span. Due to this life span, a protein population within a cell has a constant turnover process where old or unneeded proteins are degraded and new proteins are de novo synthesized. The dynamics of protein turnover within a cell or tissue, however, is programmatically controlled by animal genetic makeup, but it can be regulated by various environmental factors including nutrients, such as AAs.
Structurally, proteins are polymers of AA residues linearly connected by amide bonds, commonly known as peptide bonds. A peptide bond is a link between an α-carboxyl group of one AA to an α-amino group of another (Figure
1
). Most natural polypeptides contain 50 to 2,000 AA residues in each molecule and are commonly referred to as proteins, while oligopeptides (short chain peptides) consist of only 2 to 30 AA residues. Beside the number of AA residues, the dividing line between proteins and peptides is also based on their molecular weights (5.5 to 8,000 daltons for oligopeptides). However, the line based on molecular weight is not absolute and, in some cases, the three-dimensional structure needs to be considered (Wu
2013a
).

Parathyroid hormone (PTH), an example of polypeptide, is secreted by parathyroid glands. This hormone contains 84 AA residues. The main function of PTH is to regulate calcium and phosphate homeostasis and vitamin D synthesis within animal body. The lys-13 residue in PTH is very important for the folding of the active domain of the hormone (Zull et al. 1987), and it was found that a poly-L-lysine preparation can enhance the PTH-stimulated bone resorption (Raisz et al. 1979).
The oligopeptides, of which lysine is an integral part, also play important roles in animal bodies. For example, some poly-lysine-containing peptides (14 AA residues) are found to affect the activities of some membrane enzymes including protein kinases, phosphatidylinositol kinases, and adenylate cyclase (Gatica et al. 1987). An oligopeptide that contains 10 or less AA residues is usually called a small peptide. The shortest oligopeptides are dipeptides, consisting of only 2 AA residues joined by a single peptide bond, followed by tripeptides, tetrapeptides, etc. Examples of small peptides include kallidin (10 AA residues: Lys-Arg-Pro-Pro-Gly-Phe-Ser-Pro-Phe-Arg) and lysine-vasopressin (9 AA residues: Cys-Tyr-Phe-Gln-Asn-Cys-Pro-Lys-Gly). Kallidin and bradykinin are naturally generated bioactive peptides in body fluids and tissues through proteolytic cleavage, and they function as vasodilators for the maintenance of normal blood pressure (Wu 2013a; Lafarga and Hayes 2014). Like arginine-vasopressin (in other mammals), lysine-vasopressin (in pigs) is a peptide hormone that stimulates the reabsorption of water in the distal tubules of the kidney, leading to the formation of more concentrated urine (Nielsen et al. 1995).
For protein and peptide syntheses in an animal body, a pool of free AAs must be available simultaneously at the site of the syntheses. Free AAs normally result from the catabolism of dietary and body proteins. The efficiency of recycling body protein AAs for new protein synthesis, however, is far from 100%, and therefore, a large portion of free AAs must come from the intestinal digestion of dietary proteins. Failure to obtain enough AAs from diets will result in intense degradation of body proteins, especially the muscle proteins, because muscle is the largest, dynamic, body protein reservoir.
As other dietary AAs, the small intestinal absorption of free lysine is generally more rapid than the absorption of protein-bound lysine, and the rates of absorption of protein-bound AAs have been shown to vary and may be affected by the source of protein, its degree of processing, as well as the energy component of the diet (Leibholz et al. 1986). In pigs, the absorption of free lysine is complete by the end of ileum, and the concentration of plasma lysine reaches its peak 1 to 2 hours after feeding (Leibholz et al. 1986). From a human study (Uhe et al. 1992) it was found that it took 5 to 7 hours for dietary lysine to be transported into muscle tissue after ingestion. Compared to other essential AAs, free lysine is more concentrated in the intracellular space of muscle tissue, which suggested that muscle serves as a body reservoir for free lysine.
Generation of non-peptide molecules
Besides its primary function as a building block for biosynthesis of proteins and peptides, lysine also functions as a substrate for generation of numerous non-peptide molecules, which include low molecular-weight nitrogenous substances (e. g., carnitine, polyamines, ammonia, and urea), other AAs or AA derivatives, as well as some non-nitrogenous small molecules (Wu 2013a). Each of these metabolites has specific biochemical and physiological importance for animal life processes.
Carnitine, synthesized from lysine and methionine via a multi-step biochemical process, is a quaternary ammonium compound that is required for transport of long-chain fatty acids from cytoplasm into mitochondria for β-oxidation, a major mechanism for ATP production in insulin-sensitive tissues such as skeletal muscle, heart, liver, and adipose tissue (Steiber et al. 2004). Besides a role in normalizing blood cholesterol and triglyceride concentrations, carnitine plays additional physiological roles in protecting organisms from oxidative stress, promoting substrate oxidation in brown adipose tissue, improving cardiac performance, and regulating energy partitioning in the body (Ferrari et al. 2004; Wu 2013a).
Hydroxylysine is synthesized from lysine by lysyl hydroxylase reaction called hydroxylation (Hausmann 1967). As is known, collagen is the most abundant family of proteins in the extracellular matrix of connective tissues which include skin, bone, cartilage, and tendon, while elastin is another major component of certain soft connective tissues, such as arterial walls and ligaments (Halper and Kjaer 2014). Both collagen and elastin are cross linked to form fibrous proteins based on aldehyde formation from the amine side chains of lysine or hydroxylysine residues, and it is lysyl oxidase, an enzyme, that converts the amine side chains of the lysine or hydroxylysine residues into aldehydes (Eyre et al. 1984). In addition, hydroxylysine also represents special sites for the attachment of carbohydrates in collagen (Gelse et al. 2003). Both collagen and elastin play very important roles for defining the structural integrity and physiological functions of the extracellular matrix of connective and muscle tissues (Purslow et al. 2012; Gelse et al. 2003; Wang et al. 2013).
Glutamate is the most significant excitatory neurotransmitter in the mammalian central nervous system, and lysine, present at high concentration in the brain, is an important precursor for de novo synthesis of glutamate. Papes et al. (2001) showed that the synthesis of glutamate from lysine, which is carried out by the saccharopine pathway (a lysine degradation pathway in mammals), is very likely to take place in neurons.
Cadaverine is a foul-smelling diamine compound (a type of polyamine with exactly two amino groups) produced by protein hydrolysis during putrefaction of animal tissue, and specifically it is synthesized from lysine in a one-step reaction with lysine decarboxylase (Andersson and Henningsson 1981). Although polyamines in general are recognized as cell growth factors in relation to cell proliferation, differentiation, regeneration, and malignant transformation, the specific physiological functions of cadaverine are not clear (Patocka and Kuehn 2000). Because it had an acute oral toxicity of 2,000 mg/kg body weight in rats (Til et al. 1997), a high level of cadaverine residue in muscle may affect meat hygienic quality for human consumption (Stadnik and Dolatowski 2010).
Lysine catabolism and energy source
Like carbohydrates and lipids, AAs can also be used to meet animal energy requirement, especially when carbohydrates and lipids become unavailable to provide enough energy for animals. In three metabolic circumstances, free AAs undergo post-absorptive oxidation to provide the animal with energy: First, when a diet is rich in protein and the released AAs exceed the body's needs for protein synthesis, the surplus AAs are oxidized to ammonia and carbon dioxide via the formation of keto acid that enters the tricarboxylic acid (TCA) cycle to produce energy. The glucogenic AAs can also provide energy through gluconeogenesis pathway. Secondly, as aforementioned, there is a constant protein turnover in virtually all living cells, and based on its own AA composition each protein requires a certain ratio of free AAs supplied for its synthesis. At a given time, the cellular free AA ratio usually does not exactly match the cellular requirements for syntheses of new proteins and, furthermore, most cells or tissues unfortunately do not have a mechanism to store free AAs. The "extra" free AAs can be metabolized to other biologically active substances or catabolized to produce energy according to the dynamic needs and metabolic potentials of the cells. Thirdly, during starvation or in uncontrolled diabetes mellitus, when carbohydrates are either unavailable or not properly utilized, cellular proteins, especially those from muscle tissue, will be utilized as fuel for the body.
AAs are an important and specifically required fuel for several tissues. After absorption, AA oxidation supports 15% of the resting energy expenditure of humans (Battezzati and Riso 2002). During feeding, the splanchnic bed extracts and immediately oxidizes a large amount of enteral non-essential AAs, including the totality of glutamate and the majority of glutamine and alanine (Battezzati and Riso 2002). Stoll et al. (1998) hypothesized that besides glutamine, lysine is an important energy source for the small intestine. During exercise, muscle AAs may produce significant amounts of energy via deamination of aspartate to provide ammonia for the synthesis of adenosine monophosphate (AMP) from inosine monophosphate (IMP) and intermediates for the TCA cycle (Battezzati and Riso 2002).
As a truly essential AA, lysine is a cationic or basic AA with a long side chain (Figure
2
), and its metabolism begins with the intestinal uptake from digesta mainly via a Na
+
-independent transport system. After absorption, the free lysine in excess of the needs for syntheses of proteins and other substances will be catabolized in a cell- and tissue-specific manner (Gatrell et al.
2013
). The intestinal oxidation of enteral lysine contributed one-third of total body lysine oxidation in growing pigs fed a high-protein diet (van Goudoever et al.
2000
). Other tissues such as liver, kidney, muscle, and brain also contribute to the whole body lysine catabolism.

The catabolism of lysine is very unique relative to the catabolism of other AAs in that it proceeds mainly through two distinct metabolic routes, the saccharopine pathway and the pipecolate pathway, both of which later converge into one common degradative pathway (Figure
3
). These two pathways differ in that the saccharopine pathway is predominantly mitochondrial, whereas the pipecolate pathway is predominantly peroxisomal and cytosolic (Hallen et al.
2013
).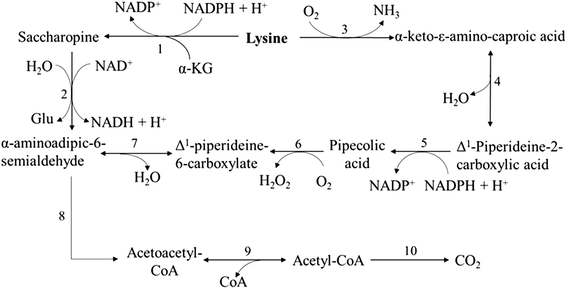 The primary pathway of lysine catabolism is thought to be the saccharopine pathway in liver (Papes et al. 1999; Gatrell et al. 2013). In this pathway (Figure 3), lysine first combines with α-ketoglutarate (α-KG) to form an adduct, saccharopine, by the catalysis of lysine-ketoglutarate reductase (LKR). Then saccharopine is converted to α-aminoadipic-6-semialdehyde and glutamate by saccharopine dehydrogenase (SDH), which is a part of a single polypeptide, bifunctional aminoadipate δ-semialdehyde synthase (AASS) as LKR is (Gatrell et al. 2013). The α-aminoadipate-6-semialdehyde is subsequently converted into acetyl-CoA via a few more steps (Wu 2013a). This pathway is unusual in the way that the ε-amino group is transferred to α-KG and then into the general nitrogen pool. The further oxidation of acetyl-CoA produces CO2 and energy via TCA cycle.
Small portion of lysine are catabolized in the brain through pipecolate pathway (Chang 1976). In this pathway (Figure 3), the α-amino group rather than ε-amino group of lysine is removed during the conversion of lysine to pipecolate or pipecolic acid in cellular peroxisomes. The intermediates of this pathway include α-keto-ɛ-aminocaproic acid, Δ1-piperideine-2-carboxylic acid, and Δ1-piperideine-6-carboxylate (Broquist 1991; Wu 2013a). The ability of mammalian brain to synthesize pipecolic acid suggests a role as a neurotransmitter, and in pathological situations pipecolic acid accumulates in body fluid (Broquist 1991). In addition to the two pathways just discussed, there are some other undefined pathways that can also contribute to lysine catabolism, which include those depending on lysyl oxidase, L-AA oxidase, and carnitine biosynthesis (Benevenga and Blemings 2007; Gatrell et al. 2013).
While the amino groups of lysine are converted to ammonia, which is further converted to urea or uric acid through the urea cycle, the end product of the carbon skeleton catabolism is acetyl-CoA, which is further catabolized for energy via TCA cycle or converted to ketone bodies or fatty acids. Because acetyl-CoA is the fuel for the TCA cycle and cannot be converted to glucose by pigs and other mammals, lysine is strictly ketogenic in nature. The carbon atoms in ketone bodies are ultimately degraded to carbon dioxide via the TCA cycle to produce energy for the animal body (Berg et al. 2002).
Nonetheless, of all essential AAs, lysine is the most strongly conserved one, as demonstrated in rats and chicks (Flodin 1997; Benevenga and Blemings 2007). Meredith et al. (1986) reported that in young men when lysine intake was reduced, the oxidation of lysine decreased significantly, which was supported by the study of the activity of liver LKR (the initial enzyme in the saccharopine pathway) that was decreased in rats treated with less lysine (Chu and Hegsted 1976). These findings suggested that lysine is unique in that it is less catabolized than most, if not all, other essential AAs. This unique conservative nature of lysine is very interesting because lysine is the most deficient AA in almost all typical diets for monogastric animals such as pigs.
Physiological functions of lysine
Beyond the metabolic functions described above, lysine also exerts many physiological functions for monogastric animals. Lysine can affect animal metabolism of other nutrients, hormone production, and immunity (Wu 2010a; Wu 2013b). More remarkably, peptide bound lysine is a potential active site of post-translational modification (PTM) and epigenetic regulation of gene expression. Understanding these physiological functions of lysine within the animal body is requisite for animal scientists and producers to better use lysine for promoting animal health and production (Wu 2010a).
Conclusions and perspectives
Improving the efficiency of nutrient utilization by pigs and other monogastric animals with the dietary application of AAs is becoming increasingly important, simply because this practice can secure a balanced plasma AA supply for muscle protein synthesis while protecting the environment from excess nitrogen output from the animal. Lysine, a truly essential AA, is not only a building block for de novo syntheses of almost all proteins and many peptides, but also as a substrate for producing non-peptide molecules, in animal bodies. Excess lysine in animal bodies can be catabolized and used as an energy source, although this energy source is not significant from a nutrition standpoint because lysine is uniquely conservative in catabolism. Understanding the metabolic fate of ingested lysine will help animal scientists develop novel nutritional strategies to improve the efficiency of nutrient utilization for muscle growth.
From a regulatory standpoint, lysine is located at the top control level in affecting other AA metabolism. Lysine can also affect the metabolism of other nutrients such as Ca and cholesterol. The effect of dietary lysine on hormone production and activities is reflected by the change of plasma concentrations of insulin and IGF-1. Lysine residues in peptide chains are important sites for PTM, which is involved in histone modification and epigenetic regulation of gene expression. In addition to PTM, lysine can also be involved in the post-transcriptional stage of protein expression. Deficiency of dietary lysine will impair animal immunity and elevate animal susceptibility to infectious diseases. In humans, an inborn error of a cationic AA transporter can lead to a lysinuric protein intolerance condition.
Commercial feed-grade crystalline lysine was introduced to animal feed industry in the late 1980s (Wittmann and Becker 2007). Because lysine deficiency has negative impact on animal health and growth performance, and lysine appears to be non-toxic even at a high rate of dietary supplementation, animal nutritionists should put more emphasis on dietary lysine supplementation to avoid lysine deficiency rather than lysine toxicity. Dietary supplementation of crystalline lysine for monogastric meat animals can significantly increase body muscle protein accretion, which may be due to a greater increase in the rate of protein biosynthesis rather than that of protein degradation. Nevertheless, the underlying molecular mechanism regarding how the dietary lysine regulates muscle protein turnover and which cell signaling pathways are involved for the turnover are still waiting for further clarification. Research in the future should be conducted to fully elucidate the metabolic and regulatory mechanisms of lysine nutrition, and this elucidation will benefit not only in promoting animal industry but also in improving human body composition as well.
Abbreviations
AA:

Amino acid
AAs:

Amino acids
AASS:

Aminoadipate δ-semialdehyde synthase
AMP:

Adenosine monophosphate
ATP:

Adenosine triphosphate
CAT1:

Cationic amino acid transporter 1
CoA:

Coenzyme A
ECM:

Extracellular matrix
eIF5A:

Eukaryotic translation initiation factor 5A
GH:

Growth hormone
HMG-CoA:

β-Hydroxy-β-methyl-glutaryl-CoA
hr:

Hour(s)
IGF-1:

Insulin-like growth factor 1
IMP:

Inosine monophosphate
LKR:

Lysine-ketoglutarate reductase
Lys:

lysine
NO:

Nitric oxide
PTH:

Parathyroid hormone
PTM:

Post-translational modification
SDH:

Saccharopine dehydrogenase
SLC7A7:

Solute carrier family 7, subfamily A, member 7
T3 :

Triiodothyronine
TCA:

Tricarboxylic acid
Declarations
Acknowledgements
This work was supported by a Special Research Initiative grant (No. 0271003510500) sponsored by Mississippi Agricultural and Forestry Experiment Station and was approved for publication as a journal article (No. J-12612). Advice for revising this article from Brian J. Rude, professor of animal nutrition, in the Department of Animal and Dairy Sciences, Mississippi State University, is greatly appreciated. This work does not represent the views of Mississippi Agricultural and Forestry Experiment Station.
Authors' Affiliations
(1)
Department of Animal and Dairy Sciences, Mississippi State University, Mississippi State, USA
Copyright
© Liao et al.; licensee Springer. 2015
This is an Open Access article distributed under the terms of the Creative Commons Attribution License (http://creativecommons.org/licenses/by/4.0), which permits unrestricted use, distribution, and reproduction in any medium, provided the original work is properly credited.