The fundus slit lamp
Received: 27 July 2014
Accepted: 19 January 2015
Published: 3 February 2015
Abstract
Fundus biomicroscopy with the slit lamp as it is practiced widely nowadays was not established until the 1980-es with the introduction of the Volk lenses +90 and +60D. Thereafter little progress has been made in retinal imaging with the slit lamp. It is the aim of this paper to fully exploit the potential of a video slit lamp for fundus documentation by using easily accessible additions.
Suitable still images are easily retrieved from videorecordings of slit lamp examinations. The effects of changements in the slit lamp itself (slit beam and apertures) and its examination equipment (converging lenses from +40 to +90D) on quality and spectrum of fundus images are demonstrated. Imaging software is applied for reconstruction of larger fundus areas in a mosaic pattern (Hugin®) and to perform the flicker test in order to visualize changes in the same fundus area at different points of time (Power Point®).
The three lenses +90/+60/+40D are a good choice for imaging the whole spectrum of retinal diseases. Displacement of the oblique slit light can be used to assess changes in the surface profile of the inner retina which occurs e.g. in macular holes or pigment epithelial detachment. The mosaic function in its easiest form (one strip macula adapted to one strip with the optic disc) provides an overview of the posterior pole comparable to a fundus camera's image. A reconstruction of larger fundus areas is feasible for imaging in vitreoretinal surgery or occlusive vessel disease. The flicker test is a fine tool for monitoring progressive glaucoma by changes in the optic disc, and it is also a valuable diagnostic tool in macular disease.
Nearly all retinal diseases can be imaged with the slit lamp - irrespective whether they affect the posterior pole, mainly the optic nerve or the macula, the whole retina or only its periphery. Even a basic fundus controlled perimetry is possible. Therefore fundus videography with the slit lamp is a worthwhile approach especially for the many ophthalmologists without access to the most recent diagnostic equipment or a professional photographer at hand.
Keywords
Fundus imagingVideo slit lampBiomicroscopyVideographyFlicker testMosaic functionRetinal surface contourConverging lensAperture
Introduction
Biomicroscopy of the fundus with the slit lamp is ultimately the result of melding the two most important examination techniques in clinical ophthalmology, namely biomicroscopy with the slit lamp and fundoscopy. Historically speaking, fundoscopy is the older examination technique, dating back to 1851 (Helmholtz 1909), while the slit lamp was introduced by Allvar Gullstrand in 1911 (Gullstrand 1911). But it lasted several more decades until with the introduction of the +90 and +60D Volk lenses in the 1980-ies clinical biomicroscopy of the fundus gained its present form (Lundberg 1985; Volk 1986). This is even more astonishing as two important preconditions had been avaible since the 1950-ies: the theoretical concept for fundus biomcroscopy through a high power convex lens (El Bayadi 1953; El Bayadi 1965) and a slit lamp which allowed a nearly parallel beam between observation and illumination (Littmann 1950a).
Till the introduction of the Volk lenses the concept of concave lenses for fundus observation with the slit lamp had been pursued (Littmann 1950b), which had been introduced by Leonhard Koeppe with a contact lens (Koeppe 1918) and Karl Hruby through a hand held lens (Hruby 1941; Hruby 1950). From that earlier period the Goldmann three mirror contact lens has survived which is still a reliable clinical tool for examination of the macula and the fundus periphery (Goldmann 1949). Its disadvantages are the small area of visible retina, the need of touching the cornea and dilating the pupils.
Furthermore the traditional concept of the slit lamp for anterior segment biomicroscopy seems so strong (Berliner 1949; Holland 2004; Koeppe 1922; Koppenhöfer 2011) that until now its manufacturers have made no changes in the construction which supports posterior segment biomicroscopy specifically (Meesmann 1927; Shulpina 1966; Thiel 1930; Vogt 1930, 1931, 1942). Their brochures - if at all - contain very few fundus material (Müller & Wagner 2001) and even on the free book market until recently no larger collection of slit lamp findings of the fundus with the present methods was available (Hruby 1950; Gellrich 2011a).
It is true that many new tools have entered the scene for fundus documentation (Flittiger 2012), but it is also true, that contemporary ophthalmologists find themselves spending increasing time at the slit lamp on posterior segment biomicroscopy. We therefore see the need to demonstrate the slit lamp's capacities for posterior segment imaging, by evaluating the instrument itself (beam, apertures) and its examinations tools (fundus lenses), but also the potential advantages of modern video imaging and processing (Saine & Tyler 2002; Tyler et al. 2003; Wolffsohn 2008). Based on these techniques in this article the wide and in important parts unknown spectrum of fundus documentation with the slit lamp will be presented (Gellrich 2009a; Gellrich 2013a).
Material and methods
A Zeiss SL 105 slit lamp was used with an inbuilt CCD video camera (Panasonic, GP-KS 162 HDE with 752×582 pixels). Improvements for slit lamp-imaging were investigated in two different fields: (1) the slit lamp and examination equipment, and (2) the digital image path.
(1)

To examine the posterior segment, the Volk + 90D, +60D, +40D and other lens powers (+55D, +20D) were used. Effects of different lens powers on examination conditions (position of the slit lamp), visible field size and magnification were evaluated.
The shape of the projected "slit" in the slit lamp is determined by the superposition of two aperture systems: 4 circular apertures and a crescent-shaped aperture located on a rotatable aperture plate for its basic shape
(
Zeiss type SL 105, Figure
1
) and another "curtain-like" aperture which determines the width of the slit. Different settings of these aperture systems were tested in their potential use for slit lamp videography of the fundus.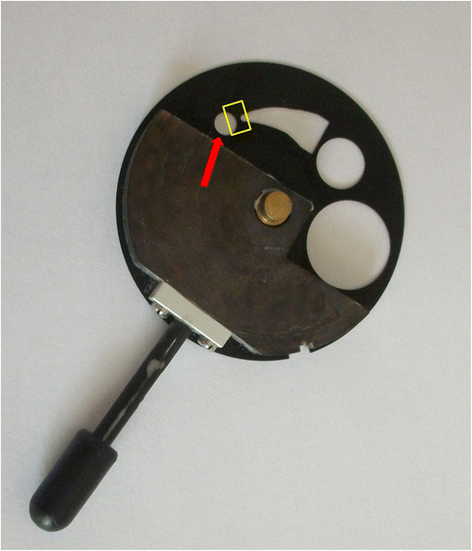 (2)

The slit lamp examination was recorded with an HDD recorder (Panasonic DMR-EX95V, capture rate 25 frames/second). Usually after the examination single frames within the video sequence were identified on which contrast and brightness were sufficient to identify the small arterioles on the fundus and which could serve as a basis for diagnosis and follow up. They were stored as still images on a CF-card (Gellrich 2009a; Gellrich 2009b; Gellrich 2011b) and used for further processing. PowerPoint® was used to perform geometric operations (tilting, cutting, adapting pictures) in order to perform the flicker test. The basic idea is that changement becomes evident by movement of structure when flicking between adjacent foils (Berger et al. 2000; Gellrich 2012). Earlier on we also used these functions to create retinal mosaics (Gellrich 2009c; Gellrich 2009d), but this can be performed at a higher standard using the program Hugin® for image processing (Gellrich 2014a), which allows to "stitch" these mosaics together digitally. PowerPoint® was also used to enhance the image quality by changes in contrast and brightness.
Although it would have been easy to rectify the captured images digitally we left them inverted. This facilitates their use in daily clinical work for direct comparison with the view through the slit lamp oculars.
Results
(1)

Slit lamp and examination equipment
Discussion
In this manuscript we described, how the functionality of a video slit lamp for fundus imaging can be extended by using easily accessible additions. For a structured discussion the aforementioned pieces of equipment (converging lens, aperture) and image processing will be applied to slit lamp imaging of various parts of the fundus following the topographic order below. We use this opportunity to briefly mention and draw parallels to more advanced technology for retinal imaging as indicated. A more detailed comparison however, would exceed the purpose of this manuscript. For further reading on that issue we recommend (Gellrich
2014a
).
1.

posterior pole - fundus photography, FAG

2.

3.

macula - OCT, RTA, autofluorescence

4.

fundus overviews - Optomap

5.

peripheral fundus findings - Goldmann fundus contact lens

6.
Conclusion
Although it is still regarded as the most indispensable instrument in clinical practice there is no slit lamp on the market that can exploit this instrument's potential for fundus imaging. This article points out changes in the instrument itself, its examination equipment and the need of a specific videographic software (Gellrich 2011c). All the necessary items are available, but it is up to the manufacturer's will to bring them together to an "all-in-one" practicable solution with the same reliability as we are used to it from our slit lamp in daily work. Moreover, the image resolution offered in this article represents the minimum of what is possible, because the camera we use and the videoprinter (for framegrabbing with storage capacities for single images around 100 kB) are more than ten years old - still providing us with disease follow ups over this whole period.
The spectrum of fundus applications with the slit lamp could be extensive: It spans from macular to glaucoma disease, from imaging large parts of the retina to peripheral anomalies, and in that regard it certainly exceeds the capacities of any other modern "high-end" instrument for retinal diagnostics. Such instruments certainly do offer measurement accuracy beyond that of the slit lamp and are designed that they can be used on the patient by non-specialists, but they always focus on specific parts of the eye (Kaschke et al. 2014). The slit lamp, working with visible light and largely dependent on skill and knowledge of its user, still has the capacity to image nearly any finding in ophthalmology (Gellrich 2009a), not only anterior segment (Meyner 1976; Sickenberger 2011), but also squint (Gellrich 2009e; Gellrich 2013b), fundus (Gellrich 2011d; Gellrich 2011e) and even matters of refractive surgery (Gellrich 2014b). If we want to continue using it as a basic and universal diagnostic tool - affordable for any ophthalmologist - we have to understand its principles, express what is clinically needed and demand what is feasible in order to make the manufacturers develop it further.
Authors' Affiliations
(1)
Ophthalmological practice, Kellinghusen, Germany
Copyright
© Gellrich; licensee Springer. 2015
This is an Open Access article distributed under the terms of the Creative Commons Attribution License (http://creativecommons.org/licenses/by/4.0), which permits unrestricted use, distribution, and reproduction in any medium, provided the original work is properly credited.