Diminished mTOR signaling: a common mode of action for endocrine longevity factors
Received: 5 November 2014
Accepted: 7 December 2014
Published: 15 December 2014
Abstract
Since the initial observation that a calorie-restricted (CR) diet can extend rodent lifespan, many genetic and pharmaceutical interventions that also extend lifespan in mammals have been discovered. The mechanism by which CR and these other interventions extend lifespan is the subject of significant debate and research. One proposed mechanism is that CR promotes longevity by increasing insulin sensitivity, but recent findings that dissociate longevity and insulin sensitivity cast doubt on this hypothesis. These findings can be reconciled if longevity is promoted not via increased insulin sensitivity, but instead via decreased PI3K/Akt/mTOR pathway signaling. This review presents a unifying hypothesis that explains the lifespan-extending effects of a variety of genetic mutations and pharmaceutical interventions and points towards new molecular pathways which may also be leveraged to promote healthy aging.
Keywords
Calorie restrictionRapamycinInsulin resistanceLongevity
Introduction
Calorie restriction (CR), first discovered to extend rat lifespan in the 1930's, is one of the most effective known techniques for promoting longevity (McCay et al. 1939). A CR diet, in which total caloric intake is reduced while maintaining adequate nutrition, promotes lifespan not only in rats, but in yeast, worms, flies, dogs, and even primates (Lamming and Anderson 2014). A CR diet also increases healthspan – that portion of a life where one is healthy and vigorous. The mechanism underlying the effect of a CR diet on longevity has been hotly debated, with suggestions ranging from a passive mechanism in which CR slows metabolism, to a more active mechanism in which a CR diet induces protective stress response pathways (Anderson and Weindruch 2010; Sinclair 2005).
A conserved response to CR in mammals, including humans as well as non-human primates, is a significant increase in insulin sensitivity (Kemnitz et al. 1994; Cartee et al. 1994). As high-fat, obesity-promoting diets clearly inhibit insulin sensitivity as well as lifespan (Olefsky and Glass 2010), it is logical to suppose that the enhanced insulin sensitivity induced by CR may be responsible for its effects on healthspan and lifespan. In favor of this hypothesis, the Ames and Snell dwarf mice, which have an exceptionally long lifespan, likewise display significantly increased insulin sensitivity (Bartke and Brown-Borg 2004). However, as discussed below, data from genetically modified organisms and the surprising effects of the pro-longevity drug rapamycin on insulin sensitivity show that these effects can be disassociated. The common feature behind many insulin-sensitizing and insulin-desensitizing longevity interventions is decreased mTOR pathway signaling, suggesting that endocrine factors which directly or indirectly regulate mTOR signaling may be potential regulators of longevity.
Conclusions
Herein, we have discussed some of the major endocrine factors that regulate glucose homeostasis and their effects – or possible effects – on longevity. We have presented a unifying model in which growth hormone, IGF-1, adiponectin, and leptin may all regulate lifespan via their effect on the PI3K/Akt/mTOR signaling pathway. While it remains to be conclusively proven, a CR diet may similarly act via decreased PI3K/Akt/mTOR signaling. Decreased fasting blood glucose and insulin levels are widely conserved effects of a CR diet in mammals (Lamming and Anderson 2014), and a CR diet significantly inhibits the PI3K/AKT/mTOR signaling pathway even in humans (Heilbronn et al. 2006; Mercken et al. 2013). At least some genetic mouse models of increased insulin sensitivity have a short lifespan (Nelson et al. 2012), again correlating with a model in which increased PI3K/AKT/mTOR signaling pathway activity acts to limit lifespan.
We have also briefly touched on a number of other endocrine factors that may regulate longevity via this same PI3K/Akt/mTOR signaling pathway. While some of these factors have established connections to PI3K/Akt/mTOR signaling, future research will be required to learn if the others regulate this pathway. There are many other insulin sensitizing hormones we have not discussed, including prolactin, which regulates hepatic insulin sensitivity (Yu et al. 2013) as well as beta cell function and mass (Park et al. 2012); the recently discovered meteorin-like which regulates beige fat thermogenesis (Rao et al. 2014); and the lipocalin family of hormones, which includes LCN2 (Rao et al. 2014), LCN13 (Zhou and Rui 2013), and Mup1 (Major urinary protein 1) (Zhou et al. 2009). While the role of these proteins in the regulation of lifespan and the PI3K/Akt/mTOR signaling pathway is largely unknown, this area is ripe for study.
Finally, we have discussed that the context in which PI3K/Akt/mTOR signaling is regulated may be critical to understanding the effect on longevity. One of the most significant contexts is sex, and both genetic and pharmaceutical interventions in the insulin/IGF-1/mTOR signaling pathway consistently show greater benefits in females than males. This sexual disparity in lifespan extension is observed in mice null for either
Irs1
or
S6K1
(Selman et al.
2009
,
2011
), mice heterozygous for both
mTOR
and
mLST8
(Lamming et al.
2012
), and consistently and across a range of doses in mice treated with rapamycin (Figure
3
) (Miller et al.
2014
). While the mechanistic and physiologic basis for this effect is unknown, 17β-estradiol plays a protective role against the development of rapamycin-induced diabetes, suggesting a possible contribution of sex hormones (Schindler et al.
2014
). A deeper understanding the role of sex hormones and other endocrine factors in the PI3K/Akt/mTOR-dependent regulation of longevity will provide a platform for the development of interventions that can extend lifespan across the sexes and in a wide range of physiological contexts.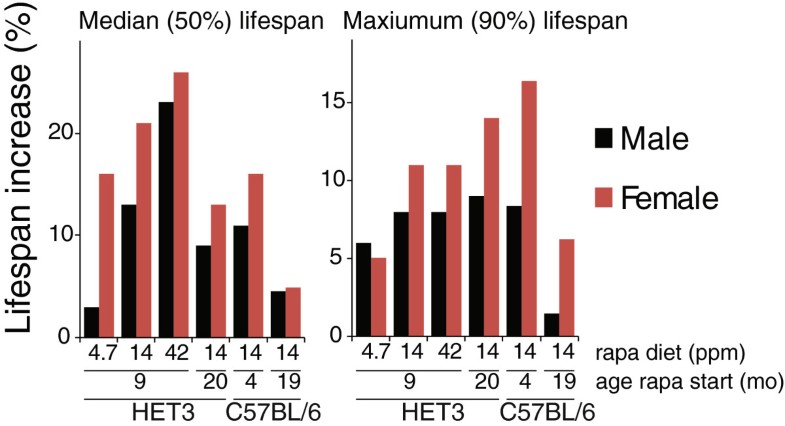 Abbreviations
CCK:

Cholecystokinin
Fgf21:

Fibroblast growth factor 21
GhRKO:

Growth hormone receptor knockout
GLP-1:

Glucagon-like peptide 1
IGF-1:

Insulin-like growth factor 1
mTOR:

Mechanistic target of rapamycin.
Declarations
Acknowledgements
This review benefited greatly from the advice of D.E. Cohen, and we also thank A.K. Linnemann for helpful suggestions about CCK and E.L. Baar for critical reading of the manuscript. The Lamming lab is supported by a grant from the National Institute of Health (AG041765) and startup funds from the UW-Madison School of Medicine and Public Health and the UW-Madison Department of Medicine. This work was supported using facilities and resources from the William S. Middleton Memorial Veterans Hospital. This work does not represent the views of the Department of Veterans Affairs or the United States Government.
Authors' Affiliations
(1)
Division of Endocrinology, Department of Medicine, University of Wisconsin-Madison, Madison, USA
(2)
William S. Middleton Memorial Veterans Hospital, Madison, USA
Copyright
© Lamming; licensee Springer. 2014
This article is published under license to BioMed Central Ltd. This is an Open Access article distributed under the terms of the Creative Commons Attribution License (http://creativecommons.org/licenses/by/4.0), which permits unrestricted use, distribution, and reproduction in any medium, provided the original work is properly credited.