Embryonic and larval developmental stages of African giant catfish Heterobranchus bidorsalis (Geoffroy Saint Hilaire, 1809) (Teleostei, Clariidae)
Received: 18 June 2014
Accepted: 11 November 2014
Published: 18 November 2014
Abstract
The dearth of African giant catfish Heterobranchus bidorsalis seeds poses great threat to its aquaculture and biodiversity, hence detailed knowledge and understanding of its embryology is indispensable for its artificial propagation and conservation programmes. Photomicrographs of extruded oocyte through all developmental cell stages of live embryo to larval stage are documented with the aid of a light microscope. The optical transparency of the developing embryo enabled us to describe its deep structures, distinctive features and characterize the stages pictorially. Extruded oocyte had a mean diameter of 1 ± 0.1 mm, ~20% increase when hydrated, and bounded by double thin perivitelline membranes. The first mitotic cleavage occurred at 69 min post-fertilization (pf) resulting in 2, 4 (2 × 2 array of cells), 8 (2 × 4), 16 (4 × 4), 32 (4 × 8), 64 (2 × 4 × 8) blastomeres, then developed to morula, blastula and gastrula stages. Blastula was featured by formation of enveloping layer and yolk syncytial layer. Onset of epiboly at 3 h 57 min depicted the commencement of gastrula while closure of blastopore at 11 h 8 min marked its completion. Neurulation period was distinct from segmentation where organogenesis was fully active. Embryo sudden muscular contraction was noticed at ~17 h pf, increased prior to hatching with caudal locomotion firstly at 42 s interval. Heartbeat of embryo commenced at ~1 h before its unique eclosion at average of 72 beats/min while first larva emerged at 21 h at a controlled temperature of 28.5 ± 0.5°C. Mean total length (TL) of larvae and their pouch thickness were 5 ± 1 mm and 0.05 ± 0.02 mm respectively. 1 –day old larvae revealed 8 distinctive neuromeres and by day 3, epicanthus folds of the eyes were fully uncovered; and thereafter commenced exogenous feeding. At day 4, larvae recorded mean TL of 9 ± 1 mm and 15 caudal fin rays. The fin bifurcation to dorsal and adipose fins was observed at third and half weeks post-hatchability with the dorsal fin length to adipose fin was 1.7:1. This study, for the first time, presents significant morpho-sequential developmental stages of H. bidorsalis and registers its unique form of eclosion.
Keywords
African giant catfish Heterobranchus bidorsalis AquacultureOocyteEclosionFin bifurcationDorsal finAdipose finDevelopmental stages
Introduction
Genus Heterobranchus can be differentiated from other Clariid catfishes by the presence of large adipose fin that followed its spineless dorsal fin. The family Clariidae is present in African freshwater and extends to Syria, Southern Turkey and South-East Asia (Teugels 1996). Fourteen genera are recognized in the family; Teugels (1986) listed it to contain 12 African genera with 74 species and 3 Asian genera with 18 species (Teugels 1996). Genus Heterobranchus contains four important species namely, H. bidorsalis Geoffroy Saint Hilaire 1809; H. longifilis Valenciennes 1840; H. isopterus Bleeker 1863; and H. boulengeri Pellegrin 1922 (Reed et al. 1967; Teugels et al. 1990; Teugels 1996). The latter species presence in the genus was reported to be of great concern due to some striking different features it possesses compared with its congeners (Agnèse and Teugels 2001). Reed et al. (1967) regarded H. isopterus to be the smallest in the genus and very rare to be found in local waters. Heterobranchus and Clarias are the two most economic important genera in this family.
The species for this study, H. bidorsalis is a highly economic species that performs better than other species in family Clariidae. It is identified from its congeners by the presence of longer dorsal fin compared to its adipose fin with absence of black spot at its tail end. H. longifilis and H. isopterus are characterized with equal lengths of dorsal fin to adipose fin and the two can be distinguished by the absence of black spot at the end of adipose fin of latter while it is present in the former (Reed et al. 1967). The larger size of H. bidorsalis (length = 1.2 m; weight = 30 kg) and its congener species relative to members of the genus Clarias proves that the former has significant potential for aquaculture (Reed et al. 1967). It performs well in captivity by attaining maturity in 10–12 months of domestication but 2–3 years in the wild (Fagbenro et al. 1993; Adebayo and Fagbenro 2004). Also, its meat is of high quality and palatability. However, its intensive aquaculture is limited due to constraints in getting its seed from natural waters that are uneconomical and unrealistic (Adebayo and Olanrewaju 2000; Adebayo and Fagbenro 2004). Moreover, there is generally dearth of knowledge on the biology of this species, H. bidorsalis except fewer studies on its haematological characteristics, nutritional or feeding characteristics, salinity tolerance, digestive enzymes profile, parasite fauna and induced spawning (Fagbenro et al. 1991, 1993; Adebayo and Fagbenro 2004). This is due to the species' limited availability, breeding constraints of longer timed sexual maturity and short breeding period which is at the peak of rainy season. Though the species has not been listed as endangered but there is risk of extinction because of environmental problems or effect of the breeding sites (Honji et al. 2009, 2012); for example, the species does not breed in the ponds but the fingerlings are sourced at the bank of large rivers (Adebayo and Olanrewaju 2000; Adebayo and Fagbenro 2004). Further threats are anthropogenic activities like the construction of dams, riparian habitat destruction, water pollution and fishing (Honji et al. 2009, 2012; Olaniyi 2014).
Limited studies have been conducted on this species for improvement on its breeding (Adebayo and Fagbenro 2004; Agbebi et al. 2005) while few studies on hybridization and growth performance in comparison with other species are just developing (Nlewadim et al. 2004; Akinwande et al. 2009; Ekelemu 2010; Oguguah et al. 2011); and this is attributed to its defined spawning season or non-spontaneous breeding system, reproductive dysfunction, poor technical/breeding knowledge, breeding and/or artificial propagation constraints and very few biological studies. Therefore, embryological studies of this species are essential for improvement on its breeding, aquaculture potentials and biodiversity. The present study aimed to investigate and describe the morphological and chronological developmental stages in the ontogeny and organogenesis of H. bidorsalis.
Materials and methods
Fish sample, selection and induced breeding
The H. bidorsalis broodstock were obtained from National Institute for Freshwater Fisheries Research (NIFFR), New Bussa, Niger State, Nigeria and maintained in standard conditions as described by Bromage and Roberts (1995) in the Wet Laboratory, Department of Animal Sciences, Obafemi Awolowo University, Ile-Ife, Nigeria for 2 years. The origin of H. bidorsalis stock from NIFFR, New Bussa, Niger State, Nigeria was from Lake Kainji, Nigeria. The induced breeding was conducted during the peak period of rainy season (June – August, 2012) that corresponds to its breeding period (Adebayo and Fagbenro 2004). Sexually matured male (Total length: 51.75 ± 3.45 cm; weight: 1.5 ± 0.1 kg) and female (Total length: 65.25 ± 5.35 cm; weight: 1.78 ± 0.17 kg) broodstock were identified and selected based on the external sexual characteristics. The matured males possessed prominent pinkish-coloured pointed genital papillae (Adebayo and Fagbenro 2004; Olaniyi and Omitogun 2013) and the females were gravid with swollen abdomen that freely oozed out eggs upon gentle pressure on their abdomen from their pinkish or reddish swollen vents (Caneppele et al. 2009; Puvaneswari et al. 2009; Honji et al. 2011, 2012; Olaniyi and Omitogun 2013).
Artificial breeding was carried out using Ovaprim® (Syndel, Canada) following standard protocols (Legendre et al. 1992; Váradi et al. 1999; Olaniyi and Omitogun 2013) with modifications (Olaniyi, 2013). Both sexes of H. bidorsalis were given a single dose of 1.0 ml/kg of the hormone. Induction was carried out at 27 ± 0.5°C on three sexually matured females and four males broodstock. After the latency period, eggs and sperm were obtained from the female and male broodstock respectively. The "wet" method of fertilization was employed whereby eggs were fertilized with diluted sperm with physiological saline solution (0.9% NaCl) (Olaniyi, 2013). Fertilized eggs were set in triplicate and incubations were carried out at a controlled temperature of 28.5 ± 0.5°C.
Fertility, hatchability and survival
Fertility was evaluated 2–3 h (morula stage) after fertilization with respect to the total number of eggs set (equation 1) (Honji et al.
2011
,
2012
; Olaniyi and Omitogun
2012
,
2013
). The hatchability and survival percentages were calculated. The percentage hatchability (equation 2) was calculated by the number of hatched larvae (N
H
) in relation to the number of fertilized eggs (N
F
); while the percentage survival (equation 3) was calculated following Don and Avtalion (
1986
) and Omitogun et al. (
2012
) methods.
where;
c = absolute percentage of fertile eggs;
i = initial number of the eggs set;
n = number of eggs which survived up to a given developmental stage;
NH = number of larvae hatched;
NF = number of eggs fertilized.
Post-Induction management
Water parameters such as pH, alkalinity, dissolved oxygen and temperature were monitored, while the optimum oxygen level was maintained with RESUN LP- 100 low noise air-pump following Olaniyi and Omitogun (2012). After yolk absorption, the fry were fed ad libitum with Artemia naupli shell free feed, 54% CP (INVE® Aquaculture Nutrition, Ogden, Utah, USA) following Howell et al. (1998) and Honji et al. (2012). Feed was made available at all times by feeding at short intervals like eight (8) times daily.
Embryonic studies and photomicrography
Ten (10 ± 2) fertilized oocytes were randomly sampled into Petri dish and their developments were studied under the microscope. The development stages were also verified with the ongoing stages in the incubation tanks. Oocyte, embryonic and larval developmental stages were studied right from unfertilized matured oocyte, to fertilization and hatching with the aid of biological computer-aided light microscope (Olympus Trinocular Microscope XSZ-156 T) mounted with digital camera (DCM 130, Res 1.3 M pixels). With this microscope, developing oocytes, hatching, alevin and larval stages were viewed, monitored and photographed and their times of occurrence were documented.
Interpretation of the terminologies
The terminologies used for the developmental stages right from unfertilized matured oocyte, to fertilization, hatching and post-hatching are in line with earlier embryonic developmental studies in order Siluriformes and other fish species' orders (Cardoso et al. 1995; Kimmel et al. 1995; Caneppele et al. 2009; Honji et al. 2012; Olaniyi and Omitogun 2013).
Results
Sample selection and induced breeding
Ovulation was achieved within the latency period of 14 ± 1 h at ambient temperature (27 ± 0.5°C). Mean spawned unfertilized eggs measured 1 ± 0.1 mm diameter and had about 20% increase in size when hydrated (1.2 ± 0.2 mm). Water quality parameters such as pH, alkalinity, dissolved oxygen and temperature at incubation were 7.1 ± 1, 112.31 ± 1.14 mg/l, 24.5 ± 0.5 mg/l and 28.5 ± 0.5°C respectively. All the broodstock induced to spawning responded well to artificial breeding and had 100% survival. The mean spawned egg was 55.3 ± 7.3 g. The percent fertility, hatchability and survival revealed 80.67 ± 6.03, 68.33 ± 3.06 and 61.00 ± 1.73 respectively.
Characterization of the stages of development
It is very important to note that the following established stages are dependent on different kinds of species and the conditions of the experimental set-up, for example the temperature. The stages, as used in this study, are explained thus:
Oocyte stage
This is an unfertilized matured egg characterized with spherical or ovoid shaped structure and largely filled yolk content. It is not regarded as part of embryonic development stage when not fertilized.
Embryonic stage
This period starts immediately when the oocyte is fertilized till the embryo hatched out of the chorion.
Post-embryonic stage
This period of development starts immediately when the larvae hatched out of chorion till the complete yolk absorption.
Larval stage
This stage commenced after the complete yolk absorption and the larvae started exogenous feeding. This is the early larva period whereby the hatched larva has completed most of its morphogenesis and starts to grow rapidly. This stage can last for few days or months.
Developmental stages and photomicrography
The development of embryos (~87%) in the experimental set-up tanks corresponded to the developmental stages of the randomly sampled fertilized oocytes. Tables
1
and
2
show the summarized developmental stages of
H. bidorsalis
with the average timing at early embryonic and post hatchability (post-embryonic and larval) periods respectively. Figure
1
depicts the photomicrograph of matured unfertilized egg, while Figures
2
and
3
show the sequential developmental stages from fertilized egg to early embryonic developments and post embryonic developments to exogenous feeding or larval levels, respectively. All the accompanying photographs are of living specimen.
Table 1
Early embryonic developmental stage of Heterobranchus bidorsalis at 28.5 ± 0.5°C
Stage

Time from fertilization (min)

Main events

Zygote

0

Concentration of yolk at the centre; evident jelly coat; increase in perivitelline space (Figure 2A).

Animal and vegetal poles

45

Formation of embryonic disc; distinct vegetal pole; pigmentation of animal pole (Figure 2B).

One-cell

57

Bulging of protoplasm at animal pole (Figure 2C).

Two-cell

69

First mitotic cleavage; discoidal meroblastic division into two equal size blastomeres (Figure 2D).

Four-cell

84

Second mitotic cleavage; meridional division at right angles; 2 × 2 array of blastomeres (Figure 2E).

Eight-cell

94

Cleavage of earlier four-cell blastomeres; division similar to the first mitotic cleavage resulting into two parallel rows of four blastomeres each; 2 × 4 array (Figure 2F).

Sixteen-cell

104

Formation of sixteen blastomeres; 4 × 4 array (Figure 2G).

Thirty-two cell

114

Formation of thirty-two blastomeres; 4 × 8 array (Figure 2H).

Sixty-four cell

127

Irregular cell divisions; overlapping of subsequent cleavages; 2 × 4 × 8 array (Figure 2I).

128 cell

137

Irregular cleavages produce unequal blastomeres of reduced sizes, leading to morula stage (Figure 2J).

Morula

161

Irregular cell divisions; numerous blastomeres appearing like 'mulberry' (Figure 2J).

Blastula

165

Flattening of blastodermal cells resulting into two distinct layers, viz: high and low blastula (Figure 2K and L); formation of enveloping and yolk syncytial layers; evident blastoderm (Figure 2M).

Gastrulation

237 (3 h 57 min)

Expansion of blastoderm; epiboly commenced (Figure 2N – 2Q); formation of germ ring; embryonic bud discernable (Figure 2O); thickening of embryonic shield and perivitelline capsule (Figure 2P); increase in foul and offensive odour.

Late (completed) = 668 (3 h 57 min)

Neurulation

669

Neural plate discerned as thickened structure; formation of neural groove delineating the neural keel (Figure 2T); notochord development (Figure 2U).

Segmentation

Early = (1st block observed at) 674

Formation of somite blocks; body pigmentation developed dorso-cephalocaudally (Figure 2U and V). Formation of cranial, dorsal, ventral and caudal regions (Figure 2W).

Late = (completed with the formation of other body organs/organelles) = 979

Early organogenesis.

Optic/auditory buds/Otic placode

Development of otic placode into otic vesicles depicting two tiny otoliths (Figure 2W); differentiation of notochords.

Pharygula period

Development of somites to myotome blocks; formation of sclerotomes; well differentiation of notochord depicting pharygula stage; somites matured (Figure 2U and W).

Caudal bud

Pigmentation continues; somite blocks are more closely packed and well aligned (Figure 2W).

Muscular contraction

1042

Caudal-locomotion commenced at average of 42 s.

Heart-beat

1243

Heart beat commenced at average of 72 beats/min; pigmentation of the point of the heart, eye and other parts increased (Figure 2V and W).

Hatching

1278 (21 h)

Muscular contractions of myotome blocks increased; lashing of the detached and free caudal end against chorion; successful hatching (Figure 2V and W); unique emergence of the newly hatched larvae from the hollowed chorion (Figure 2X).
Table 2
Post-embryonic and larval developmental stages of Heterobranchus bidorsalis at 28.5 ± 0.5°C
Stage

Main events

Early hours (<12 h post hatch)

Recently hatched larvae are translucent; possessed slightly curved body; characterized with progressive cerebellar morphostructural differentiation revealing the telencephalon, mesencephalon and rhombencephalon; otic placodes are located at the basal end of the rhombencephalon (Figure 3A).

First day

Head protruded; heart, lens placode and otic vesicles are evident; olfactory placodes are delineated (Figure 3A); blood circulation commenced; tail straightened out and head lifted dorsal-upward; evident mouth primordia; end spot of cellular inward movement forms the anus (Figure 3B).

Second day

Early hours: Sealed mouth; diminutive club-shaped barbell; head lifted up and gradually separating from the yolk sac; otic vesicle shifted closer to the lens placode (Figure 3C).

Late hours: gaping of the mouth in direct relation to partly raising of eyes epicanthus; increase in barbell length; further development of alimentary canal. Increase in separation of head away from yolk sac; development of jaw cartilage led to increase in mouth opening; melanopohore formed around the cranial region; pigmentation increase around the eyes (Figure 3C).

Third day

Melanophores spread cephalocaudally; reduced yolk sac; eyes epicanthus uncovered (Figure 3D).

Fourth day

Slightly opaque larvae; blood inter-circulating the caudal fins; epicanthus fold totally uncovered. Larvae were photophobic; fin bifurcation to dorsal and adipose fins not yet occurred; formation of caudal fin rays (Figure 3E).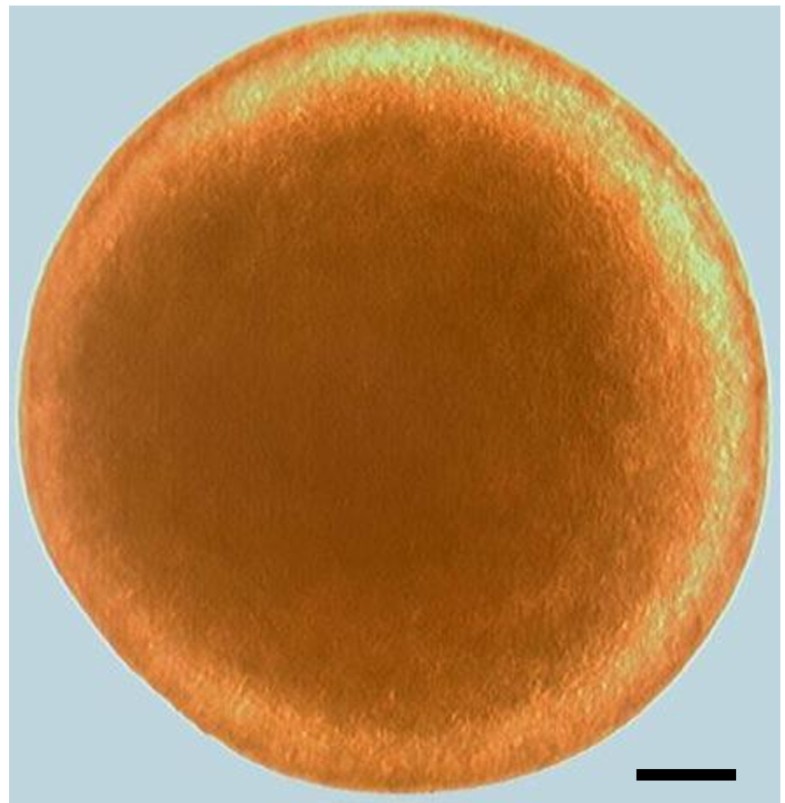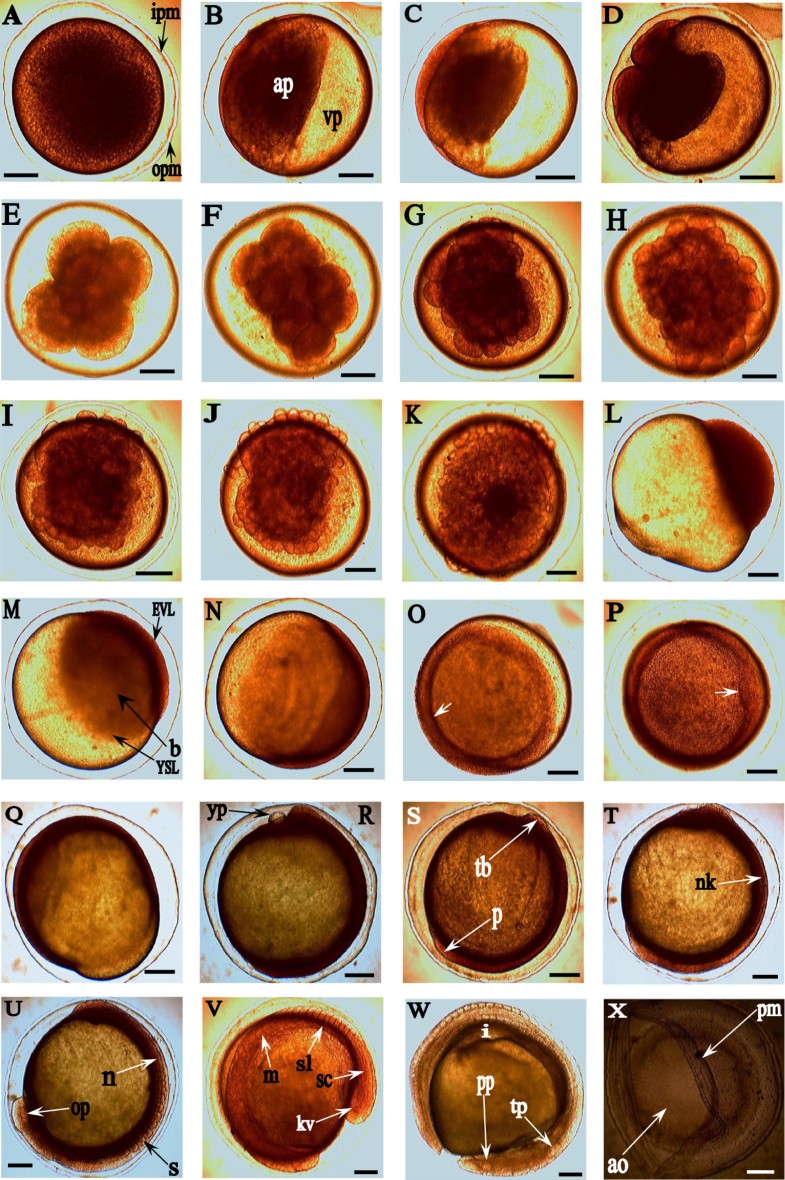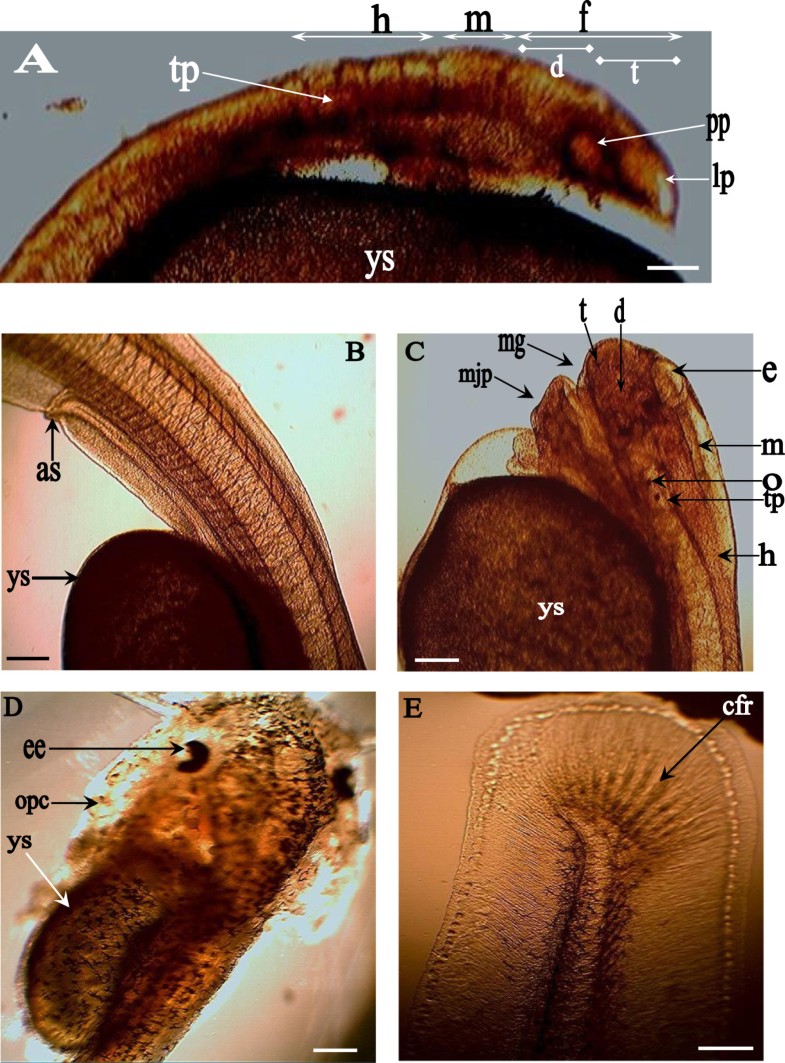 Stages at oocyte and embryonic developmental phase
Stages during post-embryonic and larval developmental phases
Discussion
The embryogenesis of H. bidorsalis is a short duration similar to other total spawners species that exhibit reproductive migration and spawns either adhesive eggs as in H. longifilis and Clarias gariepinus (Legendre and Teugels 1991; Olaniyi and Omitogun 2013), Rhinelepis aspera (da Rocha et al. 2009) or non-adhesive eggs in Pseudoplatystoma coruscans (Lamas 1993; Cardoso et al. 1995), Rhamdia hilarii (Godinho et al. 1978) and R. quelen (Pereira et al. 2006). This study provides information on fish handling of H. bidorsalis, morphology of its oocyte, embryonic, and larval developmental stages focusing on its sequential and chronological details as established with their photomicrographs.
Conclusions
This study for the first time investigated and registered significant morpho-sequential developmental stages in the ontogeny and organogenesis of H. bidorsalis. The study pointed out polster and tail bud as morphological markers in the identification of the cranial and caudal parts of the developing embryo respectively. In addition, artificial propagation of the species is the best as this study discovered the unique mode of eclosion that has great effect on water quality. The present knowledge recommends ad libitum feeding under low/dim light intensity or dark environment as appropriate for the larvae being photophobic. These important features must be highly cared for in feeding regime to have successful propagation of the species. The data from this study contribute immensely to the understanding of the biology of H. bidorsalis species for aquaculture, artificial propagation and also have implications for genetic manipulation, ecological and conservational researches.
Abbreviations
EVL:

Enveloping layer
YSL:

Yolk syncytial layer.
Declarations
Acknowledgements
This study was supported by a research grant from World Bank/Federal Government Science and Technology Education Post Basic Project (Cr. 4304-UNI), Innovators of Tomorrow [STEPB (IOT)] Research and Technology Development, Abuja, Nigeria. The supports of Rafiu A. Ebiti, Tunde A. Popoopla and Lateefat M. Durosinmi on Obafemi Awolowo University Ile-Ife Muslim Graduate Association (UNIFEMGA) scholarship fund to W.A. Olaniyi are acknowledged. The authors thank Moses Yisa of National Institute of Freshwater Fish Research, New Bussa and Olubunmi Agbebi of Department of Fisheries and Aquaculture Management, Federal University of Agriculture Abeokuta for their assistance in obtaining the fish samples. Oseni Kehinde Owolarafe, Saidu Oyarekhua Oseni, Surajudeen Olanrewaju Obayopo and Oladeji Bamidele of Obafemi Awolowo University, Ile-Ife are acknowledged for editing the manuscript and importantly the anonymous reviewer for thorough work and provision of linkage to additional texts. Biomed Central Waivers are appreciated for the benefit of financial waiving with respect to the process of this article. The data are part of PhD Thesis of the first author.
Authors' Affiliations
(1)
Department of Environmental Biology and Fisheries, Adekunle Ajasin University, Nigeria
(2)
Department of Animal Sciences, Obafemi Awolowo University, Ile-Ife, Nigeria
Copyright
© Olaniyi and Omitogun; licensee Springer. 2014
This article is published under license to BioMed Central Ltd. This is an Open Access article distributed under the terms of the Creative Commons Attribution License (http://creativecommons.org/licenses/by/4.0), which permits unrestricted use, distribution, and reproduction in any medium, provided the original work is properly credited.