El Nino Southern Oscillation (ENSO) impact on tuna fisheries in Indian Ocean
Palanisamy Satheesh Kumar

1

Email author

,

Gopalakrishna N Pillai

1 and

Ushadevi Manjusha

1
Received: 28 July 2014
Accepted: 24 September 2014
Published: 9 October 2014
The Erratum to this article has been published in SpringerPlus 2014 3:730
Abstract
El Nino Southern Oscillation (ENSO) is an important driver of interannual variations in climate and ecosystem productivity in tropical regions. However, detailed information about this important phenomenon of the Indian Ocean is scarce. Consequently, the objective of this study is to improve understanding of the impact of warm event El Nino and cool event La Nina on annual tuna landings from the Indian Ocean from 1980 to 2010. In this study, maximum tuna landings were recorded during a weak El Nino year (1456054 t in 2006) and during a weak La Nina year (1243562 t in 2000), although the lowest tuna catch was followed during the strong El Nino year (1204119 t in 2009) and during a strong La Nina year (706546 t in 1988). Validation of predicted tuna landings and SST were showing a significant positive correlation (p < 0.01) was observed all the major tuna species except Southern Bluefin Tuna. Whereas the other relationships such as sea level pressure, Wind actions; Zonal Wind (U), Meridonial Wind (V), and Scalar Wind (W) are less well-defined. In contrast with principal component analysis we find that Principal Components 1 explains 75.5% of the total variance and suggest that sea surface temperature plays a major role in determining tuna availability in the region especially during warm event El Nino years; landings in Indian Ocean tend to be optimum SST 25 to 26°C in ENSO event. Our results confirm the ENSO impact on climate, tuna abundance and production in the Indian Ocean. However, among the oceanic variables SST explained the highest deviance in generalized additive models and therefore considered the best habitat predictor in the Indian Ocean followed by sea level pressure and Winds (U, V, W).
Keywords
Climate
Indian Ocean
ENSO
El Nino
La Nina
Sea surface temperature
Tuna
Introduction
Climate change presents an emerging challenge to the sustainable management of tuna fisheries, and robust information on essential to ensure future sustainability (Nicol et al. 2013). Climate change affects the survival, growth, reproduction, recruitment and distribution of individuals within a species, but impacts can also be shown at the level of populations, communities, or entire ecosystems (Brander 2007; Lehodey et al. 1997, 2003; Pillai and Satheeshkumar 2012, 2013). Recent changes in the distribution of a number of fish species can be ascribed with high confidence to regional climate variability, such as the El Nino Southern Oscillation (ENSO) and anomalies (Brander 2007). The ENSO phenomenon is regarded as the primary cause for interannual climatic variability around the globe. The economies of many countries, mainly in tropical regions, depend on the presence and intensity of this phenomenon (Suarez et al. 2004; Lehodey et al. 2006). Therefore, it is important to have the means to allow predictions regarding time, intensity and potential damage (Suarez et al. 2004).
El Niño events are associated with physical and biological changes in our oceans that affect fish abundance and distribution. The result of analysis of fisheries and environmental variables has well established that tuna distribution and abundance are closely associated with physical changes in the ocean. Sea Surface Temperature (SST), SST anomalies, dissolved oxygen concentration, illumination, wind speed, current movements, depth of mixing layer, upwelling and food availability are major factors which are influencing the growth, and convergence zone (Diaz and Markgraf 1992; Lehodey et al. 1997, 2003; Chavez et al. 1999). Scientific evidence supports the conclusion that climate change is already altering marine ecosystems (Lehodey et al. 1997, 2003; Nicol et al. 2013). Primary and secondary production and structure of marine communities are affected by the increase in ocean temperature, increased stratification of the water column and changes in the intensity and timing of coastal upwelling with consequent impacts on fish migration patterns, recruitment, growth, distribution, abundance and predator and prey relationship (Sissener and Bjorndal, 2005; McIlgorm et al. 2010). El Niño events provide an excellent opportunity to observe and evaluate how changes in microhabitats influence the tuna fish distribution. However large gaps in our knowledge remain, particularly the implications of climate change for the large and complex food web that supports tuna populations and their fisheries, and whether climate change may alter the interactions between tuna fishing and ecosystem structure and function in the Indian Ocean. Identifying changes in tuna distribution will increase our understanding of the habitat requirements of important marine resources and will help us better manage our tuna fisheries in the future.
On a large scale, distribution and abundance of tuna are determined by ocean temperature (Mullen 1992). However, detailed information on climate variability and its impact on tuna resources in the Indian Ocean is very scanty. Recent studies have found that tuna population dynamics is influenced by the ENSO phenomenon (Lehodey et al. 2008). Interestingly, few investigations have been conducted on the relationship between fluctuations in oceanic environmental conditions and tuna catch in the Pacific regions and the Panama bight during El Nino years (Lehodey et al. 1997; 2003; Pedraza and Dıaz-Ochoa 2006). Studies have indicated that Pacific Ocean tunas have thermal limits for maximum abundance of Yellowfin between 20° to 30°C and Skipjack between 20° to 29°C (Stretta 1991). The earlier predictions of ENSO (several months beforehand), are a major consequence of discovering the position of the highest abundance of skipjack tuna in the Western Pacific, This result has significant implications for the commercial tuna fishing industry (Lehodey et al. 1997).
Many studies based on tuna fishery statistics have investigated the relationships of the variability of tuna abundances with different oceanic parameters in the major oceans (Pedraza and Dıaz-Ochoa 2006; Chen et al. 2005; Lehodey et al. 2008; Song et al. 2009; Brander 2012). Certainly, understanding how the oceanic environment affects distribution of tuna species is an essential step towards ecosystem-based management of fisheries, which is increasingly becoming a basic requirement in management policy (Pillai and Satheeshkumar 2013). Time series data and its analyses are the prerequisites for investigating long-term fluctuations in fish populations and the relationships between populations and environmental variables. Therefore, the aim of this study is to analyze the effect of El Nino and La Nina events on tuna availability of the Indian Ocean from 1980 to 2010. We examined the relationship between tuna landing and environmental variables such as Sea Level Pressure (SLP) and Sea Surface Temperature (SST), Zonal Wind (U), Meridonial Wind (V), and Scalar Wind (W) in the tropical Indian Ocean at an interannual scale. Multivariate statistical analysis such as Principal Component Analysis (PCA) and Non- Multidimensional Scale Plot (MDS) was implemented to investigate the relationships of these environmental variables with landings of major tuna species.
Materials and methods
Tuna fishery data
The Indian Ocean is designated conventionally as an area between 25° N and 40° S and between 40° E and 115° E. The database used in this present study is the Indian Ocean Tuna Commission (IOTC) based on nominal catch data of tuna from the Western Indian Ocean fishing area (51) and Eastern Indian Ocean (57) as depicted in Figure
1
. We used landing statistics of tuna catch in the Indian Ocean as a proxy for the abundance or availability of the fish in the Indian Ocean waters fishing by the long line, bait boat, gill net, Pole and line, Purse seine and other gear. It would probably be better to have standardized landings by fishing effort. Unfortunately data on fishing effort spent for tuna fishing were not available or not sufficient information available from the (IOTC) or any other agencies, in view of the fact that landings could be a good indicator of tuna abundance.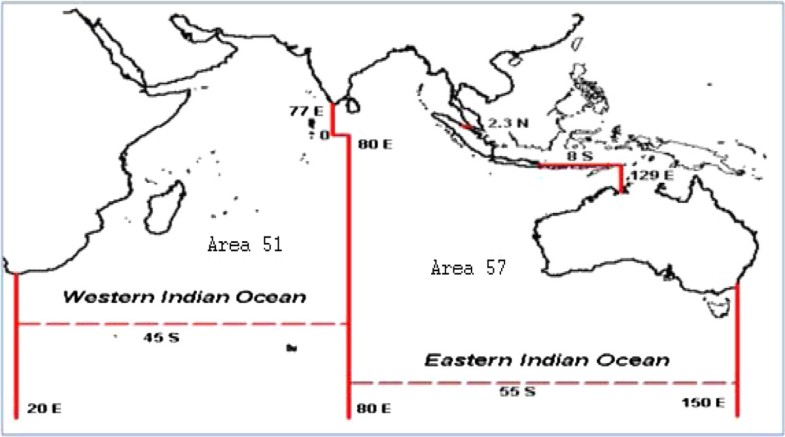 Environmental data
Environmental data were collected (Indian Ocean area between 25° N and 40° S and between 40° E and 115° E) from the National Oceanic and Atmospheric Administration (NOAA). Sea surface temperature (SST), Sea level pressure (SLP), Zonal Wind (U), Meridonial Wind (V), and Scalar Wind (W) data from 1980 to 2010 was retrieved from the International Comprehensive Ocean- Atmosphere Data Set (ICOADS) http://icoads.noaa.gov/ carried aboard NOAA-series polar-orbiting satellites. These data are in a resolution of 2° square, for correlating with the Indian Ocean tuna catches, all month-wise oceanographic parameters were averaged into year wised (Plisnier et al. 2000); the analysis of this study was performed to evaluate the long term outcomes from January 1980 to December 2010. Standardized Anomalies of oceanographic parameters were calculated by subtracting the climatological monthly cycle from the data (Plisnier et al. 2000).
ENSO phenomenon is regarded as the main cause for inter annual climatic variability around the world (Plisnier et al.
2000
; Suarez et al.
2004
). ENSO is an irregular low-frequency oscillation between a warm event (El Nino) and cold event (La Nina) state that evolves under the influence of the dynamic interaction between atmosphere and ocean. Events are defined as 5 consecutive months at or above the +0.5° anomaly for warm (El Nino) events and cold (La Nina) events. The threshold is further broken down into weak (with a 0.5 to 0.9 SST anomaly), moderate (1.0 to 1.4) and strong (>1.5) events. The list of El Nino and La Nina Years retrieved from (
http://www.ggweather.com/enso/oni.htm
) is given in Table
1
. The relevant large scale climatic phenomena include irregular long term climatic regime shifts, as well as the quasi periodic oscillation between El Nino and La Nina events in the eastern tropical Pacific as a result of the ENSO (Figure
2
). El Nino and La Nina events cause physical changes across wide regions of the Pacific and Indian Oceans that have a good number documented effect the abundance and spatial distribution of several commercially important fish stocks (Miller
2007
).
Table 1
The list of El Nino and La Nina Years during 1951-2010
El Nino

La Nina

Weak

Mod

Strong

Weak

Mod

Strong

1951

1986

1957

1950

1954

1955

1963

1987

1965

1956

1964

1973

1968

1994

1972

1962

1970

1975

1969

2002

1982

1967

1998

1988

1976

1991

1971

1999

2010

1977

1997

1974

2007

2004

2009

1984

2006

1995

2000

2011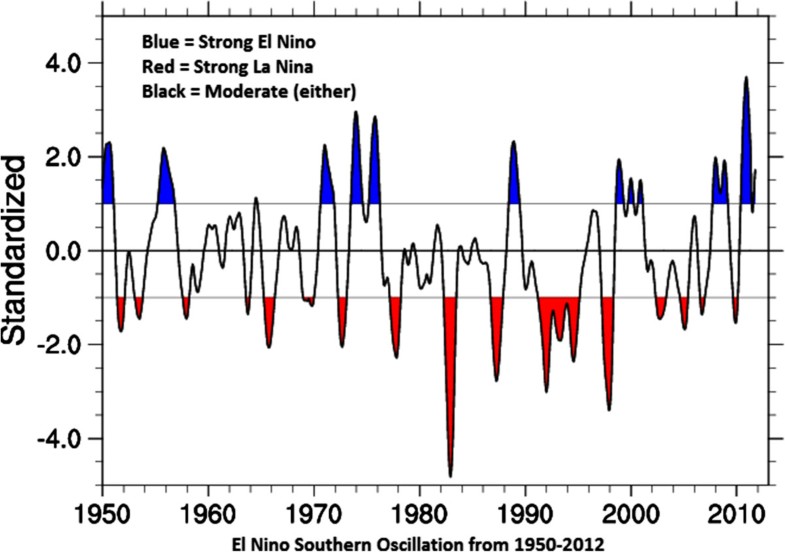 Statistical analysis
Coefficient of correlation (r) was performed to understand the relationship between the various oceanic parameters and to test the significance of the models. Means and standard deviations were computed for each oceanic parameters (SST; Wind U, V, Z and SLP). All these statistical analyses were performed using SPSS statistical (Version 13 for Windows XP, SPSS, and Chicago, IL, USA). Multivariate statistical techniques such as Non-Multidimensional Scale plot (MDS) and Principal Component Analysis (PCA) have widely been used as unbiased methods in analysis of water quality and relationship between marine organisms; water quality (Quadir et al. 2007; Ischen et al. 2008; Satheeshkumar and Khan 2012), phytoplankton characteristics (Wang et al. 2006); benthos characteristics (Satheeshkumar 2012). Based on the groups obtained cluster analysis, species having the greatest contribution to this distribution were determined using similarity percentage program PAST (statistical Version 1.93 for Windows XP).
Principal component analysis
PCA technique extracts the eigenvalues and eigenvectors of the covariance matrix of original variables. The new axes lie along the directions of maximum variance (Shrestha and Kazama
2007
). It reduces the dimensionality of the data set by explaining the correlation amongst a large number of variables in terms of a smaller number of underlying factors, without losing much information (Alberto et al.
2001
). The PCA can be expressed as.
Where z is the component score, pc is the component loading, x is the measured value of the variable, i is the component number, j is the sample number, and m is the total number of variables.
Non-multidimensional scale plot
MDS is a set of related statistical techniques often used in information visualization for exploring similarities or dissimilarities in data. Ordination plots produced by MDS analyses were used to classify cases into categorical dependent values. One of its objectives is to determine the significance of different variables, which can allow the separation of two or more naturally occurring groups.
Data treatment
Most of the multivariate statistical methods require variables to confirm the normal distribution, thus the normality of the distribution of each variable was checked by analyzing kurtosis and skewness statistical tests before multivariate statistical analysis is conducted (Lattin et al. 2003; Satheeshkumar and Khan 2012). The original tuna catch data and environmental data demonstrated values of kurtosis ranging from -1.96 to 10.36 and skewness values ranging -1.91 to 4.21 indicating that the data was not normally distributed. Since most of the values of kurtosis and skewness were >0, the raw data of all variables were transformed in the form x' = log 10(x). After transformation, the kurtosis and skewness values ranged from -0.612 to 1.37 and –1.06 to 1.22 respectively, indicating that all the data were normally distributed or close to being normally distributed. In the case of PCA, and MDS, all log-transformed variables were also z-scale standardized to minimize the effects of different units and variance of variables and to render the data dimensions (Singh et al. 2004).
Conclusions
El Nino Southern Oscillation affects ecological patterns and processes in both marine and terrestrial ecosystems. It is observed from the present study that the maximum tuna landings recorded during the weak El Nino years (1425640 t in 2004 and 1456054 t in 2006). It is also observed that SST, Sea level pressure, and Wind actions (U, V and W), are the three environmental variables which are affecting the distribution and abundance of tuna in the Indian Ocean. Surface ocean temperature and food availability are the main factors modified by ENSO impacting on tuna population dynamics (Lehodey et al. 1997). Sea surface temperature explained the highest deviance in generalized additive models and was therefore considered the best habitat predictor in the Indian Ocean followed by SLP and Winds (U, V, W). This relationship can be used to predict (several months in advance of Tuna Forecasting) the region of highest tuna abundance, within a fishing ground extending over the Indian Ocean. A better understanding of the relationships between oceanic environments, distribution and fishing conditions could make utilization of tuna resources more efficient, profitable and sustainable. However, further investigation is required to ascertain the role ENSO in the distribution of tunas in the Indian Ocean. Future research should focus more on longer time series data and investigate the spatial variability of key environmental variables SST and food distribution in the Indian Ocean in relation to tuna distribution and its relationship with climate on different time scales could further improve tuna habitat models. The information obtained should improve capacity to develop fisheries management policies that are resilient and can be adapted to climate change.
Declarations
Acknowledgements
Author thanks the Indian Council of Agricultural Research, New Delhi, Government of India for the award of Emeritus Scientist Scheme and for the financial support to conduct this study. The authors thank the Director, Central Marine Fisheries Research Institute, Kochi, for providing the necessary facilities. We wish to thank Dr. P.P. Pillai, Dr. P.K. Krishnakumar and Dr. E. Vivekanandan for critically going through the manuscript and giving constructive comments.
Authors' Affiliations
(1)
Central Marine Fisheries Research Institute, Kochi, India
Copyright
© Kumar et al.; licensee Springer. 2014
This article is published under license to BioMed Central Ltd. This is an Open Access article distributed under the terms of the Creative Commons Attribution License (http://creativecommons.org/licenses/by/4.0), which permits unrestricted use, distribution, and reproduction in any medium, provided the original work is properly credited.