Embryo sac formation and early embryo development in Agave tequilana (Asparagaceae)
Alejandra G González-Gutiérrez

1,

Antonia Gutiérrez-Mora

1 and

Benjamín Rodríguez-Garay

1

Email author
Received: 20 July 2014
Accepted: 24 September 2014
Published: 1 October 2014
Abstract
Agave tequilana is an angiosperm species that belongs to the family Asparagaceae (formerly Agavaceae). Even though there is information regarding to some aspects related to the megagametogenesis of A. tequilana, this is the first report describing the complete process of megasporogenesis, megagametogenesis, the early embryo and endosperm development process in detail. The objective of this work was to study and characterize all the above processes and the distinctive morphological changes of the micropylar and chalazal extremes after fertilization in this species. The agave plant material for the present study was collected from commercial plantations in the state of Jalisco, Mexico. Ovules and immature seeds, previously fixed in FAA and kept in ethanol 70%, were stained based on a tissue clarification technique by using a Mayer's-Hematoxylin solution. The tissue clarification technique was successfully used for the characterization of the megasporogenesis, megagametogenesis, mature embryo sac formation, the early embryo and endosperm development processes by studying intact cells. The embryo sac of A. tequilana was confirmed to be of the monosporic Polygonum-type and an helobial endosperm formation. Also, the time-lapse of the developmental processes studied was recorded.
Keywords
AgavaceaeChalazal haustoriumHelobial endospermHypostaseMegagametogenesisMegasporogenesisPolygonum-type
Background
One of the main characteristics of Angiosperms is that they possess seeds enclosed inside a fruit derived from the ovary of flowers (Li and Ma 2002). Another outstanding characteristic of angiosperms is that they present alternation of generations in their life cycle (as in many other plants), that is divided in two phases: one dominant diploid phase, which is called sporophytic, and one haploid phase known as gametophytic (Haig 1990; Rodríguez-Garay et al. 2000; Fan et al. 2008; Ma and Sundaresan 2010). The main function of the gametophyte phase is the production of haploid gametes whether they are male or female (Reiser and Fischer 1993; Yadegari and Drews 2004; Fan et al. 2008).
The female gametophyte, also named megagametophyte or embryo sac, is developed within the carpel, which consists of three elements: the stigma, the style and the ovary, which can contain one or several ovules (Gutiérrez-Mora et al. 2012). In each ovule meiosis of the megaspore mother cell produces four haploid cells called megaspores. In the monosporic pattern, three of these megaspores degenerate while the closest cell to the chalazal region remains viable and gives rise to a single functional megaspore.
During the megagametogenesis process, the functional megaspore passes through one or more mitotic divisions without cytokinesis forming a multinucleate coenocyte. Latter, cell walls are formed around the nuclei resulting in a mature embryo sac (Rabiger and Drews 2013). The embryo sacs may present a diversity of developmental pathways, however, the most common is the monosporic Polygonum-type, in which the functional megaspore passes through three mitotic divisions producing a seven celled embryo sac (Chasan and Walbot 1993; Li and Ma 2002; Maheshwari 1937) consisting of three antipodal cells, one central cell formed by two polar nuclei, two synergid cells, and the egg cell (Dresselhaus 2006; Kägi and Groß-Hardt 2007; Yang et al. 2010).
Some studies have characterized the female gametophyte of different species belonging to the Asparagaceae family formerly Agavaceae (APG III 2009), where the majority of them have been described as Monosporic Polygonum-type. Among these species, Yucca rupicola (Watkins 1937); Y. aloifolia (Wolf 1940); Y. filamentosa (Reed 1903); Agave lechuguilla (Grove 1941), A. virginica (Regen 1941), Hesperocallis undulata, Leucocrinum montanum (Cave 1948) and Comospermum yedoense (Rudall 1999) are found. However, Piven et al. (2001) reported the embryo sac development of Agave fourcroydes and A. angustifolia as bisporic Allium-type.
Only one study could be found that was centered on the Agave tequilana female gametophyte development where Escobar-Guzmán et al. (2008) reported that the megagametophyte is originated from the megaspore that is located closest to the chalazal region, forming an embryo sac of seven cells (Polygonum-type). However, these authors did not report or describe the whole mitotic division process that gives rise to this sac with seven cells, nor the early embryogenesis. Even though there is information regarding to some aspects related to the megagametogenesis of A. tequilana, there is no published information describing the embryo and endosperm development in this species and the distinctive morphological changes of the embryo sac after fertilization.
The objective of this work was to study and characterize the process of megasporogenesis, megagametogenesis, the mature embryo sac formation and the early embryo development in Agave tequilana Weber which is the raw material for the production of Tequila in Mexico, in order to get basic knowledge useful for plant systematics and evolution studies and plant breeding programs, which may include in vitro fertilization and the production of haploid plants among others.
Results
A total of 5,000 ovules were taken from floral buds at diverse stages, receptive flowers and immature fruits were analyzed. Different developmental stages of the collected ovules were studied from megasporogenesis to the first division of the embryo. The plant material used in this study consisted of inflorescences collected from May to June in the years 2010–2013 (Figure
1
). It was difficult to know the specific timeframe of each developmental stage of the embryo sac, however, it could be observed that it takes about 15 days for the floral buds since their appearance to reach the maturity of the embryo sac.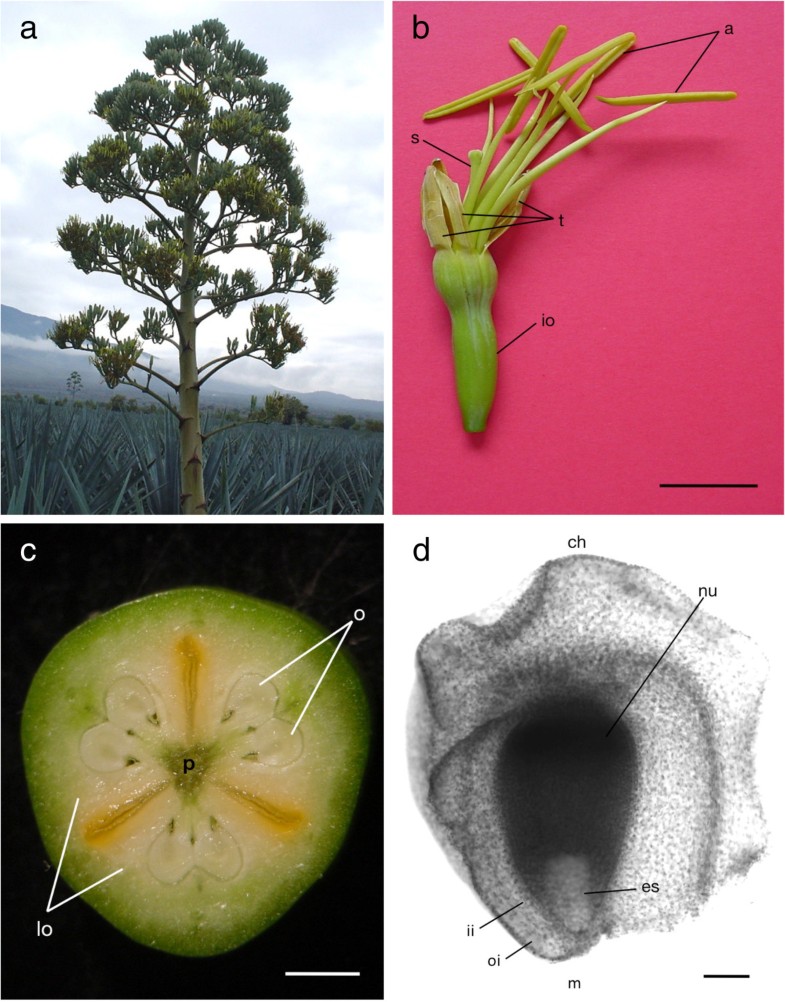 Conclusions
The Agave tequilana embryo sac development is a monosporic Polygonum-type, showing ephemeral antipodals. In the present work, the detailed embryo sac development, the formation of the zygote, the early embryo formation and the helobial type of endosperm are reported for the first time in this species. However, further ultrastructural studies are needed for a more detailed knowledge. The results reported here show basic knowledge about the early embryo development and allow new paths for basic and applied research for systematic and evolutionary studies and breeding programmes where in vitro fertilization, selfing, and intra- and inter-generic hybridization are needed.
Methods
Agave tequilana presents perfect flowers with six tepals and anthers, an inferior ovary that is divided in three locules, each locule containing two rows of numerous anatropous ovules with axillary placentation (Gentry 1982). The plant material used in this study consisted of inflorescences collected from mature plants growing in the state of Jalisco, which is located in the Tequila appellation of origin in Mexico (DOF 1977), from May to June in the years 2010–2013.
At the beginning of the flowering season, panicles that contained flower buds with different development stages were collected (five panicles per inflorescence or plant). Afterwards, ovules from these young buds were extracted from the ovary using fine forceps and knives under a dissection microscope, and then fixed in a FAA solution (10:5:50:35 formaldehyde: acetic acid: ethanol; distilled water) for 24 hours. After fixation, ovules were transferred to a 70% ethanol solution and stored at 5°C for later staining.
In order to maintain cross-pollination to ensure fertilization and embryo formation, the rest of the flower buds were emasculated before anthesis and removed anthers were kept at room temperature until they matured after one or two days. Mature pollen was recovered and stored in a desiccator at 4°C for future pollinations. Once stigmas were receptive, 10 mature non-pollinated flowers were selected per each panicle and their ovules were extracted from the ovaries, they were processed following the procedure used for buds. The rest of the flowers with receptive stigmas were hand pollinated using a small paintbrush. Cross-pollination was carried out since auto-pollination did not assure fertilization. In order to study the embryo sac and zygotic embryo development, 10 immature fruits were collected from panicles at 2, 3, 4, 5, 6, 8 and 9 days after pollination (DAP).
Ovules and immature seeds, previously fixed in FAA and kept in 70% ethanol, were stained based on the technique reported by Stelly et al. (1984), in short, a Mayer's-Hematoxylin solution was used for staining during a 10–24-hour period and then treated with a 2% acetic acid solution during a 16-hour period in order to eliminate the excess stain. Ovule samples were washed with a 0.1% sodium bicarbonate solution until the solution was clear. At this point, ovules were left in the same 0.1% sodium bicarbonate solution for 24 hours at room temperature before dehydration. Afterwards, samples were dehydrated in an ethanol series of 25%, 50%, 70%, 85%, 95% and 100% during 15 minutes, and finally, in 100% ethanol during 2 hours. Clarification was carried out through a series of methyl salicylate:ethanol solutions of 3:1, 1:1, 1:3, for one hour each.
Clarified ovules were mounted in a methyl salicylate solution for microscope observation. The samples were analyzed using a Leica DMR microscope (Wetzlar, Germany) coupled to an Evolution QEi camera (Media-Cybernetics, Bethesda, USA). Images were taken using Image Pro® software (Media-Cybernetics, Bethesda, USA), and microphotographs were processed with the Adobe Photoshop Software version CS6 and evenly adjusted for better contrast.
Declarations
Acknowledgements
We thank V.M. Gómez-Rodríguez and J. M. Rodríguez-Domínguez for microscope technical assistance and I.J. Román-Guzmán, F.J. Cervantes-Hernández and H. Rodríguez-Julián for their assistance with the artwork. We also thank C. Vélez-Gutiérrez (Tequila Cuervo, S.A. de C.V.) for providing Figure 1a. A.G.G.G. is currently a graduate student at Posgrado en Ciencias de la Floricultura, CIATEJ, Guadalajara, Jalisco, México. This work was supported (to B.R.G.) by Consejo Nacional de Ciencia y Tecnología, México (CB-24554) and Sistema Nacional de Recursos Fitogenéticos para la Alimentación y la Agricultura-Servicio Nacional de Inspección y Certificación de Semillas, México (BEI-AGA-10-8, BEI-AGA-11-8).
Authors' Affiliations
(1)
Unidad de Biotecnología Vegetal, Centro de Investigación y Asistencia en Tecnología y Diseño del Estado de Jalisco, A.C. (CIATEJ), Guadalajara, México
Copyright
© González-Gutiérrez et al.; licensee Springer. 2014
This article is published under license to BioMed Central Ltd. This is an Open Access article distributed under the terms of the Creative Commons Attribution License (http://creativecommons.org/licenses/by/4.0), which permits unrestricted use, distribution, and reproduction in any medium, provided the original work is properly credited.