Review of interdisciplinary devices for detecting the quality of ship ballast water
Received: 10 May 2014
Accepted: 18 August 2014
Published: 26 August 2014
Abstract
The results of the ship ballast water treatment systems neutralization need to be verified in a transparent and trustful way before the ship enters a port. Some researches and results, explained in this article, confirm a need for a good verification. If there is no good methodology agreed, then it would not be accepted the solution that the BWMC (Ballast Water Management Convention) 2004 did protect the sea environment in full meaning. The main problem of ballast neutralization are remaining microorganisms (algae blooms, bacteria) ≥10 and <50. Autonomy of the future ballast water detection device has been explained and newest detection methods analyzed. The ranking analysis has been done thru PROMETHEE II (Preference Ranking Organization Method for Enrichment Evaluations) and results were shown by D-Sight software projections.
Keywords
NeutralizationBallastWaterDevicesDetectionVerificationPROMETHEE II analyses
Introduction
There are high functioning and low functioning BWTS (Ballast Water Treatment Systems). Under the Intermational Maritime Organization (IMO) Ballast Water Convention.
Ballast water will have to be treated once that convention comes into effect (Gregg et al. 2009). Additionally, U.S. regulation independently requires treatment limits to be met and vessel self monitoring (Albert et al. 2013). Numerous BWTS have been type approved by flag administrations to meet the requirements of the IMO ballast water convention (Lloyd's 2011, Environmental Protection Agency EPA 2011). Newest detection methodologies and belonging tools that could detect treated ship ballast water quality and the contents of it are explained in further text. Since all those technologies are developed more and more every day, the possibility of their use in treated ships' ballast water quality detection is already existing. When scientific experts or trained port state control officers board a ship and sample, they can be expected to have a higher level of training and expertise. (WDFW Washington Department of Fish and Wildlife 2009). When shipboard crews must sample, sampling methodologies must be simpler or automated. This has been implemented for some discharges other than ballast water, such as bilgewater discharges, which are monitored by automatic oil content monitors (McLaughlin et al. 2014). Automated equipment should do analyses to meet regulatory limits and to be autonomous from ship's crew to avoid potential crew's mistakes or not reported BWTS performance failures. Another significant difference of detection tools is coming from the aspect of time needed for ships' ballast water sample analyses. Ship owners need the shortest time period analyses without possible legal BW quality problems and that implicates automated equipment use. Another importance is size of the tools that could fit ships with lack of the room. The devices have to be resistant to atmospheric influences and to dynamic ships' movements.
Material and methods
Material in this research is treated ballast water with the questionable content of algae and bacteria. There are technologies and methods available for detection of those microorganisms. Methods are Pulsed Amplifier Modulated Fluorometry (PAM), Flow Cytometry, Fluorescein Diacetate (FDA), Adenosine Triphosphate (ATP) and automated colorimetry with belonging detection tools.
Results
Even without weighting of "autonomy" criteria (because it was with flow cytometry only), flow cytometry scored best results. The clarification presented in Figure 2, and the nodes are the result of analysis. It gives the highest preference to flow cytometry as well. FDA/ATP detection methodology is, nevertheless is not autonomous, quality indicator of whether the ballast water treatment was well done on the ship and the quantity of detected enzymes or bio-energy could obtain data that are useable and could be justified by the decision to initiate the port authorities to claim additional analysis. Spare parts from different manufacturer other than the one that has produced the equipment might not have work so well in every unit. ATP systems, including reagents, are designed to work like a unit, especially since it was related to the reproducibility of the results in the presence of plant chemicals such as those for sanitary. Therefore, considering the value of ATP test equipment, consistency and availability of materials are essential for smooth operation and use of equipment. Finally, ATP testing equipment requires a quality operator. The operator uses the equipment and support to the manufacturer or retailer. Without proper training, education and technical support, investment in ATP system can be unproductive, especially when used on the ship.
However, analysis of the research and the most comprehensive detection and speed required for such coverage are on the best ranked criteria, which is flow cytometry with the technology reaching most microorganisms detected in the shortest period. That "A" vs. "B" analysis result projection is on Figure 2.
Results of the multi-criteria analysis, as it is also evident on GVA (Global Visualisation Analyses) Figure 3, the flow cytometry technology and flow cytometer were selected for monitoring and control of the results of the operating system for the treatment. FDA/ATP detection technology has achieved good success in this computational analysis because of the price of 450 USD for a single device detection. Anyway, the closest to the "ideal node" was flow cytometry determining the quality of the treated ballast water through automatic detection of unwanted microorganisms.
This presentation of the analysis results indicates that there is a lot of conflict, since, in this scenario, all of the criteria is on the right side. Two most suitable detection systems are on the further distance, and these are flow cytometry and FDA/ATP. All parameters are colored on Figure
4
.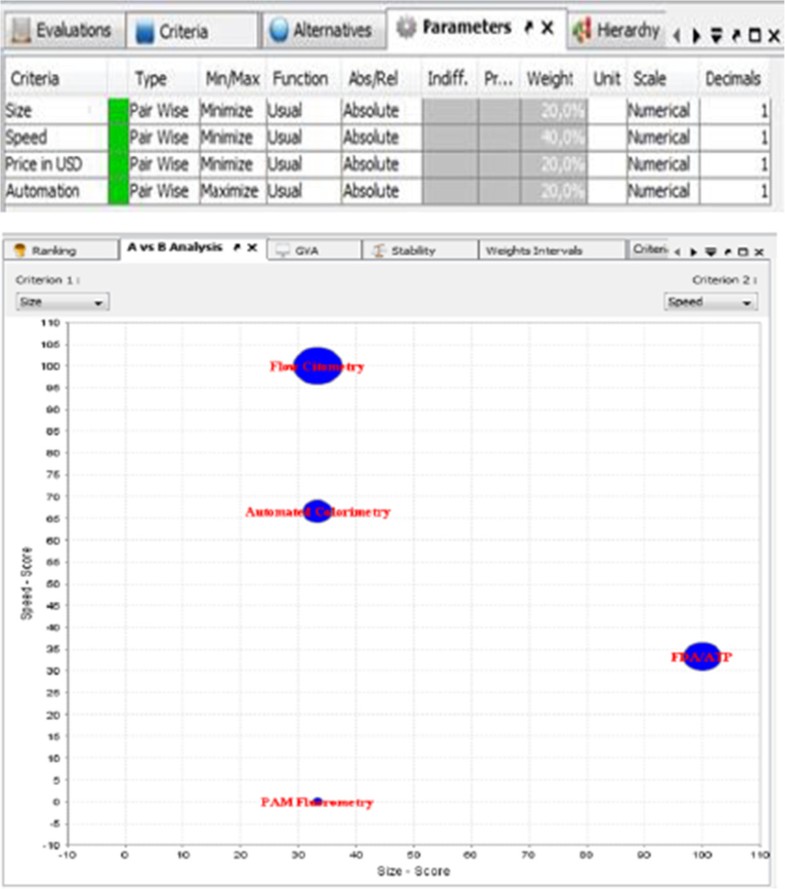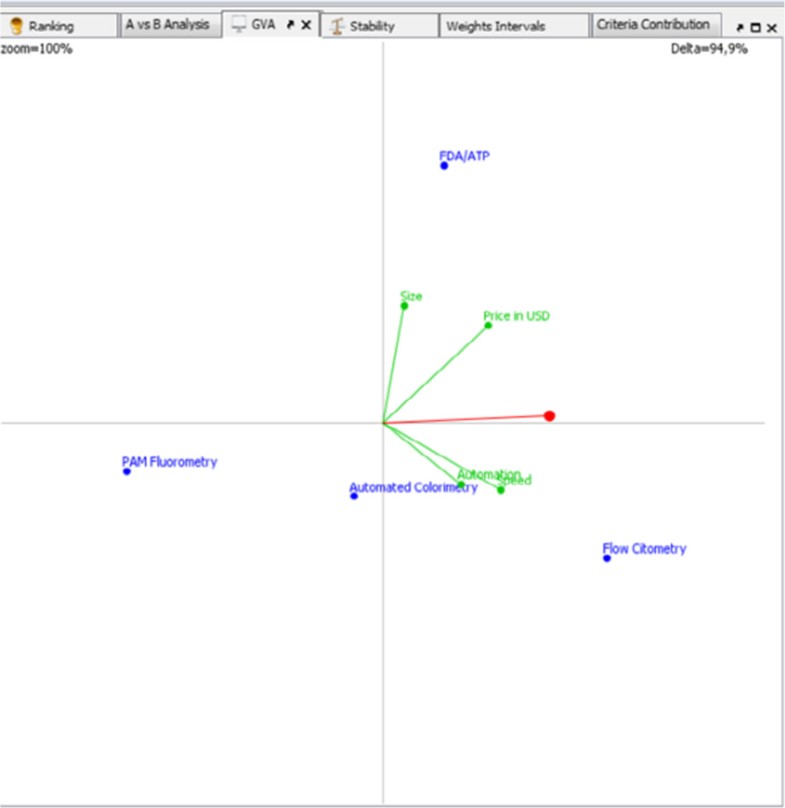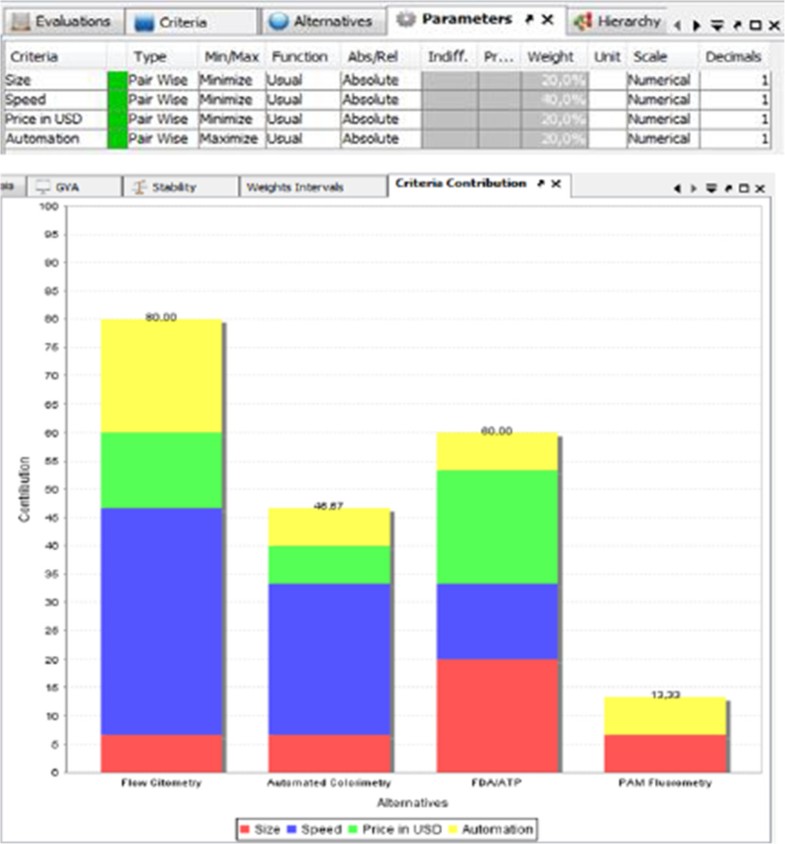 Discussion
In the treated ballast water, after the treatment of most of neutralization systems, remains, beside to organisms ≥10 and <50, a significant amount of organisms smaller than 10 microns. The results of research and detection by flow cytometry indicated that 80% of all existing phytoplankton in seawater are microorganisms smaller than 10 microns (Veldhuis and Kraay 2000). Required detection quality (indicative or compliance monitoring detection) from aspect of microorganisms size, speed of analyzes, period of analyses and needed crew education is analyzed in this review and it is preferred on flow cytometery and FDA/ATP devices. Also, one of the most important factors and enforceability aim of this analysis is autonomous operation in relation to the ship's crew. This is the preferred advantage of flow cytometry as, in possible future analyzes, the entire process of detection could be done remotely without being affected by any of the crewmember (Bakalar et al. 2011).
Conclusion
According to the multi-criteria results, as a scientific method, there is not existing any single technology that could be capable of direct detecting, counting and analyzing BWTS quality except flow cytometry. This technology also allows fast sample processing and it is not limited with the speed of the particle movement. The most important, the operation of this technology tool, flow cytometer, could be operated automatically and autonomously from the ships' crew impact, in case that a BWTS operates improperly and the crew didn't report the malfunction. Also, microorganisms smaller than 10 microns could become an important fact (Cangelosi 2011) in the future and automated autonomous compliance monitoring with flow cytometers would play a significant role in their detection.
Authors' Affiliations
(1)
Croatia, International Maritime technology Consultancy, Universiy of Zadar, Split, Croatia
Copyright
© Bakalar; licensee Springer. 2014
This article is published under license to BioMed Central Ltd. This is an Open Access article distributed under the terms of the Creative Commons Attribution License (http://creativecommons.org/licenses/by/4.0), which permits unrestricted use, distribution, and reproduction in any medium, provided the original work is properly credited.