Exploring utility function in utility management: an evaluating method of library preservation
Received: 19 October 2012
Accepted: 18 January 2013
Published: 21 February 2013
Abstract
In order to seek a new method of book evaluation and realize book resources sharing among the regional university libraries, we think that library should collect books of the high utility value in the case of limited funds. We proposed a changing Bellman equation as a utility function and used the explicit functions of the book usage factor and the book usage half-life derived from the utility function as an evaluating method of the collecting books. The results from empirical data given some conclusions such as the varieties diversity, the collected risk, the tendencies of reading varieties, species continuity and so on and a librarian can use the utility management to supplement the collections management.
Keywords
Book evaluationMeasure modelUtility managementBellman equationLibrary preservation
Introduction
The relationship between supply and demand is undefined in current books from existing editing and publishing. The financing and product prices are becoming competing target among the resources consortia, which result in the cycle and flooding of the phenomena in home market, such as a single kind, vulgar content, lack of language and poor performance etc. Not only are these not able to meet the needs of the multi-level crowds, multi-regional custom, multi-species innovation, multi-fields academic inquiry as the scale, but these also don't reflect adequately the cultural prosperity and technology in the digital age. However, throughout the book supply chain, it is common that publishing group is to pursue profit maximization and authors are to compile the non-standard with the same materials from different publishers. The single monograph published with depth academic value and low sales is required of high publishing fee self-provided and underwriting these books, so that the domestic book market is hard to find ingenious academic works.
In recent years, library as the main preservation place of literature resources has increased in the number of annual collection with investment increase. But the number of collection of original academic books in Chinese has become less and less. The translation, reprint, repeatedly printing books and leisure books have been full of the library. The developing cultural resources of the network have led a large number of printing books to be in idle. There has been a decline because a lot of readers borrow printing books from the library. The electronic publications have become the most widespread form of publication. A largely open access to electronic journals and free e-book chapters make many readers often use electronic literature resources. That also contributes to the increase of the amount of collection and utilization for electronic literature resources.
Print books are also preferred by readers of students, researchers, children and elders. But as a result of the lack of scientific analogy between print and electronic of books, practical data can not be getting to proof the relationship between reading books and publishing books like academic journals. The results of book evaluation are one-sidedness from "ranking list" of the sales volume of books and are not believable the amount of loan or return books from the traditional methods (Ferne 1993) and statistic formulas of reading books (Yan 2009a, 2009b). Another book evaluation is an uncertainty of artificial interfere factors to manufacturing requirement by an author signing book to sell or a social celebrity reviewing book. Other date of book evaluation is unpredictable immediately with books rewarded by all-leveled governments and society organizations. There are other causes of incomplete data collected from selling and printing books, and little representation because the amount of reading and citation get less. These are unable to form an evaluation standard of all kinds of books.
K. H. Marx (1963) said long ago that every useful article "can be effective in a variety of different ways", so that, "a variety of ways to use article has been found"; "a utility of the article is endowed it with use value"; "use value is only realized in the usage or consumption". Utility, as one of the most commonly used concepts of economics, is a measure of satisfaction which the consumer get when she/he meets oneself demands and desires through consumption or enjoyment, also the capability that goods can meet person's desires. The utility function represents the function relationship between the numbers of the utility obtained by consumers and the p for consumer goods in consumption. Therefore, the utility in the utility value mainly means the desire of the consumer's subjective feeling for goods, which the inner strength to meet human needs (Say 1982). More precisely, utility refers to subjective enjoyment or usefulness a person got from consuming of an article or service (Paul and William 1996). The introduction of the utility to manage as utility management can analyse the effective use for the usage property of articles. Their utility contains the composition of the effective use outside the preferences degree of consumers for goods consumed.
The theory is not yet ripe from utility given out a management. The earlier utility management (Zhang and Wang 2005) should have both utility assessment and utility control to guide education as the conscious of the utility management (Xiao 2003), to be an aim of the management by the utility maximization (Li et al. 1998). Utility Management Automation System is a sort of supervisory control and data acquisition system for the electric utility system (Fereidunian et al. 2009). The utility from the economics were applied broadly in finance and insurance about risk and consume such as Markowitz combining model (Feng 2010). Using utility in library was applied to utility function about purchasing books (Lin 2005) and utility modeling of book usage (Zhang 2009) and utility statistics of books (Yan 2009a) and the utility management for the electronic resources (Yan and Xu 2010). The using utility after customer obtaining goods was not involved but the utility were only as the contents of the management. All we mentioned above conveyed a motion of management utility rather than the utility management that had not the utility as the main purpose of the management and also had not established the relation between utility function and applied analysis. It is an issue of the utility management in the article management. We dedicate to using utility management to the possession of articles in the utility value, as the premise of the management with the effective usage of empirical data to analyze the usefulness of continuing degree of these, and to mine the potential usefulness, to make full use of these, the maximum of use impact and management effectiveness (Yan and Wu 2011).
Collecting books in library after being rid of commercial property can express one's using utility. The utility function is a mathematical tool to express book using utility. We hope to seek a new mathematical measure model as utility function that is one part of the utility management and explore to apply the model to book evaluation. The librarian can use the utility management to supplement the current collection management.
Results
The data collection was from information management system of some university libraries and statistical results were also from the methods of the changing Bellman equation. We can get some aspects as follows.
Diversity judgment
It is an inevitable result of the natural development that the article diversity is the same as the biological diversity. The biological diversity is environmental needs for maintaining ecological balance and sustainable development, while the article diversity is the guarantee of human and environment for harmonious living together in a long period. The category diversity in library preservation can meet the needs of readers' choice, and judgment of the diversity could obtain through book usage factor calculated. We calculated some book usage factors about the management as keyword in library of China University of Mining and Technology (CUMT). See Table
1
.
Table 1
Different BUFs of management's books in library of CUMT
| Title | CLC number | BUF | Checkout times | Checkout times of same class |
| --- | --- | --- | --- | --- |
| University management | G627 | 1.000000 | 5 | 5 |
| "Management of National Economy" Self-counseling | F2-42 | 1.000000 | 1 | 1 |
| Pharmacy Management | R95 | 1.000000 | 3 | 3 |
| Western Management Famous Summary | C93-7 | 0.800000 | 48 | 60 |
| Modern Management of the Coal Enterprises | F407.216.1 | 0.562500 | 9 | 16 |
| Coal Industry Production Management | F407.162 | 0.454545 | 5 | 11 |
| Security Management Principles | X9-05 | 0.389831 | 23 | 59 |
| Resources Management | F205 | 0.351351 | 13 | 37 |
| Modern Book Industry Enterprise Management | G231 | 0.272727 | 3 | 11 |
| Education Management | G46 | 0.262626 | 29 | 110 |
| Archives Management | G271 | 0.258741 | 37 | 143 |
The utility management can express article diversity and their diversity using as total utility in utility function. Once data collected were calculated to ignore the smallest classes of utility, books exist in diversity short. The value of BUF in Table 1 is greater than or equal to 0.33 such as CLC (Chinese Library Classification) number G627, F2-42, R95, C93-7, F407.162.1, F407.162, X9-05 and F205 to judge single class or diversity short. We think the value of BUF should be smaller than or equal to 0.3 because of the article diversity at least 3 kinds.
Early warning for risk
We get the total amount from certain number of users using about different species in same class of articles in a certain period of time and call as all the utility
U
. The relationship is between a certain use time
T
and total utility
U
as the article time
T
=
t
n
-
t
0
+1, to establish numbers of usage
X
and time
t
with a function
X
=
X
(
t
), then the area covered is total utility. However, the different purpose of articles may have different numbers of usage, which occupy different weighty. Use weighty
a
i
of different purpose is first obtained, and then we can get the total utility
U
(
x
) = 
U
(
x
11
, 
x
22
, ---, 
x
nm
).
Here K is amount of copies every kind. One of use weights becomes a1j>>a(n-1)j, while U(x)≈a11x11+a12x12+---+a1mx1m. Use duration is likely to the sum of all use time after articles into the management. This usage is determined by number of articles or use time. We know that use of book includes reading, citation, review, collection etc., data of which collected also have each different and the reading book (loan) is only main use or the greatest than all other use.
We have get the top ten kinds of books about economics and management on the ranking list of the sales from "
China Publishers
" (2010) and these books were collected at some university library and show Table
2
.
Table 2
Books collected about economics and management at some university libraries
| No. | Title | Publish date | Library name | Citation times |
| --- | --- | --- | --- | --- |
| 1 | The World is Flat | 2008.7 | (1)(2)(3)(4)(5)(6)(d) | 1734 |
| 2 | Lang Xian-ping Said: the New Imperialism in China | 2010.1 | (1)(2)(3)(4)(5)(6)(d) | 8 |
| 3 | Currency War | 2007.6 | (1)(2)(3)(4)(5)(6)(d) | 203 |
| 4 | Currency War 2 | 2009.7 | (1)(2)(3)(5)(6)(d) | 10 |
| 5 | Lang Xian-ping Said: the New Imperialism in China 2 | 2010.5 | (1)(2)(3)(5)(6)(d) | |
| 6 | Detail Determining Success or Failure | 2004.2 | (1)(2)((4)(5)(6)(d) | 690 |
| 7 | Future Enterprise' Road | 2010.4 | (1)(2)(4)(5)(6)(d) | 1 |
| 8 | Lang Xian-ping Said: Who is to Save China's Economy | 2009.9 | (2)(3)(5)(d) | |
| 9 | The Power of the Company | 2010.8 | (1)(2)(3)(6)(d) | 5 |
| 10 | Lang Xian-ping Said: Why is it so Hard Our Days | 2010.9 | (1)(3)(6) | |
In Table 2 the top books were not collected by all university libraries on the ranking list of the sales. There were 70 copies of every kind at some book store in Nanjing. Because data of citation from CNKI are all from the kind of book, data of reading are likely one library or some libraries at the region area.
There were 51 kinds of books collected by NUPT about CLC number TN711, network, by the end of 2009 and total valid lending times were 77. The part retrieval results show fellow Figure
1
by our program designed and the top five kinds of books are follow as Table
3
.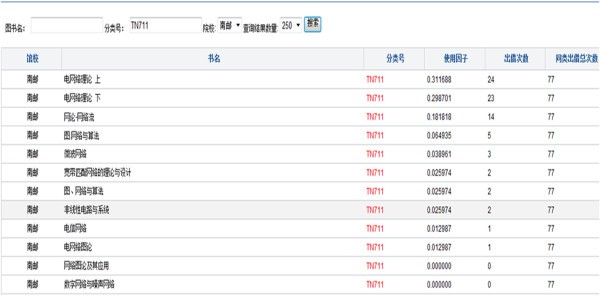 Table 3
Contrast BUFs among different kinds in same class of books
| Title | BUF | Checkout times | Total checkout times |
| --- | --- | --- | --- |
| Electrical Network Theory (Volume one) | 0.311688 | 24 | 77 |
| Electrical Network Theory (Volume two) | 0.298701 | 23 | 77 |
| Net Theory - Network Flow | 0.181818 | 14 | 77 |
| Diagrams, Network and Algorithms | 0.064935 | 5 | 77 |
| Microwave Network | 0.038961 | 3 | 77 |
Table 3 shows the first five kinds of books and 69 times of lending, occupying 90% of total times. Other books were used less and even neglected to use. The books, they mostly use, are a few of kinds and are published in recent 3–5 years. It is uncertain at book supple chain from publish, sell, collection and read.
The library preservation has existed in the utility and the risk together. The presence of risk is often a potential element that undermines utility balance. There are two extreme aspects of very high and very low or never use amount. The high usage will be asked to continue to increase collections and to result in deformity collection phenomenon of additional a few kinds and many copies of one kind. The books, they used less or never used, keep in purchasing as a simple collection utility with no value of BUF. Books as collection may refer to high value of BUF in some university libraries. Our common goal will effectively configure and share with literature resources in regional area that commonly use books would collect in every university library and books of feature categories of profession or specialty would collect completely in different university library formed special collection.
Preference continuing
In many practical applications, the utility function can get an explicit function of multiple high-order equation group and extreme solution. For example in book usage half-life (BUHL), according to book classification, books belong to different classes, there are different kinds in the same class, and the same kind may has number of checkout times or checkout times, taking-out days, appointment times, citation times, book reviews, number of prints, number of editions and so on. If taking a category of books and checkout amount, according to defining BUHL, we take annual average x 0 of checkout books within three years that were same class into library. When the number of checkouts reduces to a half of the annual average, this year would be a half-life of using books, meaning a degree of aging books.
There were, in the same time, 284 kinds and 1101 copies with CLC number R94, pharmacy, in library of China Pharmaceutical University in 2004. Book usage half-lives of the classification up to April 2010 are as follows Table
4
and Figure
2
.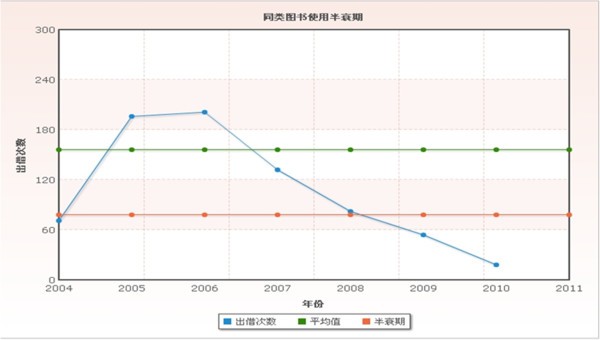 Table 4
Book usage half-life of CLC number R94
| Year | 2004 | 2005 | 2006 | 2007 | 2008 | 2009 | 2010 |
| --- | --- | --- | --- | --- | --- | --- | --- |
| Checkout | 71 | 196 | 201 | 132 | 82 | 54 | 18 |
When BUHL shows a peak again in 2011, the number TP of CLC exists in continual preference of readers. See Figure
3
.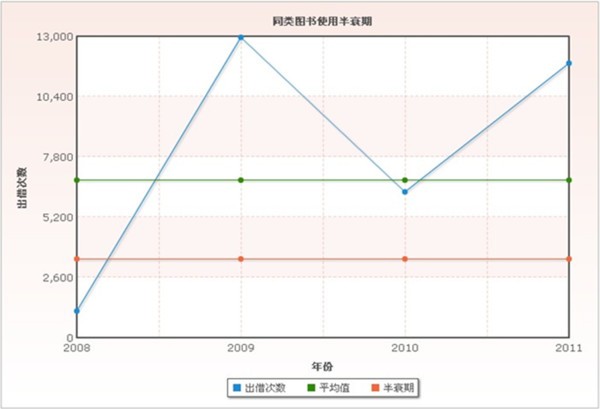 Substitution role
Such as print books and electronic books in preservation resources exist in amount of different use and collection in different period, and the amount of use and collection print books was far greater than its e-books in the last century. But now the rate of print books between the amount of use and collection is quite some even lower than one of the e-books. In the future the electronic resources will be flooding in published market but re-use of print books will improve.
In library of NUPT, there were 800 thousand copies numbers of total library preservation and 506071 times of total checkout in 2005. There were 1 million copies numbers of total library preservation and 642622 times of total checkout in 2007. There were 19 literature database in Chinese and English and 224148 download pieces in 2005 and 37 literature database in Chinese and English and 149813 download pieces in 2007. Assuming that the letter
y
denotes print books and the letter
x
denotes electronic literatures. The constant of coefficient of elasticity of substitution
r
is follow:
When r2005<r2007, it shown that print books in 2005 was less checkout numbers than in 2007, but reading print book in 2005 was more weight than downloading electronic literatures as compared with in 2007. The electronic literatures from 2005 to 2007 had not substituted the print books.
Discussion and Conclusions
The utility is no longer a preference for obtaining commodities but the preference for articles using. It means that a user was enthusiastic about the use of some kind of article. If the long-time or a lot of certain articles could be used, the user who loses interest would attempt to try new commodity and substitute for using article, and the amount of use would decline and total utility would have the maximum value. According to the definition of marginal utility to satisfy the final consumer commodity utility of that unit, so called total utility increment, there is the marginal utility for use of the article. It says that whether it is commodities or articles, its commodity property has been lost, only property of use remains. The utility role can be expressed by utility value and utility function. Only commodities are the economic utility from the view of consumer and articles are the management utility from the view of user.
With the amount of book publishing and its marked price have increased year by year, the library is difficult to maintain its previous method of procurement with the book procuring fund increased slightly. Also due to the collection in the form of electronic publication, nearly half of the literature procuring fund spends the literature databases to bring about same collection among university libraries. The utility in library management is a role of using book so we propose the utility management as a complement of the collection management in library. We hope to know whether readers read collected books or not through analysis results and make some suggestions.
Many early methods of book evaluation lack science and system unlike the journal impact factor. Many utility functions were defined as implicit function and applied to economics as the power function form of the logarithm and the exponential function of explicit function. There is not a utility function for book evaluation in all of these. The study has found Bellman equation can be required on the evaluation overall quality of books as measure model in library management. In our exploration we introduce the possibility of book evaluation utility function on the basis of library collections. We propose the book usage factor and the book usage half-life from changing Bellman equation as an evaluation method and to improve a method of traditional evaluation and assessment of books. A set of assessment methods based on utility management is able practically to evaluate the collecting books and forecast readers to obtain the knowledge and skills preferences.
If the utility is a degree of satisfaction for consumer to buy goods, the utility will be a degree of satisfaction for user to use amount of articles by managers. The mathematical modeling for the utility management needs to establish a functional relationship between articles managed and amount of articles used and is able to give the maximal utility through analyzing management factors. Users may give different results to articles used and all results will give social utility and economic utility. Then utility management is to evaluate the synthetic utility that issues from articles managed after these used. The kind of evaluation takes a method about management factors for utility and it will predict the possibility to give maximal utility with a variety of factors. From evaluating books we have got that:
(1)

Being clear the use value of the articles in utility;

(2)

Determining the changing Bellman equation as a utility function in utility management;

(3)

The book usage factor and the book usage half-life are an explicit function in the utility function;

(4)

Two explicit functions play a better role in the book evaluation of collection;

(5)

Utility management as collection management supplement.
The utility management applied to books as an attempt and it can bridge the gap between the library and book supply and also provide for a measure model to improve a method of traditional evaluation and assessment of books. It will provide an optimal path for the preservation of cultural resources and made full use of the current resources. The study on utility evaluation for books based on the theory of utility value contains designing the standard formula, which converted lending books to the factor of statistical data, and book usage factor for evaluation method for book utility, which judged utility value of the kind of book for reader to obtain knowledge, and book usage half-life, which predicted readers reading trend for some class of books, and the elasticity coefficient of substitution, which established early warning of using fluctuations between print books and e-books. All mathematical formulas above need a great amount of data to illustrate reliability and give quantitative evaluation. The book evaluation needs to be further research by a utility function like the coefficient of elasticity of substitution in the future.
Total utility sums to all various utility for one kind of book or one class of books, while derivative utility does not direct become part utility and is only to judge its maximum utility. The statistical results display that "ranking list" could not affect library collection but the risk was a lot of collected books being in idle. Many kinds of books lack of the diversity and are not satisfaction for reader need. A kind of book is not read in a university library but has many readers in other university library. This needs to build special library collection among regional university libraries and make books in idle be maximum utility. It is feasible of the evaluation books with the changing Bellman equation and its results proved that the varieties diversity of books collection could meet the needs of readers and achieve book species continuity. While there was risk of collecting books that were not used for a long time, the kinds of books could be used in other university library. These university libraries may consider regional resources sharing. We proposed a changing Bellman equation as utility function and some results of the evaluation books were from its derivative function. However some results were lack of more data analysis like the constant of coefficient of elasticity of substitution because of more electronic literatures download in current now, so as above all are just as a reference method.
Declarations
Acknowledgments
This paper is one of research reports of the project that title is "Research on Book Evaluation Measure Model Based on Utility" and the project, No. 10YJA870028, was supported by the Research Foundation of Humanities and Social Sciences of Ministry of Education of the People's Republic of China.
Authors' Affiliations
(1)
Library, Nanjing University of Posts and Telecommunications, Nanjing, P.R. China
(2)
Education College, Shandong Normal University, Jinan, P.R. China
(3)
Economy and Management College, Nanjing University of Posts and Telecommunications, Nanjing, P.R. China
Copyright
© Yan et al.; licensee Springer. 2013
This article is published under license to BioMed Central Ltd. This is an Open Access article distributed under the terms of the Creative Commons Attribution License (http://creativecommons.org/licenses/by/2.0), which permits unrestricted use, distribution, and reproduction in any medium, provided the original work is properly cited.