Bean common bacterial blight: pathogen epiphytic life and effect of irrigation practices
Received: 10 September 2012
Accepted: 4 February 2013
Published: 8 February 2013
Abstract
In recent years, bean common bacterial blight (CBB) caused by Xanthomonas axonopodis pv. phaseoli (Xap) has caused serious yield losses in several countries. CBB is considered mainly a foliar disease in which symptoms initially appear as small water-soaked spots that then enlarge and become necrotic and usually bordered by a chlorotic zone. Xap epiphytic population community has a critical role in the development of the disease and subsequent epidemics. The epiphytic population of Xap in the field has two major parts; solitary cells (potentially planktonic) and biofilms which are sources for providing and refreshing the solitary cell components. Irrigation type has a significant effect on epiphytic population of Xap. The mean epiphytic population size in the field with an overhead sprinkler irrigation system is significantly higher than populations under furrow irrigation. A significant positive correlation between the epiphytic population size of Xap and disease severity has been reported in both the overhead irrigated (r=0.64) and the furrow irrigated (r= 0.44) fields.
Keywords
Bean common Bacterial blightEpiphytic lifeIrrigationDisease severity Xanthomonas axonopodis pv. phaseoli
Introduction
Pulse legumes are a very critical protein source in many developing countries. Among them, common bean (Phaseolus vulgaris L.) is consumed worldwide as a main source of protein, particularly in most Latin-American and African countries (Reynoso-Camacho et al. 2006).
Several bacterial diseases infect common bean including common bacterial blight (CBB), halo blight, and bacterial brown spot caused by
Xanthomonas axonopodis
pv.
phaseoli
(
Xap
),
Pseudomonas syringae
pv.
phaseolicola
and
Pseudomonas syringae
pv.
syringae
, respectively. Although all three are destructive and economically important, CBB seems to be more widespread and causes relatively more yield loss (Hall
1994
). This disease can cause up to 40% yield loss (Opio et al.
1996
) and is still considered a major constraint to dry bean production in many countries and in particular Argentina, Brazil, Columbia, Mexico, Uganda, Zambia, Zimbabwe, South Africa, United States and recently Iran (Gilbertson and Maxwell
1992
; Fourie
2002
; Lak et al.
2002
;
Harveson 2009
; Zamani et al.
2011
; Karavina et al.
2011
). In Iran, CBB now is one of the major bean diseases in three provinces in the central part of the country (Zamani et al.
2011
). It was initially reported in 2002 from bean farms with furrow irrigation system, but as a rare non-destructive disease in Markazi province in the central part of the country where 17339 hectares of pintos and kidneys bean fields were located (Lak et al.
2002
). In following years, due to lack of sufficient sources of water in the province and overlooking
Xap
existence in the area, farmers have been encouraged to stop applying furrow irrigation and to employ overhead sprinkler irrigation due to its higher efficacy in term of water use. Overhead irrigation was widely accepted by farmers and many bean growing fields replaced furrow irrigation with overhead sprinkler. Up to 2007, large epidemics of the disease have frequently occurred in the province of Markazi leading to huge yield losses (Osdaghi et al.
2010
), and typically in large fields equipped with overhead sprinkler irrigation (Figure
1
).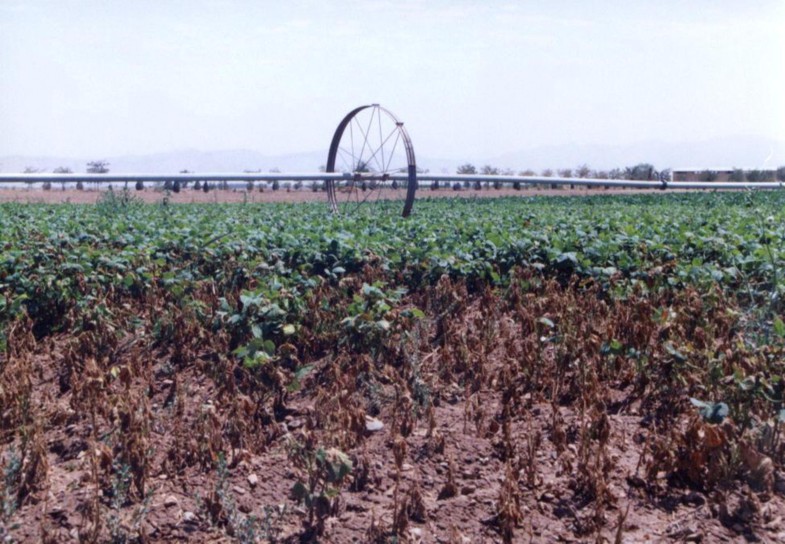 Abbreviations
CBB:

Common bacterial blight
Xap :

Xanthomonas axonopodis pv. phaseoli
cfu:

Colony-forming unit.
Declarations
Acknowledgments
We wish to express our appreciation to Mr. Mojtaba Emam-Jomeh, Mr. Valiollah Rahmati and Mr. Esmaeel Azizi for excellent field and technical assistance. This work was funded by a grant from the graduate school of Isfahan University of Technology in Iran.
Authors' Affiliations
(1)
Dept. of Plant Protection, College of Agriculture, Isfahan University of Technology, Isfahan, Iran
(2)
Plant Pests and Diseases Res. Division, Agricultural and Natural Resources Res. Center, Arak, Iran
(3)
Dept. of Agricultural, Food and Nutritional Science, University of Alberta, Alberta, Canada
Copyright
© Akhavan et al; licensee Springer. 2013
This article is published under license to BioMed Central Ltd. This is an Open Access article distributed under the terms of the Creative Commons Attribution License (http://creativecommons.org/licenses/by/2.0), which permits unrestricted use, distribution, and reproduction in any medium, provided the original work is properly cited.