A rapid multi-disciplinary biodiversity assessment of the Kamdebooberge (Sneeuberg, Eastern Cape, South Africa): implications for conservation
Received: 6 August 2012
Accepted: 5 November 2012
Published: 6 December 2012
Abstract
Botanical work since 2008 on the Sleeping Giant section of the Kamdebooberge (Sneeuberg mountain complex, Eastern Cape, South Africa) has indicated that these mountains may be of significant conservation value. Accordingly, a precursory, rapid multi-disciplinary biodiversity assessment was undertaken in January 2011, focusing on plants, tetrapod vertebrates and leafhoppers. The botanical results confirm the Kamdebooberge as being of high botanical conservation value, hosting three strict endemics, healthy populations of five other Sneeuberg endemics, and fynbos communities comprising species not found elsewhere in the Sneeuberg. The Kamdebooberge are important for herpetofauna (excluding serpentoids) and mammals, hosting several range-restricted and regional endemics. The expedition uncovered three new leafhopper species, together with several species previously only known from the Cape Floristic Region. Further detailed faunal work may provide further interesting results from these mountains, which show a high conservation value unique to the southern Escarpment.
Keywords
Endemics
Great escarpment
Kamdebooberge
Plants
Invertebrates
Sneeuberg centre of floristic endemism
Vertebrates
Introduction
The Sleeping Giant section of the Kamdebooberge forms the south-western end of the arc-shaped Sneeuberg mountain complex, in the Eastern Cape Province of South Africa (Figure
1
). The Sneeuberg forms part of the overall poorly explored southern African Great Escarpment, and was recently recognised as a new centre of floristic endemism (Clark et al.
2009
2011
; Figure
1
), and as a distinct zoogeographical unit within the Greater Maputaland–Pondoland–Albany region of vertebrate endemism (Perera et al.
2011
). The Kamdebooberge themselves have become increasingly interesting following the discovery in 2008 of two new, very localised plant taxa, two of which belong to genera previously unknown from these drier southern Great Escarpment mountains (e.g. Williams
1982
; Rebelo
2001
). Apart from two narrow-endemic butterfly species (
Cassionympha camdeboo
and
Thestor camdeboo
; Woodhall
2005
) and a few bird records, not much is known about the fauna of the Kamdebooberge.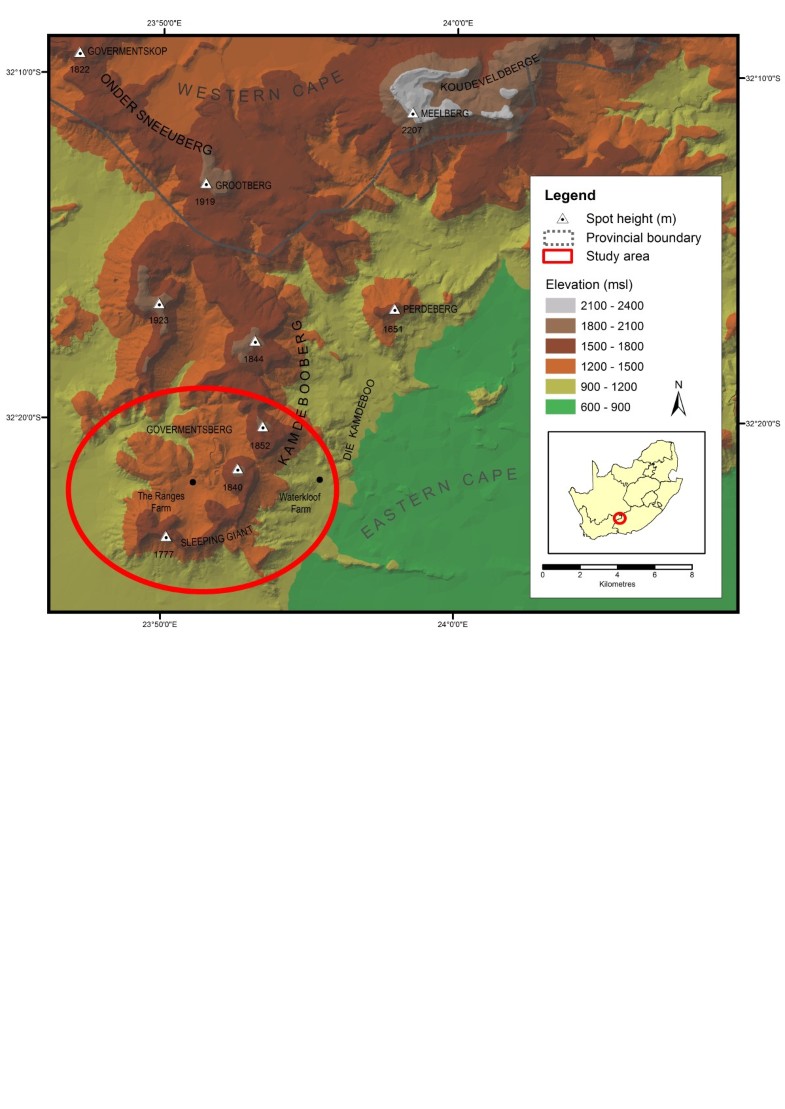 Due to absence of any previous faunal research on the Kamdebooberge, and the potential for further important botanical findings, a multi-disciplinary team of ten biodiversity scientists visited the Kamdebooberge from 22–25 January 2011. The purpose was a precursory, rapid biodiversity survey of the southern section of the Kamdebooberge, focusing on the disciplinary skills of each scientist, and to obtain an indication of the conservation value and natural heritage of these mountains. Results indicated high levels of endemism in animals, with some links to adjoining biomes. For the flora, more records of endemics were established in a poorly explored region. This multidisciplinary approach serves as an example for future research in the poorly explored Great Escarpment.
The study area
A detailed overview of the Sneeuberg Centre of Floristic Endemism and the Great Escarpment is provided by Clark et al. (20092011 respectively) and provides the broader context for this study.
The Kamdebooberge itself covers some 170 km
2
and comprises a dissected plateau-spur off the higher (2,100–2,300 m) Meelberg–Koudveldberge–Toorberg plateau to the north (Figures
1
,
2
). It is characterised by isolated, gently sloping plateaus (altitude 1,600–1,900 m) connected by cols and often bounded by vertical cliffs. The geology is comprised of shales and sandstones of the Beaufort Group, heavily intruded by dolerites. The more resistant dolerite sills and dykes have given the mountain range a characteristic shape, and when viewed from the east looks like a 'Sleeping Giant', as named accordingly (Chief Director of Surveys and Mapping
1987
). The Farms visited were Plaas 96, 97, 98 and 99, and parts of The Ranges 69 and Oaklands 104 (the area between 32
o
20
′
S to 32
o
24
′
S, and 23
o
50
′
E to 23
o
53
′
E).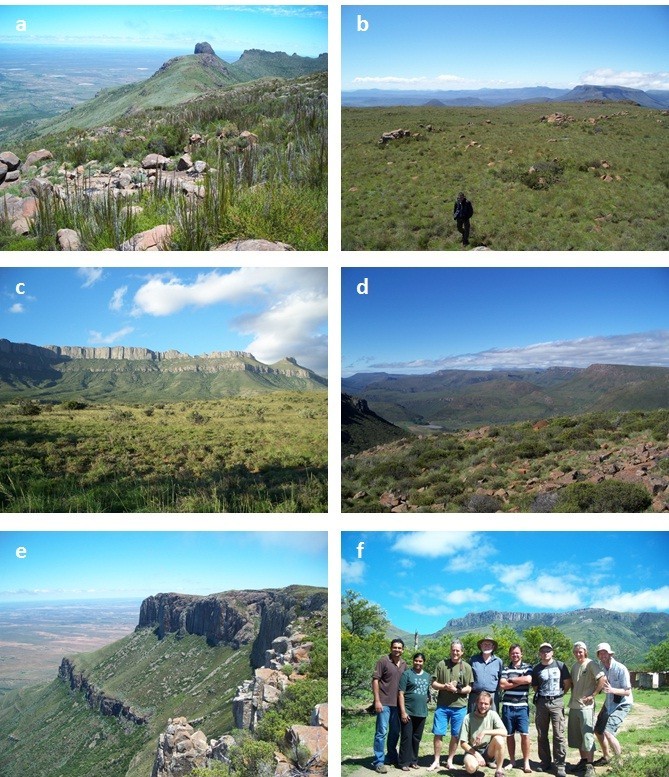 Mean annual rainfall at the base of the Kamdebooberge (Farm Waterkloof) is ca. 400 mm, and on the south-east-facing slopes of the mountain is predicted to be at least 700–800 mm due to orographic effect as evidenced by the incipient forest and afromontane grassland and fynbos. Rainfall on the mountain is augmented by regular mist, and snowfalls occur most winters. Exceptional rains had fallen in the Kamdeboo Karoo since the middle of December 2010, breaking a severe two-year drought, and the weather during the expedition was a combination of heavy morning mist, heavy evening showers, and sunshine.
From four previous botanical trips to the area by VRC, several vegetation types can be defined as occurring on the Kamdebooberge, providing a variety of habitats for fauna and flora:
  Drier thicket/closed woodland occupies the north-facing slopes and lower southern/south-eastern slopes. Typical species are Acacia karroo Hayne, Aloe ferox Mill., Buddleja glomerata H.L.Wendl., Carissa haematocarpa (Eckl.) A.DC., Diospyros lycioides Desf., Dodonaea viscosa var. angustifolia (L.f.) Benth, Ehretia rigida (Thunb.) Druce subsp. rigida, Euclea crispa (Thunb.) Gürke subsp. crispa, Gymnosporia buxifolia (L.) Szyszyl., Olea europaea subsp. africana (Mill.) P.S.Green, Searsia lancea (L.f.) F.A.Barkley and S. pallens (Eckl. & Zeyh.) Moffett.

 Mesic thicket and closed woodland occur on the moister mid-altitude slopes. Typical species are Celtis africana Burm.f., Cussonia spicata Thunb., Kiggelaria africana L., Leucosidea sericea Eckl. & Zeyh., Searsia longispina (Eckl. & Zeyh.) Moffett and S. pyroides (Burch.) Moffett.

 Very localised 'pre'-afromontane forest occurs on the SE-facing slope of Goewermentsberg. Typical species are Buddleja salviifolia (L.) Lam., Diospyros scabrida var. cordata (E.Mey. ex A.DC.) De Winter, Grewia occidentalis L. var. occidentalis, Heteromorpha arborescens (Spreng.) Cham. & Schltdl. var. arborescens (interior form), Kiggelaria africana L., Maytenus acuminata (L.f.) Loes. var. acuminata, M. undata (Thunb.) Blakelock, Olinia emarginata Burtt Davy, Pittosporum viridiflorum Sims, Searsia dentata (Thunb.) F.A.Barkley and S. rehmanniana var. glabrata (Sond.) Moffett.

 Closed shrubland dominates the drier mid-slopes, and is characterised by species such as Elytropappus rhinocerotis L.f., Euryops annae E.Phillips and Otholobium macradenium (Harv.) C.H.Stirt.

 A very species-rich afromontane grassland-shrubland mosaic occurs on the moister mid- to upper altitude slopes and summit plateau, and is mixed with numerous fynbos elements (see below). The dominant grasses are Themeda triandra Forssk. and Merxmuellera disticha (Nees) Conert. Several Sneeuberg endemics are common to abundant, such as Euryops dentatus B.Nord., Gazania caespitosa Bolus and Psoralea margaretiflora C.H. Stirt. & V.R.Clark.

 Pure stands of fynbos occur in fire-refugia, and are typically dominated by species such as Acmadenia sp. nov., Agathosma sp., A. venusta (Eckl. & Zeyh.) Pillans, Cliffortia montana Weim., Clutia alaternoides L., Erica leucopelta Tausch, E. passerinoides (Bolus) E.G.H.Oliv., Ficinia nigrescens (Schrad.) J.Raynal, Ischyrolepis sp. aff. constipata H.P.Linder, Phylica paniculata Willd., Rhodocoma capensis Steud., R. fruticosa (Thunb.) H.P.Linder, Tetraria cuspidata (Rottb.) C.B.Clarke and T. fourcadei Turrill & Schönland. These fynbos elements are particularly interesting in that some of these species are disjunctions from the Cape Floristic Region (hereafter CFR).

 Localised habitats (micro-habitats) occur, the mostly typical being summit wetlands and cliff-lines. Wetlands are characterised by Kniphofia caulescens Baker and Merxmuellera macowanii (Stapf) Conert), and cliff-lines by a variety of lithophytic ferns such as Asplenium adiantum-nigrum L. var. adiantum-nigrum, A. trichomanes subsp. quadrivalens D.E.Mey., Cystopteris fragilis (L.) Bernh., and succulents such as Crassula perforata Thunb., Haworthia marumiana var. batesiana (Uitewaal) M.B.Bayer, Othonna patula Schltr. and Senecio articulatus (L.f.) Sch.Bip.
Methods
Plants
As the Kamdebooberge falls into one Quarter Degree Grid Square (3223BD), the intention was not to collect every species encountered, but to rather complement previous comprehensive work done on the adjacent Goewermentsberg since 2008. Thus species not previously collected in the Kamdebooberge were prioritised over other species. The vegetation was in excellent condition following the exceptional recent rainfalls, a previous burn on some of the plateau, and the absence of livestock grazing.
Plants on the mostly uniform summit plateau were sampled by traversing the plateau on foot, as an approximation of the line transect method (Buckland et al. 2007). Micro-habitats (rock outcrops, seeps, cliff-lines, dolerite boulder-fields) were more intensively sampled on an ad hoc basis by careful visual examination. Plants were pressed as per standard practice and later identified in the Selmar Schonland Herbarium (GRA), Albany Museum, Grahamstown, with some specimens sent to taxonomists for expert identification (see Acknowledgements). Apart from these latter specimens, all specimens are now lodged in GRA, with duplicates having been sent to the Bolus Herbarium (University of Cape Town, BOL), the National Herbarium of New South Wales (Australia, NSW), the Royal Botanical Gardens, Kew (K), Missouri Botanical Gardens (MO), the University of Stellenbosch Herbarium (STEU), and the Swedish Museum of Natural History (S).
General fauna
A preliminary rapid survey on the Kamdebooberge fauna was conducted while traversing the summit plateau on foot. The rapid assessment methods included opportunistic observations on amphibians, birds and mammals; active searches (Garden et al. 2007) for reptiles; and random collection and photography of common invertebrates. Particular emphasis was given to looking for the bird Chaetops aurantius (Drakensberg Rockjumper) for the purposes of obtaining DNA samples of this Eastern Cape Escarpment and Drakensberg/Maluti endemic (Hockey et al. 2005).
Rodent trapping was attempted using 30 Sherman traps, but logistical difficulties and the preliminary nature of the expedition frustrated trapping on the summit plateau itself. Instead, traps were laid in three transects of ten traps each (ten metres apart) at 1,320 m on the mid-altitude plateau some 500 m east of the farmhouse 'The Ranges', in disturbed, closed shrubland and seasonal marshland, for one night (∑c. 300 trapping hours), using peanut butter with chopped vegetables as the bait.
Leafhoppers and planthoppers
Leafhoppers (Hemiptera: Cicadomorpha: Cicadellidae) and planthoppers (Hemiptera: Fulgoromorpha) were the only invertebrate groups sampled systematically. The method used to collect leafhoppers was the traditional sweep net. Mechanised methods such as vacuum sampling could not be used due to the inaccessibility of the terrain. Two tree species were sampled by fogging with a pyrethroid pesticide in the foothills. Identification of leafhoppers was undertaken by MS at the National Collection of Insects, Biosystematics Division of the Agricultural Research Council, using dissections, published descriptions, and comparing with available described species and undescribed specimens housed in this institution.
Supplementary online data available
Declarations
Acknowledgements
The expedition was organised as part of the South African Association of Systematic Biology (SASSB) 9th Conference hosted by Rhodes University, Grahamstown, in January 2011. Accordingly, the SASSB conference organising committee and Rhodes University (particularly the Great Escarpment Biodiversity Programme, and the Departments of Botany and Zoology and Entomology) are thanked for their roles in the organising and logistics of this expedition. The expedition made financially possible by the National Research Foundation. The expedition was lead by VRC during a Rhodes University Post-Doctoral Fellowship, for which Fellowship the University is thanked. The Doctoral Research Grant to SJP from the University of KwaZulu-Natal is acknowledged for facilitating the participation of SJP & DR-P. PS attendance at the SASSB conference was been partially supported by the EU funded FP7 ViBRANT project (contract number RI-261532).
Our hosts, Koos & Suzanne Lategan (Waterkloof), are very much thanked for the excellent facilities and lavish farm food. Oom Pen (The Ranges) is thanked for generously taking us up in his Landrover so that maximum time could be spent on the summit. These landowners – together with the Nels – are also thanked for permissions to collect botanical specimens on their properties. Much appreciation and thanks to Anthony Magee (NBG), Clare Archer (PRE), Dee Snijman (NBG), John Manning (NBG), Mario Martínez-Azorín (GRA), Peter Goldblatt (MO), Pieter Bester (PRE) and Ted Oliver (STEU) for determining specimens in the Apiaceae, Apocynaceae, Cyperaceae, Ericaceae and petaloid monocots. Chris Kelly, Christian Deschodt, Jemma Finch, Mark Brown, Clarke Scholtz, Jonathan Colville, Martin Villet, Michelle Hamer, Şerban Procheş and Werner Conradie are thanked for their generous help in faunal species identification. Tony Dold, Curator of the Selmar Schonland Herbarium, Albany Museum, is thanked for space and facilities provided to process the plant material and to access the GRA collection for identifications. The Department of Economic Affairs, Environment and Tourism (Province of the Eastern Cape) is thanked and acknowledged for the relevant plant collecting and export permits. Garreth Keevey (Department of Botany, Rhodes University) assisted greatly in putting a web-album together from the trip, linked to the Great Escarpment Biodiversity Programme home-page.
Authors' Affiliations
(1)
Department of Botany, Rhodes University, Grahamstown, South Africa
(2)
School of Environmental Sciences, University of KwaZulu-Natal, Westville Campus, Durban, South Africa
(3)
Biosystematics Division, Agricultural Research Council, Plant Protection Research Institute, Pretoria, South Africa
(4)
Department of Botany, University of Cape Town, Rondebosch, South Africa
(5)
National Herbarium of New South Wales, Sydney, Australia
(6)
National Museum of Natural History, Sofia and Pensoft Publishers, Sofia, Bulgaria
(7)
Department of Zoology and Entomology, Rhodes University, Grahamstown, South Africa
(8)
Department of Geography, Rhodes University, Grahamstown, South Africa
Copyright
© Clark et al.; licensee Springer. 2012
This article is published under license to BioMed Central Ltd. This is an Open Access article distributed under the terms of the Creative Commons Attribution License (http://creativecommons.org/licenses/by/2.0), which permits unrestricted use, distribution, and reproduction in any medium, provided the original work is properly cited.